A Canadian senator has introduced a bill to ban the importation of goods from China's Xinjiang region amid concerns of slave labour.
Sen. Leo Housakos on Nov. 24 introduced S-204, which would amend the Customs Tariff to "prohibit the importation of goods manufactured or produced wholly or in part" in Xinjiang, where China has been accused of widespread human rights atrocities against the Uyghur minority group.
"This bill simplifies and strengthens the law, and is an opportunity for our government to take a stronger position and to send a strong message to the communist regime that we are serious in our commitment to fighting human rights abuses, amongst other egregious actions," Housakos told The Epoch Times.
"Canada isn't doing enough to confront China on any file, much less slave labour."
The House of Commons passed a non-binding motion in February declaring that the Chinese regime is carrying out a genocide against Uyghurs and other Turkic Muslims. The vote passed 266 to 0, with the Liberal cabinet abstaining from voting.
Mehmet Tohti, executive director of the Uyghur Rights Advocacy Project (URAP), says the bill is important because other measures the federal government has taken to curb imports from the Xinjiang region haven't gone far enough.
"We have worked for a long time to take some action through legislation, because Canada did not take any actions, except to issue an advisory to the Canadian companies to exercise due diligence," said Tohti.
In January, Global Affairs Canada issued an advisory on doing business with Xinjiang-related entities, stating, "Human rights violations in Xinjiang pose a number of risks that Canadian firms operating in and doing business with China should carefully consider."

Without legislation in place to prohibit the importation of products from Xinjiang, Canada is a "safe haven" for goods made by Uyghur slave labour, Tohti says.
"Morally, and lawfully, it is not acceptable," he said.
Tohti says he doesn't expect smooth sailing for the bill, however, because "there's a strong pro-China lobby group in Canada."
Meanwhile, a case is before the federal court to have the Canadian Border Services Agency (CBSA) impose a ban on all imports from the Xinjiang region, unless the importer can prove the products were not made by forced labour. The case was filed last February by the NGO Canadians in Support of Refugees in Dire Need, with support from former MP and secretary of state David Kilgour. URAP was recently granted intervenor status in the case by the attorney general.
A provision under Canadian law already prohibits the import of any products sourced from forced labour regardless of the country of origin.
CBSA recently made its first interdiction under this law, which came into force in 2020 as part of the adoption of the North American free trade agreement (USMCA) in 2018. Sometime between Oct. 11 and Nov. 3, CBSA in Quebec intercepted a shipment of women's and children's clothing originating from China, according to media reports.
CBSA told The Epoch Times there are difficulties in enforcing the prohibition.
"Unlike most other inadmissible goods, there is no visual indicator for a border services officer to validate the labour standards by which a particular good was produced," said an agency spokesperson.
"It takes research and coordination amongst all stakeholders to establish reliable and actionable sources of information to administer the prohibition."
Tohti is not satisfied with this approach, saying "it's not about how to track, it's about the will to track." He adds that the United States has taken a more active approach, which he says has had some success.
The U.S. Customs and Border Protection (CBP) has standing orders to detain shipments from specific companies or sectors that could be sourced from slave labour in Xinjiang, such as silica-based products from Hoshine Silicon Industry, cotton, and tomatoes.
In the summer of 2020, the CBP seized a shipment of products suspected of being made with human hair originating from Xinjiang worth over US$800,000.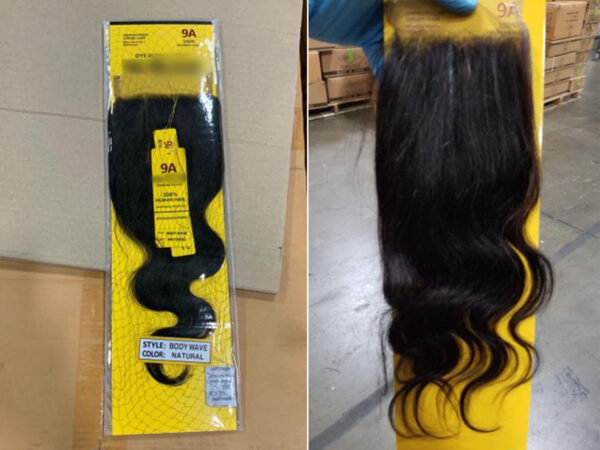 Two reports published this year by Sheffield Hallam University in the United Kingdom tracked down slave labour used by the solar and cotton industries in China, with the goods fed through global supply chains. The "Laundering Cotton" report, released this month, says that a number of major brands such as Ralph Lauren, Lacoste, Gap, and Canada's Lululemon could be using Xinjiang cotton obtained through intermediaries.
A CBC Marketplace investigation also recently revealed that some tomato products on the shelves of Canadian supermarkets originate from Xinjiang.
According to rights groups and different governments, Uyghurs are subjected to an array of human rights violations.
Global Affairs Canada states there are credible reports Uyghurs are subjected to "mass arbitrary detention, forced mass arbitrary separation of children from their parents, suppression of religious and cultural practices, repressive targeting and surveillance measures, forced labour, forced sterilization, torture, and other forms of mistreatment."
With reporting by Donna Ho