The Government Accountability Office (GAO) confirmed reports it is investigating President Joe Biden's move in January to freeze construction of the border wall along the U.S.-Mexico border.
Former President Donald Trump, who made border wall construction a key 2016 campaign promise, started building the wall amid legal battles and fights with Congress. On his first day in office, Biden used his executive authority to stop building the wall even after Congress approved $1.4 billion for the measure as part of a $900 billion stimulus package bill to offset losses incurred by the COVID-19 pandemic in December.
Politico first reported that GAO would now launch an inquiry into whether the Biden administration had violated any laws by freezing construction, which would contravene the Constitution's law that allows Congress alone to allocate funds.
A spokesperson for the watchdog agency confirmed the report, telling The Epoch Times on Wednesday, "Yes, we received a congressional request for a legal opinion on the matter and we have accepted that request." The exact nature of the GAO investigation was not disclosed.
Some senators, who spoke to Politico, noted that Biden was a member of the Senate for decades and should know the rules.
"He was in the Congress a long time," Sen. Roy Blunt (R-Mo.) told the political news website. "He knows it's the Congress's job to authorize how the money is spent and the president's job to spend it efficiently."
The president suspended construction on his first day in office, on Jan. 20, and also rescinded several other Trump-era immigration rules. Biden termed the border wall wasteful spending.
"Like every nation, the United States has a right and a duty to secure its borders and protect its people against threats. But building a massive wall that spans the entire southern border is not a serious policy solution," Biden said in his order. "It is a waste of money that diverts attention from genuine threats to our homeland security."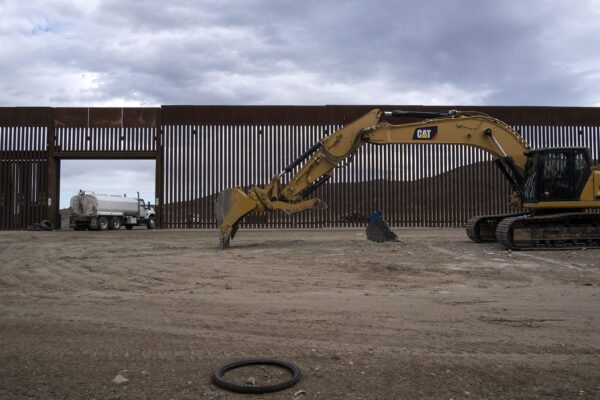 The president's order further stipulated that "no more American taxpayer dollars" should be "diverted to construct a border wall," adding the federal government would conduct "a careful review of all resources appropriated or redirected to construct a southern border wall."
Meanwhile, more than 60 Republican House lawmakers and four GOP senators wrote to GAO on Tuesday.
"We are writing to be added as co-requesters of a March 17, 2021 letter, signed by 40 United States Senators, requesting the Government Accountability Office's legal opinion on the actions of the Biden Administration to suspend border wall construction and to order a freeze of funds provided by Congress for that purpose, which we believe violated the Impoundment Control Act," the lawmakers said in a letter to the GAO.
Republicans have seized on Biden's immigration orders, including the president's support of a pathway to citizenship for 11 million illegal immigrants living in the United States, and said the orders are responsible for the surge along the U.S.-Mexico border. White House officials, including Homeland Security Secretary Alejandro Mayorkas, have said Trump left Biden a broken immigration system and they're working to fix it.
The border crisis "is the result of President Trump's dismantlement of the safe and orderly immigration processes that were built over many, many years by presidents of both parties," Mayorkas said in a TV interview Sunday.
But Trump, in a rare interview this week with Fox News, said Biden is actively working to "destroy" the United States with his orders.
"You can't take millions of people, they'll have millions of people before this mess is over," Trump said. "We want people to come in, but they have to be able to help our country. They have to come in through merit and they have to come in legally," the former commander-in-chief remarked.