Democratic presidential nominee Joe Biden's lead over President Donald Trump in Arizona lessened on Saturday after the reporting of some ballots from several counties.
Biden led by nearly 44,000 votes on Friday morning but had seen his lead dwindle by nearly 10,000 early Nov. 8.
By Saturday night, the lead was down to 18,610, according to unofficial results from Arizona Secretary of State Katie Hobbs's website.
Biden now leads with 49.5 percent of the vote, compared to Trump's 48.9 percent.
Libertarian Jo Jorgensen has over 49,000 votes as of the latest count, equal to 1.5 percent.
If the margin between Biden and Trump ends up falling within 0.1 percent or less, an automatic recount will be triggered.
According to AZ Family, a local news website, there are about 108,000 ballots left to count in Arizona as of late Saturday. Most are in Maricopa County, which holds about two-thirds of the state's population.
The remaining ballots in the county are ones that require additional time, such as military and overseas ballots, county officials said in a statement.
Adrian Fontes, the Maricopa County recorder, on Saturday thanked volunteers from the three political parties who participated in a hand count audit.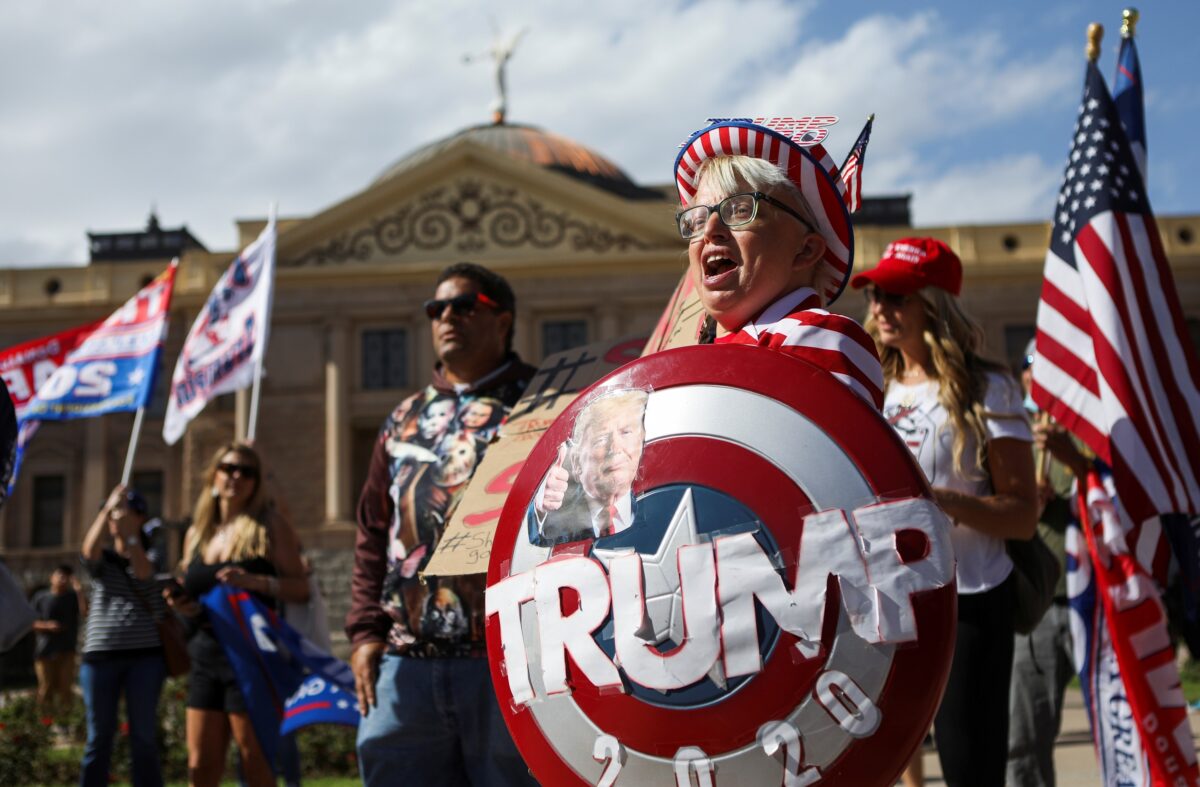 Hobbs, a Democrat, said Friday that election workers were working on counting every vote.
"I urge those gathering outside election offices to allow this important process to continue uninterrupted," she said in a statement. "The people inside these offices, tabulating ballots and working on bipartisan election boards, are everyday Arizonans who have stepped up to serve our democracy. They must be allowed to finish their work without having to fear for their safety."
Arizona residents told The Epoch Times in Phoenix outside the Maricopa County Elections Department, where ballots are still being counted, that they're concerned about the integrity of the election.
Biden declared victory in the 2020 election on Saturday after a number of news outlets projected he will receive over 270 electoral votes.
Trump said it's premature to announce a winner, based on litigation playing out in a number of battleground states.
Trump's campaign and the Republican National Committee later in the day filed a lawsuit over what it described as rejected votes in Maricopa County.
"When a machine detects an overvote on a ballot, poll workers should inform in-person voters of the error and give them an opportunity to correct the issue. Instead, poll workers in Maricopa County pressed, and told voters to press, a green button to override the error," the campaign said in a statement. "As a result, the machines disregarded the voter's choices in the overvoted races."
Fontes's office didn't respond to a request for comment.
Rep. Paul Gosar (R-Ariz.) told The Epoch Times that another thing to check is potential software issues, noting that Arizona uses systems from Dominion Voting Systems Corporation.
Snafus in other states were linked to Dominion systems, including in Michigan, where a county initially reported to have gone for Biden was later reported to have gone for Trump.
Allen Zhong, Bowen Xiao, and Jan Jekielek contributed to this report.