President Joe Biden turned 80 on Sunday, again raising concerns about his age and health ahead of a possible 2024 reelection bid.
In a White House briefing with reporters on Friday, White House press secretary Karine Jean-Pierre said Biden and first lady Jill Biden would have a brunch on Sunday. That follows his granddaughter Naomi's wedding at the White House on Saturday.
"Usually, they celebrate on the Wednesday before Thanksgiving because everyone is going to the family is going to be here this weekend, he will have an opportunity to celebrate his birthday he wanted on his actual day," she said.
Some of his octogenarian Democrat peers, including House Speaker Nancy Pelosi (D-Calif.), House Minority Leader Steny Hoyer (D-Md.), and House Majority Whip Jim Clyburn (D-S.C.) announced last week they are stepping down from their respective leadership positions.
"The hour has come for a new generation to lead the Democratic caucus that I so deeply respect," Pelosi said during remarks on the House floor last week, announcing she would be stepping down as speaker after Republicans recaptured the majority in the House. After her statement, Clyburn and Hoyer said they would, too, be stepping down. Hoyer then endorsed Rep. Hakeem Jeffries (D-N.Y.), the current Democrat caucus chairman, as House minority leader.
Jeffries, 52, officially declared that he would attempt to become the House Democrat leader on Nov. 18. Meanwhile, Rep. Katherine Clark (D-Mass.), 59, and Rep. Pete Aguilar (D-Calif.), 43, are vying to become House minority whip and caucus chair, respectively.
In the Senate, Majority Leader Chuck Schumer (D-N.Y.) will turn 72 on Wednesday. His No. 2, Senate Majority Whip Dick Durbin (D-Ill.) will turn 78 years old on Monday.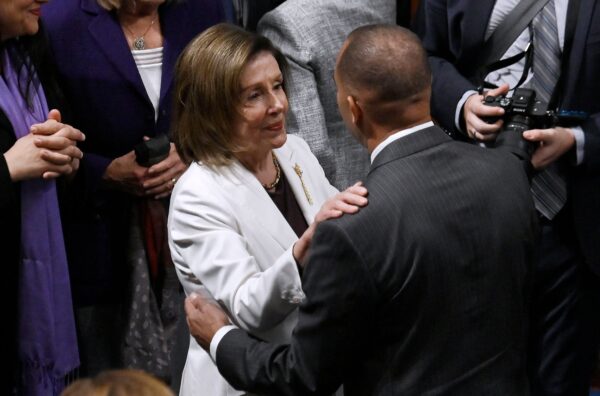 Biden's Plans
Earlier this month, Biden reiterated that he wants to run for president in 2024. Upon taking office in January 2021, Biden was already the oldest person to ever be president, surpassing former President Ronald Reagan.
As he became the oldest person to assume the presidency last year, questions have been floated about whether he will run. If he is reelected—and wins—Biden will be 86 years old upon departing office in early 2029.
"My intention is that I will run again. But I'm a great respecter of fate and this is ultimately a family decision. I think everybody wants me to run but we're going to have discussions about it. And I don't feel any hurry one way or the other to make that judgment." Biden told reporters several days ago.
But on social media, Biden's verbal slips and gaffes have started to pile up. In 2020, questions about his age remained mostly off-topic for mainstream media outlets, but in the weeks before the 2022 midterms, the New York Times and CNN have started to speculate on his health.
As Biden turned 80, the Wall Street Journal's editorial board questioned his plans.
"Biden might think he has no choice but to run in 2024, because [former President] Donald Trump is doing it, and Democrats have no obvious popular successor," the board said. "In part that's Mr. Biden's fault. He picked his Vice President for the wrong reasons, based on identity politics. Kamala Harris's approval rating is 40 percent, worse than Mr. Biden's or Mr. Trump's. If Mr. Biden opts to retire, the Democratic primary will probably be a free for all, with Ms. Harris merely one contender."
In a poll released in November, 68 percent of respondents said that Biden may not be up to another term, and 86 percent think the presidential cutoff should be age 75 or younger.