President Joe Biden said on Nov. 29 that amid the worldwide spread of the Omicron COVID-19 variant, he doesn't anticipate shutdowns or lockdowns being enacted this winter if "people are vaccinated" and wear a mask.
"On Thursday, I'll be putting forward a detailed strategy outlining how we're going to fight COVID this winter," Biden said during remarks at the White House. "Not with shutdowns or lockdowns, but with more widespread vaccinations, boosters, testing, and more."
Last week, the World Health Organization (WHO) deemed Omicron a variant of concern and, in a subsequent update on Nov. 28, said it appears to be highly infectious. However, it's not clear if the virus presents more severe disease symptoms, according to WHO, as several doctors in South Africa and Israel told media outlets that those who are infected with Omicron may have milder symptoms.
The EU, the United States, and other countries implemented travel bans on several southern African countries this week. The U.S. travel ban went into effect on Nov. 29 at 12:01 a.m.
When pressed by a reporter, Biden qualified his statement by saying that "if people are vaccinated and wear their mask, there's no need for lockdown," noting that top federal health officials believe that the current vaccines can provide at least some protection against the Omicron variant.
"This variant is a cause for concern, not a cause for panic," he said, calling on all eligible people to get vaccinated, to get their kids vaccinated, and to also get a booster shot.
During questioning from another reporter, Biden also touted mask-wearing.
"I encourage everyone to wear a mask when they're indoors in a crowded circumstance like we are right now, and unless eating or speaking at a microphone," he said.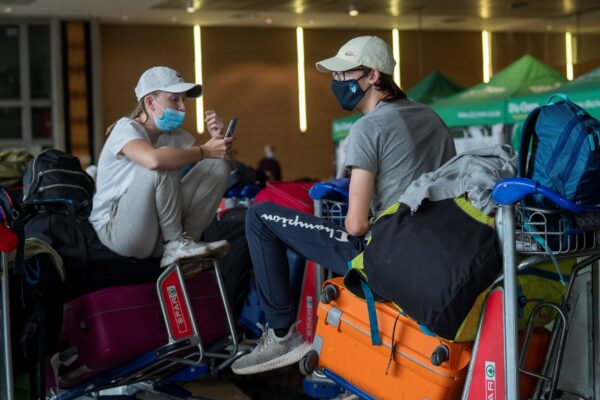 Other than federal government property and agencies, the White House has little latitude in mandating lockdowns. In the early phase of the COVID-19 pandemic in 2020, the federal government instead relied upon recommendations from the Centers for Disease Control and Prevention (CDC), which some state governments and local municipalities later adopted.
The president said on Nov. 29 that the new variant would also reach the United States "sooner or later," as cases have been confirmed in Canada, the EU, and a number of other countries after it was first identified in South Africa and Botswana earlier this month.
Amid growing panic over the variant, which the WHO described as significantly mutated, Dr. Sharon Alroy-Preis, Israel's head of public health services, told local media outlets that vaccinated people who have become infected with the variant have only become slightly sick.
Professor Dror Mevorach, who's in charge of the COVID-19 department at the Hadassah University Hospital Ein Karem, suggested that fears over Omicron could be overblown.
"If it continues this way, this might be a relatively mild illness compared to the Delta variant, and paradoxically, if it takes over, it will lead to lower infection rates," Mevorach said, according to the media outlet Haaretz.
The WHO advised its 194 member nations that a surge in infections could have consequences, but said no deaths have been linked to the variant.
"Omicron has an unprecedented number of spike mutations, some of which are concerning for their potential impact on the trajectory of the pandemic," the WHO update reads. "The overall global risk related to the new variant of concern Omicron is assessed as very high."
But the WHO courted controversy over its move to name the variant Omicron, skipping over "Xi," a letter in the Greek alphabet, after some speculated that the U.N. health body was trying to placate the Chinese Communist Party and its, leader Xi Jinping. According to the WHO, however, it chose Omicron over Xi because it didn't want to cause "offense to any cultural, social, national, regional, professional, or ethnic groups."
The WHO also stated that it skipped naming the variant "Nu," another letter in the Greek alphabet, because it sounds too similar to "new."