Joe Biden, the presumptive Democratic presidential nominee, said governors need to implement mask mandates for the next three months, claiming it would save the lives of 40,000 Americans.
"Every single American should be wearing a mask when they're outside for the next three months as a minimum," the former vice president told reporters at a press conference. He said the mandate would "get our kids back to school sooner than later" and would "get our businesses back long-term."
"Protect your fellow citizens. Step up. Do the right thing," he said, appearing alongside his vice-presidential pick, Sen. Kamala Harris (D-Calif.). So far, more than 165,000 people have died of the CCP (Chinese Communist Party) virus in the United States.
President Donald Trump, throughout the pandemic, has repeatedly said that the governors of states and local officials should make the final call on whether people should wear masks or not.
In July, Trump wrote that the United States is "united in our effort to defeat the Invisible China Virus, and many people say that it is Patriotic to wear a face mask when you can't socially distance," adding that "There is nobody more Patriotic than me, your favorite President!"
Harris, who spoke after Biden on Thursday, said that "what real leadership looks like is Joe Biden, willing to speak up, sometimes telling us the stuff that we don't necessarily want to hear but we need to know." She added: "The need for this mandatory mask-wearing will also be about what Joe has articulated, and what a Biden/Harris administration will do."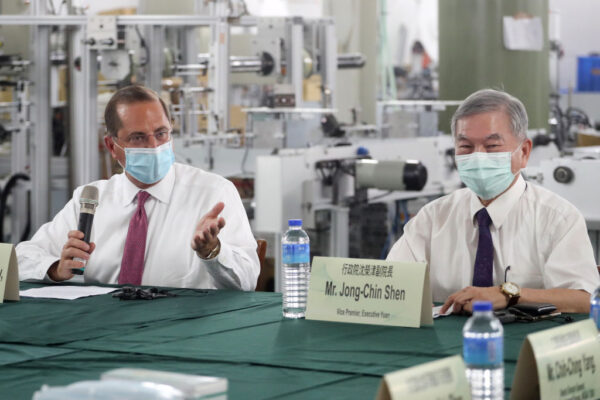 Neither Biden nor Harris made mention of stay-at-home orders or a travel ban on countries that are COVID-19 hotspots. Biden also did not say how he would enforce a nationwide mask mandate, whether he would encourage Congress to pass legislation on the matter, or whether he would issue an executive order if he was president.
The two both spoke for about 10 minutes on Thursday and walked away without answering questions from reporters.
According to AARP, an advocacy group for older Americans, about 34 states have mandatory mask orders already in place.
In an interview in June with Pittsburgh's KDKA-TV, the former vice president said he would require masks if he were president.
"I would insist that everybody out in public be wearing that mask. Anyone to reopen would have to make sure that they walked into a business that had masks," he said.