STING TAKES BROADWAY BY STORM! For the first time the multi-talented Sting has written music and lyrics for Broadway and has he ever made his mark! Based on his childhood in the English shipyard town of Wallsend, The Last Ship is the story of a group of shipyard workers who refuse to give up when their beloved shipyard is doomed to close.
The talented cast is led by Michael Esper who plays Gideon, a young man who takes off to escape the shipyard life. He returns for his father's funeral 15 years later and discovers that he has a son by the girl he left behind. He joins the workers' fight, and with the encouragement and support of the fabulous Fred Applegate as the local priest, the group carries on.
Joe Mantello's direction and Steven Hoggett's choreography are exciting, and sets and costumes are inventive and right on target. This show is a real winner, playing at the Neil Simon Theatre, 250 W. 52nd St. Info is available at thelastship.com.

The Circus Is in Town! The Big Apple Circus ("METAMORPHOSIS") is a one ring wonder that goes nonstop. It may only have one ring, but it misses nothing: from clowns to acrobats, jugglers to a mix of trained animals. One of the most incredible acts is by the Russian couple Olga and Vladimir Smirnov who managed to perform numerous costume changes faster than the eye can follow.
In addition to a show filled with top level circus performers, the Big Apple Circus is a not for profit that provides entertainment year round to thousands of children, hospital patients, and others not able to get to a show. Performances run through Jan. 18, 2015 at Lincoln Center, and if you go to their website and sign up for the email newsletter, excellent discounts will be available to you. Info may be found at bigapplecircus.org.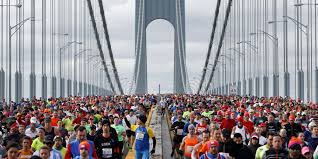 Runners take heed, the NYC Marathon is nigh: It is back and this year better than ever. Can you imagine 50,000 runners going through all five boroughs of New York? What a sight as they get underway and cross the Verrazano Narrows Bridge. The race started in 1970 with 127 runners and is now one of the six premier marathons.
Of course you can see it on television on ABC-TV, it is the New York City Marathon after all. But there is nothing quite like being there to cheer the 50k runners on. This is truly one of the great free shows in our city! In addition, the many teams that take part raise lots of money for worthy causes. This year Carolyn Wozniacki, U.S. Open tennis winner, has signed on.
Gremlins and Goblins Out in Force for the Village Halloween Parade! If you ever wondered what brings out the creativity in people, you have only to attend the Annual Greenwich Village Halloween Parade. Any getup you can possibly imagine will be there. Floats, teams, and individual crazies that just want to be part of the action will be on hand. Artistic director Jeanne Fleming will start the parade at 7pm on Halloween night. Whoopi Goldberg will be the Grand Marshal of this year's 41st Annual Parade.
This is another one of New York's fabulous free events. It too will be televised, but being a T.V. watcher is just not the same as being in the middle of the craziness. This unique parade has been the recipient of local regional and national awards, and specifically honored for its cultural contributions. Why not volunteer or just put on your own costume and join the fun. For info, visit nyc-halloween.com.