Beijing Olympics Main Contractor Files for Bankruptcy
May 29, 2007 12:00 am Last Updated: May 29, 2007 12:00 am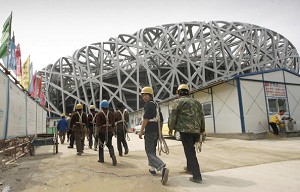 German firm Covertex, a contractor for roof works on the Beijing Olympics National Stadium, filed for bankruptcy. The stadium also known as "Bird's Nest is the centerpiece of next year's Games."
Hubert Reiter, member of the Covertex management team confirmed that the company has filed for insolvency with the municipal court of Traunstein in southern Germany.
He also said it was "not yet clear" whether the firm's insolvency will affect the project.
According to Reiter, Covertex ran into financial trouble because of higher-than-expected costs and delays in payments from its previous projects.