The highlight of any visit in Amman is without any doubt the bazaar. The Souk can easily be spotted in the Downtown area of the city, near the King Hussein Grand Mosque. Downtown Amman, referred to by locals as "el-Balad", sits in the narrow valley between Amman's seven jabals (hills). It is thus, literally, "down" below the rest of the city. It is also the oldest part of town, where most buildings, although fairly modern, typically date from the middle part of the 20th century or before, scattered around  the city's Roman ruins. The souk offers an authentic ambiance with typical oriental shops selling aromatic spices and Arabic delicacies, alongside cheap products from China, and an animated fruit and vegetable market.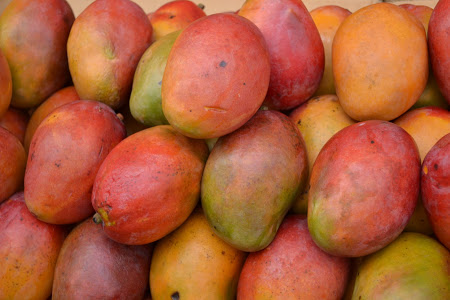 Earlier this October I happened to be there with a group of 26 Romanian volunteers (on a EVS project focused on journalism, promoting positive neighborhood behaviors and ecological/environmental initiatives) – all eager to get their hands on the best bargains the Souk can offer.
As the cabs (extremely convenient, rarely going over 3 JD/fare ) dropped us near the narrow but lively Rainbow Street  (officially known as Abubakar As'Siddeeq Street), we were amazed to see an overwhelming number of young local hipsters going in and out from fancy café bars, chic bookshops and small boutiques. After a 10-minute stroll down the more western than eastern suroundings, the road began to drop away down the slope, offering us a unique panoramic view to the neighbouring hill.
Every Friday, in the 1st Circle, near Rainbow Street you'll find "Souq Jara" – a flea market organized by locals, where you can find anything from traditional Arab sweets, jam, rose water, cushions, beaded jewelry, handmade traditional items, objects made from recycled materials, or antiques. There's something for everyone.
As we keept going past Wild Jordan building, located towards the end of Rainbow Street – we found steps down to the left which lead to the restless, noisier world of Downtown. The sight of the  twin minarets of the small Husseini Mosque welcomed us into the spiritual heart of Amman, tooting with traffic and "Alah Akbar" chants.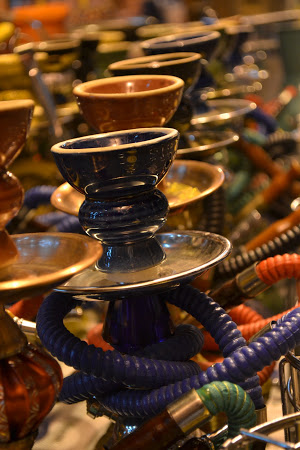 Rarely visited by the middle and upper class of Jordanians, who mostly live in the west end of Amman, the bazaar is a one-of-a-kind "Mecca of shopping" for all foreigners visiting the city. We were swaying through dazzling colors and enchanting perfumes which gave us kind of a religious frenzy about being in the Souk's heart.
Pretty soon we were converted to the "must have" belief, as we were facing a true Middle Eastern experience: delicious looking products are sold by competing vendors who melodiously call out to attract buyers, invite you for a cup of tea and a captivating talk on souvenirs and local peculiarities.  Every shop has its own identity, owners being creative as competition has gone mad: one would play loud music, the next would spread books on the sidewalks, another would have free giveaways  and so on. Of course, I couldn't walk away without two marvelous sheesha (glass-bottomed, long-necked bong-like gadget for smoking tobacco) – which I managed to negotiate as low as 10 JD per both. It's a delightful treat even if you don't buy anything, although you can find handmade gifts that will stun all your less traveled friends back home.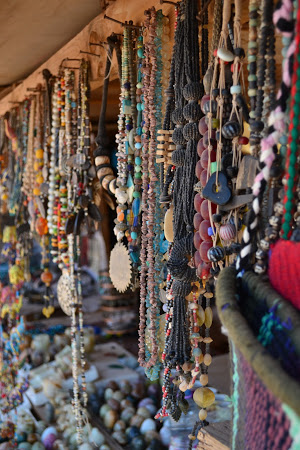 Shopping is also a great way to give back to the community: buying from an independent, locally owned business, rather than a nationally owned businesses, means that significantly more of your "investment"  goes to another local supplier, continuing to strengthen the economic base of the community.  Instead of dropping your cash in some international chain of malls, try buying local: Rivage Dead Sea products, the Gold Souk, perfume shops, spices, olive oil soap, quench your thirst at the Juice Bars, and sample locally made ice cream in the sweet shops.
As a ritual I began to develop during my travels, every time I visit a new place, I try out the sometimes risky, sometimes surprising – street food. First step is to ask around locals or vendors where you can get the cheapest and most delicious traditional dish. Most of them will lead you to some hidden gem stalls, which otherwise you would have easily ignored. Usually they are crowded, the sitting area can be quite tight, but one thing is for sure, the food will be tasteful and fresh.
My personal all time favorite is "mansaf"(actually the national Jordanian dish) – lamb served on a large serving platter over khubz (arabic flatbread) and rice. It is traditionally eaten with the finger tips of the right hand. For lunch, you can also try falafel with hummus, pita bread and a Coke, all for less than 1 dinar. Foodies will be particularly pleased by the watermelon smoothies and 'watermelon pizza' sold in the street booths which are-  for most part – grouped together on a side street in the middle of the souk, next to a seating area.
If you take the time and trouble to wander around on foot, you will find time well rewarded, not just by the handcrafts available, but by the unexpected sights of ottoman houses in between the modern local ones, or by the ruins from the ancient city of Philadelphia.
Visit the Souk for a taste of the fascinating and vibrating Arab culture and let yourself wander the maze of colors.
This article was originally published on www.imperatortravel.com. Read the original here.
*Image of fruit market in Amman via Shutterstock