Bay 101: High Stakes Tables and Food That Feels Like Home
April 5, 2013 5:18 pm Last Updated: April 5, 2013 5:18 pm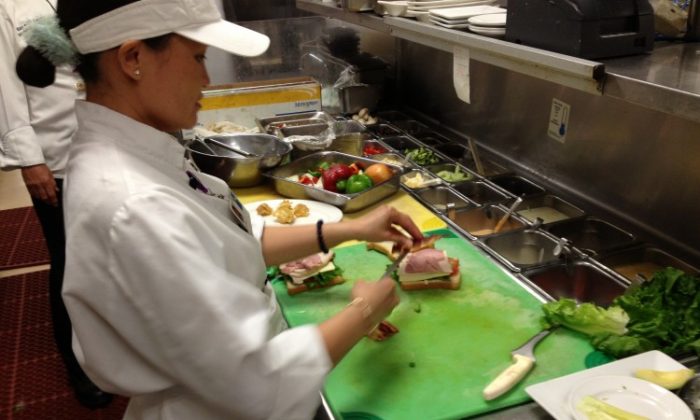 Bay 101 is home to the Bay 101 Shooting Star, one of the most lucrative World Poker Tournament events. Owner Marko Trapani holds a long list of testimonials from top poker players, but it's not just the chips on the table that keep people coming back to what they call "San Jose's place to play."
"These players come from all over, and they love coming here because they feel at home," says June Richardson, executive administrator of Bay 101. "They love the food, they love the buffet."
The casino houses Shuffles Delicatessen for all your New York deli-style needs, international cuisine at Sutter's Broiler, and—no need to step away from your cards—24/7 tableside dining for anything on the menu. 
"[We have] a very large variety of kitchen cooks actually, of different backgrounds," says chief chef Nick Ortega. "We have Thai chefs who do our Thai food and Mexican chefs who do our Mexican food and on and on and on. Our cooks have very deep backgrounds in their own culture."
Sutter's Broiler has a regular menu as well as a daily menu that rotates day to day, Ortega says, with a variety of Asian cuisines and old-time-favorite American dishes, from simple hamburgers to fancy seafood dishes. 
"[Our] Thai specials, we run out completely," Ortega said. "They like our pastas, calamaris, wor wonton soups—there's quite a few favorites."

Ortega himself has had training in a variety of styles and cuisines.
"If you really like it and you like to cook, you learn much quicker," Ortega said. "Mine's all school-of-hard-knocks."
Ortega has been with Bay 101 since 1994 and worked previously in Silicon Valley. He heads a kitchen staff of 110, 21 of whom are cooks, and they serve nearly 400 players during the World Poker Tournament. The casino itself has a staff of over 700.
"When the Matrix opened [across the street], they all went there and tried it out, and they all came back," Ortega says. "They said, your food's better, service is better, prices are better."
Bay 101 opened in 1993 after purchasing the licensing from Sutter's Place, which their in-house restaurant is now named after. 
Sutter's Place, established in the 1940s by Jan and Joseph Sutter, was a small restaurant, tavern, and card room. When Caltrans made plans to widen Highway 237 in 1991, Sutter's Place made its move to Silicon Valley.

"It was too upscale," Richardson said of the casino in its previous location. "People are only there during the day … and the working crowd likes to just go get something quick to eat."
The players aren't the only ones who have stuck around. Ortega says he's been working with the same suppliers for nearly 20 years.
"They know what he wants," Richardson said.
"That goes from our laundry company, from our meat companies, to our seafood companies, our vegetables," Ortega said. "If I don't like it, it goes back."
"I spend a little more money than most places because we like the quality we have here," Ortega said.
Ortega's personal favorites are the pastas—"flavorful pastas," he says. "I'm not one afraid to season."
"I don't like to see a customer putting seasoning on their food, it should already go out seasoned," Ortega said. 
With additional reporting by Steve Ispas