Twenty-one years ago, on the historic day of Nov. 20, 2001, 36 Westerners from 12 countries made headlines for their arrests in Tiananmen Square in Beijing, China, after unfurling a banner that read, "Truth – Compassion – Tolerance."
These three words are the core moral principles of Falun Gong (also known as Falun Dafa), an ancient spiritual discipline rooted in the Buddhist tradition that is currently practiced by 100 million people around the world. Its adherents strive to be good and kind and share the message of upright, virtuous living.
After the officially atheist Chinese Communist Party's (CCP) former leader Jiang Zemin launched a persecutory campaign in July 1999 to "eliminate" the practice, Falun Gong adherents, both inside and outside China, have been trying various—but peaceful—ways to raise awareness of and to put an end to the unprecedented brutality that has killed countless practitioners.
The 36 Westerners, too, made the daring trip to communist China to let the CCP and the world know that Falun Gong is good, and how much they have benefitted from practicing the moral teachings. However, their peaceful protest was soon met with violence.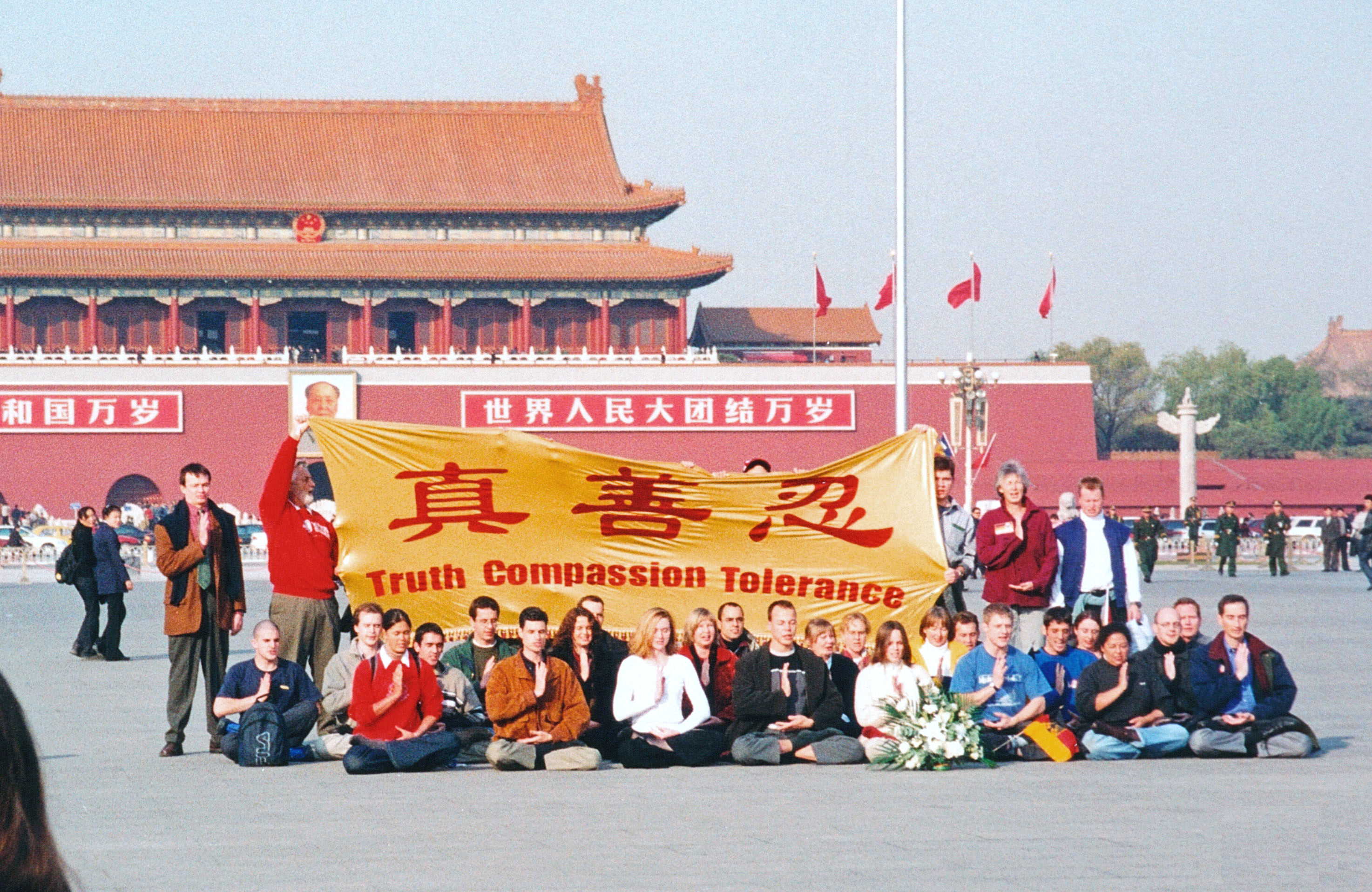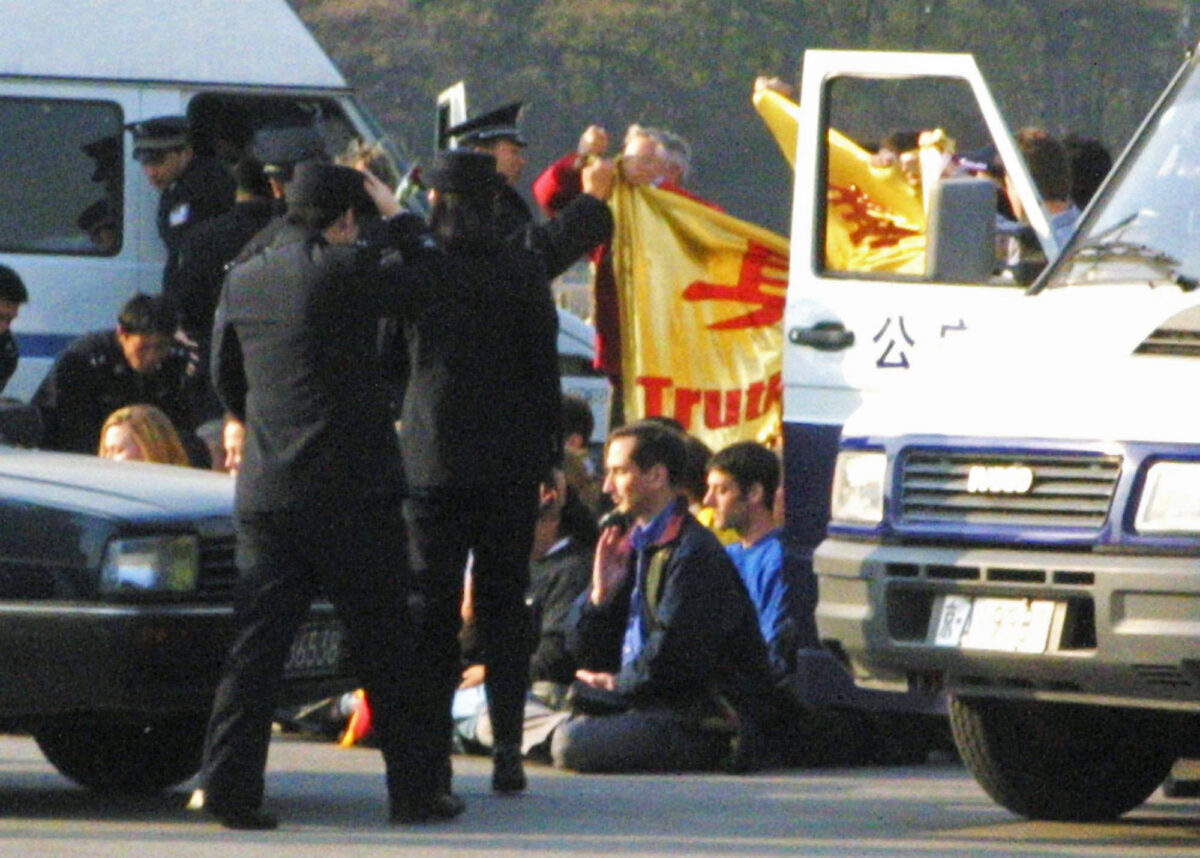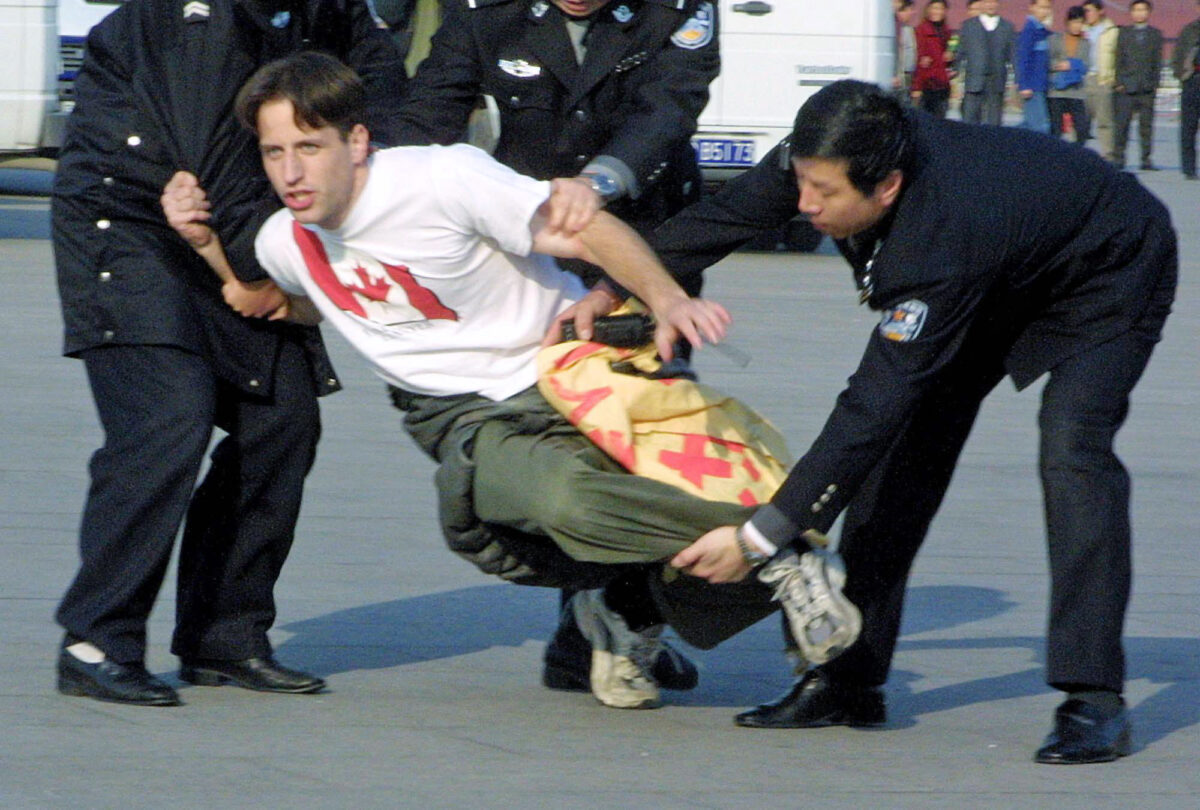 The police that were already present in the Square to monitor the public began beating, punching, and choking the adherents. One man had his hand broken, another was punched and had his nose fractured. Still another lay on the ground unconscious.
All of them were dragged away from Tiananmen Square and taken to the police station before being transferred to a hotel that looked more like a public security facility. They were instructed to sign a statement written in Chinese. When they refused, the police hit some of them in the face and stomped on their stomachs. After 24 to 28 hours, the group was released. An award-winning documentary, The Journey to Tiananmen, has been made about their daring act.
While these banners that expose the persecution of Falun Gong are not allowed in China, they can be frequently seen in free countries. The adherents use them to not only raise awareness of the ongoing persecution but to also tell others around the world about the universal moral principles of truthfulness, compassion, and tolerance.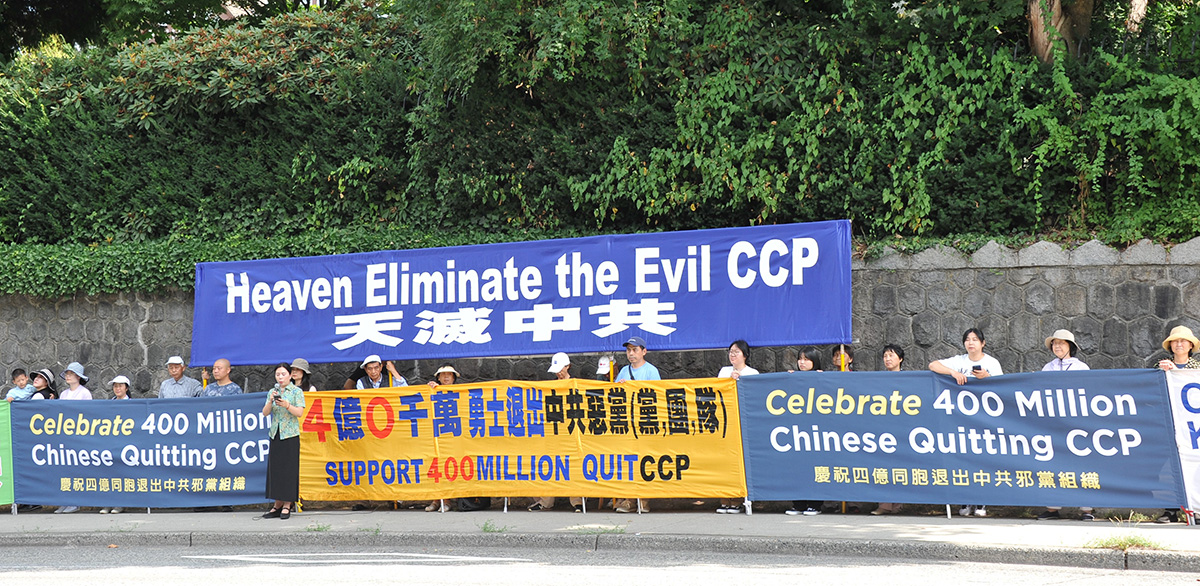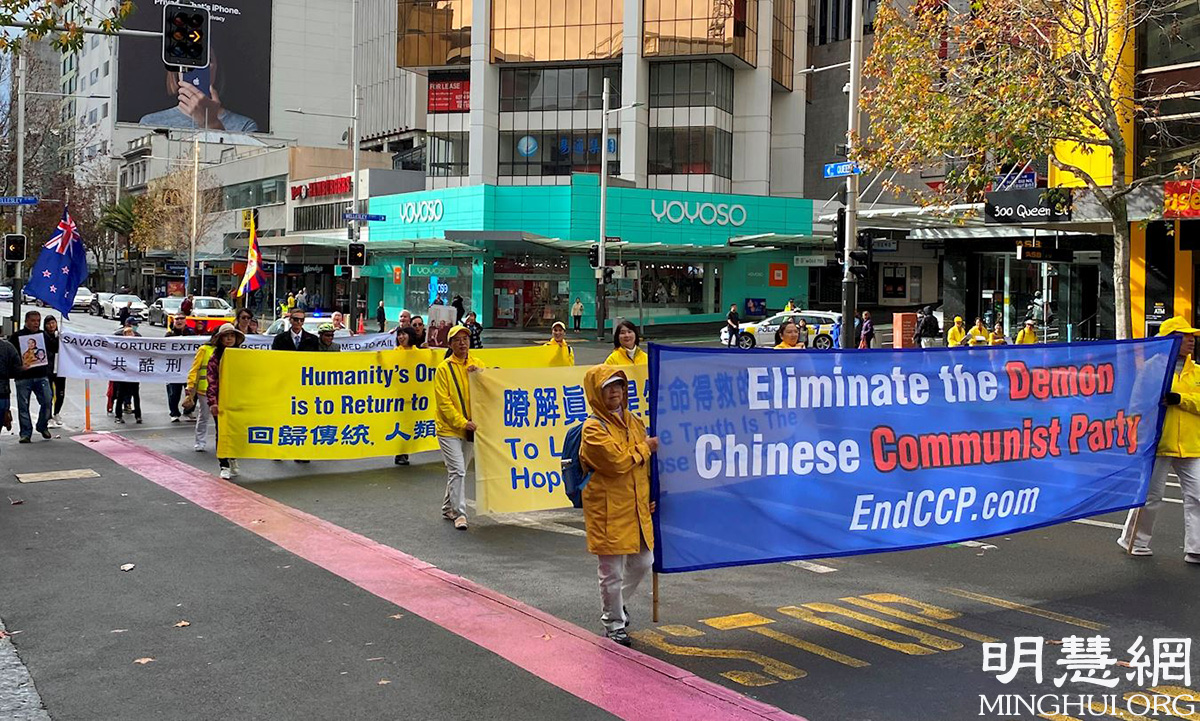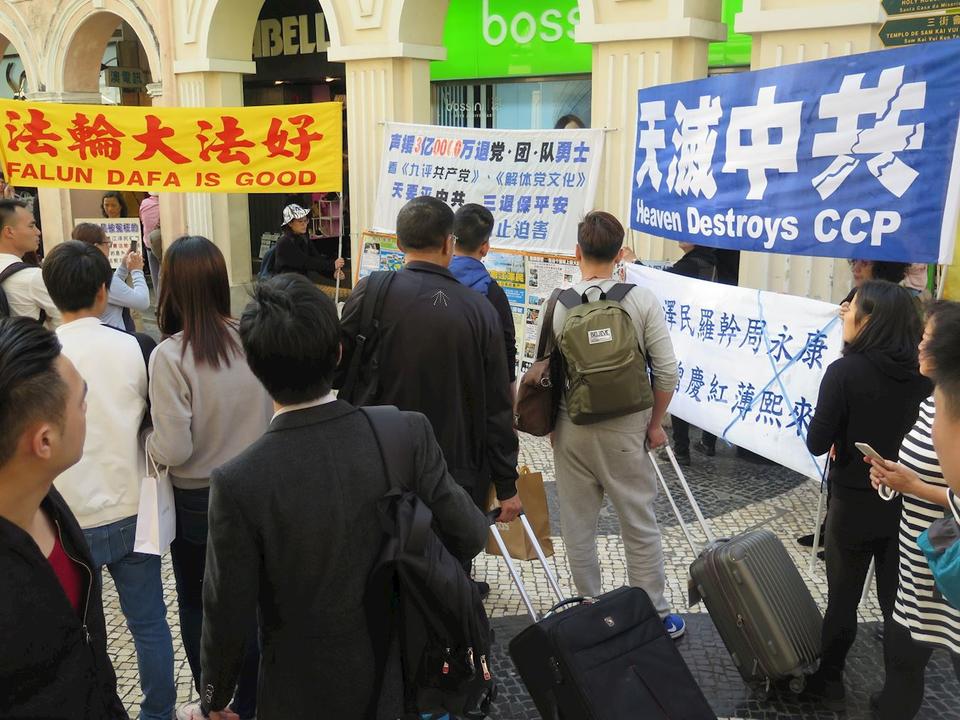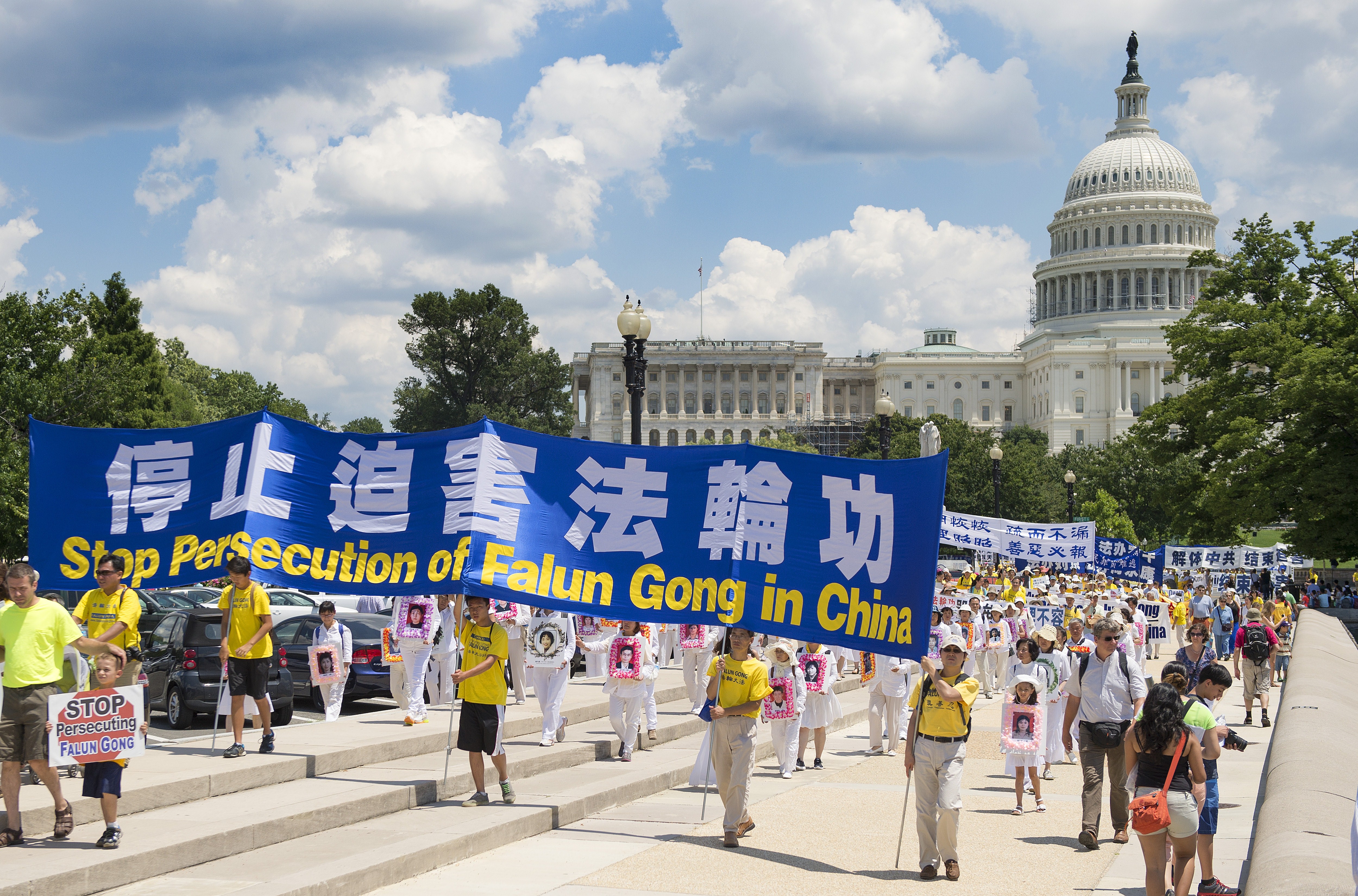 The Falun Gong adherents living outside China are fortunate to practice their faith and be the defenders of human rights, while the Chinese practitioners continue to face unimaginable brutality, harassment, incarceration, and violence for their efforts to appeal peacefully for an end to the persecution.
Here are a few selected stories of such conscientious Chinese people who were persecuted for their faith.
Unfurling an Over 320-Foot-Long Banner
On Dec. 31, 2000, Tiananmen Square and the surrounding area had been declared a restricted zone under martial law. In order to identify Falun Gong adherents, Beijing police required anyone they encountered to curse the founder of Falun Gong and the practice—anyone who refused was arrested immediately.
That day, a group of 25 Falun Gong practitioners managed to go to the Square and unfurled an over 320-foot-long banner to peacefully appeal for an end to the persecution. The banner read "Falun Gong Is Great." They were arrested and beaten by the police.
The 7th Division of the Ministry of Public Security tortured and used many cruel methods to interrogate them, according to Minghui.org, a U.S.-based nonprofit organization that reports on the persecution of Falun Gong. Later, they were all convicted by the Dongcheng District Court of Beijing and were given prison sentences ranging from three to ten years. These adherents were tortured and beaten in inhumane ways, including solitary confinement, sexual assault, and physical restraint.
An Old Man and His Over 320-Foot Banner
On Dec. 29, 2000, a 78-year-old Falun Gong practitioner went to Tiananmen Square with other adherents to expose the CCP's persecution of faith.
The moment they held up the banner reading "Falun Gong Is Good," the police present at the Square rushed over to beat and arrest them. They were punched, kicked, and shoved into police vans, then taken to Tiananmen Police Station where they saw several other adherents already arrested for unfurling similar banners.
The 78-year-old man was later taken to the Shijingshan Police Substation and sent back to his hometown where he was further persecuted.
A Brave 9-Year-Old Girl and Her Mom
A Chinese-Canadian woman and her nine-year-old daughter went to China to tell her countrymen that the CCP's persecution of Falun Gong is not justified, reported Minghui.org.
On April 18, 2002, the mom-daughter duo took a taxi to Tiananmen Square, sneaking in a huge banner to expose the persecution. The Square had many plain-clothes policemen keeping an eye on any "unwanted" activity as, at that time, Falun Gong adherents frequently unfurled banners to raise awareness about the persecution of their faith.
After walking a short distance and coming across a crowded place, the little girl told her mom with confidence, "Mom, let's open it!" They opened the banner and said out loud: "Falun Gong is great! … Heaven will not tolerate the persecution of Falun Gong! Good is rewarded with good, and evil meets evil!"
The police grabbed their banner in no time and took them off to the police station. The police couldn't beat or torture them due to their Canadian citizenship. But the mother was detained and interrogated for around four days. Later on, they were "escorted" to the airport in three police vehicles and by over 20 policemen and were quickly deported back to Canada.
'Heaven Will Destroy the CCP'
Xu Hui and her son, Cai Chao, of Jinzhou City, Liaoning Province, went to Tiananmen Square on July 20, 2007, to appeal for Falun Gong, according to Minghui.org. They unfurled a banner containing, "heaven will destroy the CCP" and "stop harvesting organs from living Falun Gong practitioners."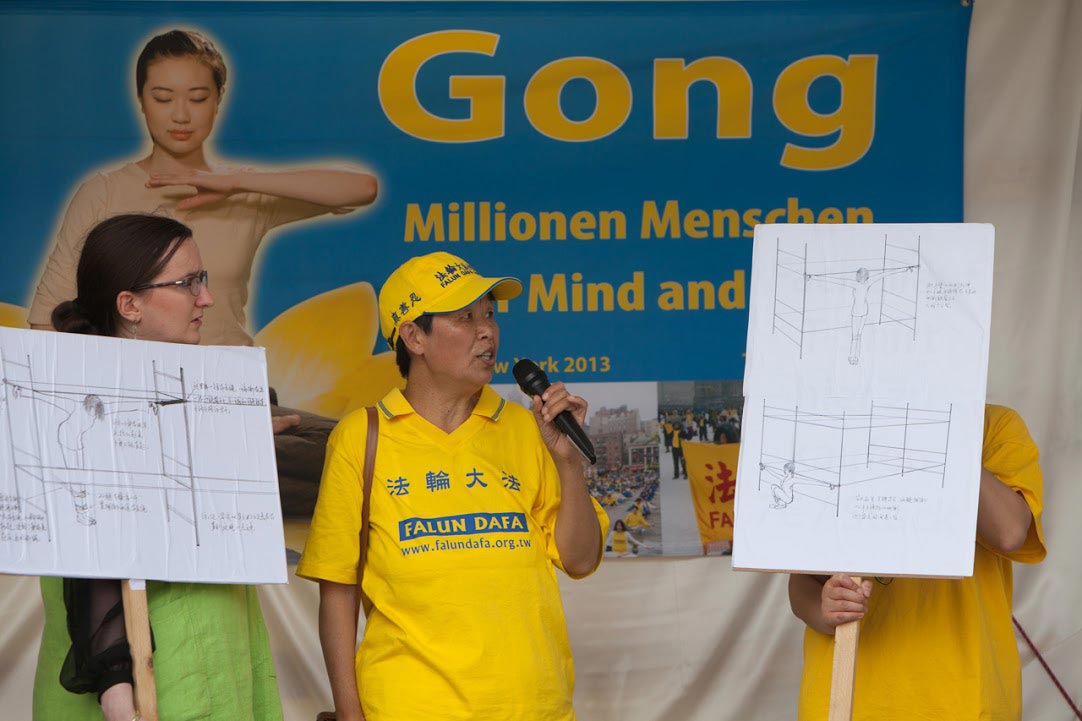 However, they were arrested by police from the Tiananmen Police Station and subsequently sentenced to forced labor for two years. The torture at the labor camp caused Xu's hands to become disabled; she also lost three teeth.
The mother and son have since fled China and now live in Germany.
Arshdeep Sarao contributed to this report.