After nearly one million Chinese people were unable to access their bank deposits in central China's Henan province earlier this year, residents in east China's Shanghai, south China's Shenzhen, north China's Dandong, and central-east China's Jiujiang reported the difficulties they faced when trying to withdraw cash from their bank accounts.
Some banks will only serve a limited number of customers per day, some banks limit each client's withdrawal to no more than 1,000 yuan (about $149), and others closed their branches. Even the ATM machines are empty.
Bank runs have been happening in the world's second-largest economy for over a week, which is unusual in China because most of the banks are state-run.
"The reason why the bank run issue hasn't been solved is that China's economic system is in crisis and the Chinese regime doesn't have the ability to solve it," Wang He, U.S.-based China affairs commentator, told The Epoch Times on June 22.
Zheng Yongnian, one of the economic advisors to Chinese leader Xi Jinping, published an essay on June 1, in which he pointed out that China's economy is facing critical challenges, including over half of the foreign investments, have left China, and China's private businesses are struggling for survival due to a supply chain crisis and lack of cash.
Zheng's essay was removed from China's internet soon after it was published.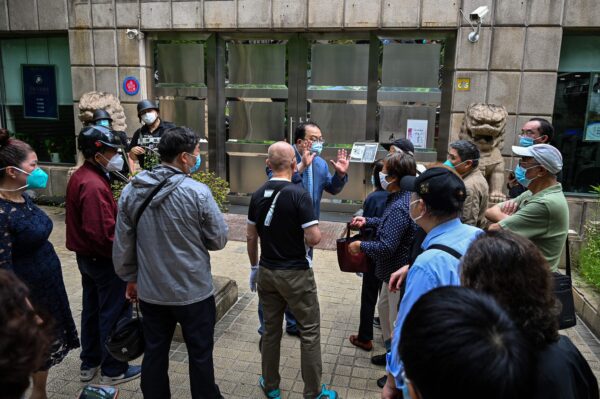 Shenzhen Residents
"I have an account with the Agricultural Bank of China. In recent two days, people lined up in front of the branch. This is the first time I have seen such a long queue," Chen, a resident in Shenzhen in south China's Guangdong Province, told NTD, The Epoch Times' sister media, on June 21.
The Agricultural Bank of China is one of the four main state-run banks in China. The other three are Industrial and Commercial Bank of China, Bank of China, and China Construction Bank. Chen said that he was told the bank had mistakenly frozen customers' accounts. To unfreeze an account, the bank asked its customers to submit their Shenzhen resident identity cards in person.
The resident identity card is a method the Chinese regime uses to control people's moving from site to site. The person won't have basic resident rights if they don't have a local household registration card. If a person works for a big company in another city for six months, the employer can apply for a resident identity card for the employee.
Hao, a resident in Longgang district in Shenzhen, told The Epoch Times on June 22 that freezing accounts is a method banks use to stop people from withdrawing cash.
"It's hard to find an ATM machine that has cash inside. Actually, since about two months ago, it has been difficult to withdraw cash. I have tried the Agricultural Bank of China and the China Construction Bank. It's not easy to withdraw cash," Hao said.
In a video that went viral on June 21, a man said that in a Shiyan neighborhood in Bao'an district in Shenzhen, people lined up outside the Bank of China at 6:00 a.m., but were told that the bank had run out of money when it opened at 9:00 a.m.
The bank didn't explain why it had run out of cash.
Bank Runs in Other Cities
Dandong is a city neighboring North Korea across the Yalu River in northeastern China's Liaoning Province. In recent weeks, people in Dandong complained that they couldn't get cash from their bank accounts no matter how high their balances were.
"It has been a week. Every morning, there's a long line [of people] waiting to withdraw cash. However, when it's our turn in the afternoon, the bank has run dry," a Dandong resident said in a social media video on June 20.
The man who shot the video said that employers in Dandong deposit salaries into their employee's bank accounts in the Dandong Bank. Employees, in turn, withdraw the cash for their daily living expenses. Being unable to access cash will make it difficult for them.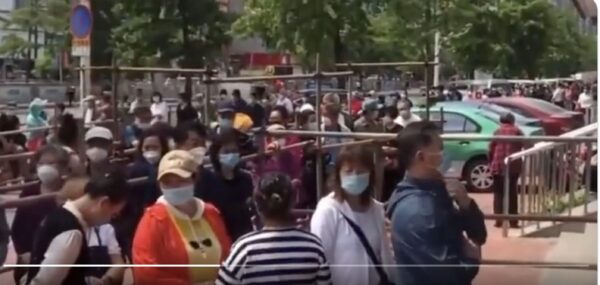 Another Dandong resident complained in a video that he went to several banks but was unable to get any cash.
In Jiujiang city of Jiangxi Province, residents reported that Agricultural Bank of China branches only allow customers to withdraw 1,000 yuan (about $149) or less if they don't have a local household registration.
In eastern China's Shanghai, people are also waiting in line outside the banks.
Huang, a local resident, told NTD on June 21 that banks will only serve 300 customers a day and this started on June 1 when the city officially opened up after a COVID lockdown. People have to go to the bank early in the morning, otherwise, they won't even enter the bank.
"I met a man in his 80s who began waiting in front of the bank between 4:00 a.m. and 5:00 a.m. He was counted as the 107th client of the day when the bank opened at 9:00 a.m. He had to stay there for several more hours because the bank wouldn't allow him to enter if he missed his turn," Huang said.
Unlike the United States, a lot of Chinese residents pay their gas, electricity, and water bills at a bank, and most retired people rely on cash because they don't know how to make a payment using the internet or a smartphone, or how to pay for groceries using a bank card.
Gu Xiaohua contributed to this report.