Three new cases of the CCP virus have been detected in Brisbane hotel quarantine, one of which is the partner of the quarantine hotel cleaner who sparked the three-day lockdown.
The man initially tested negative in the morning on Jan. 7 but became unwell in the evening.
Chief Health Officer Jeannette Young is asking anyone who has been to the venues he visited in the two days before Jan. 7 to come forward for testing.
The venues are Bunnings Warehouse Acacia Ridge, between 2 p.m. and 2.15 p.m. on Jan. 5; and Sunnybank Cellars, between 2.05 p.m. and 2.15 p.m. on Jan. 6.
"The risk is low, but the risk is there, so I really ask you to come forward," she told reporters.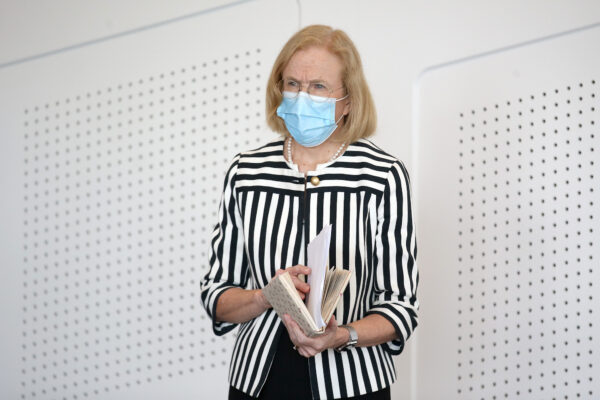 She also urged anyone who went to three venues visited by the hotel cleaner last week to come forward and get tested.
Those sites included Woolworths at Calamvale North, Coles Sunnybank Hills Shoppingtown, and a Sunnybank Hills newsagent and were visited between Jan. 3-5.
The other two confirmed cases are a man and his daughter who returned from Lebanon and tested positive while in quarantine.
As of Jan. 12, Queensland does not require Victorians coming into the state to be tested unless they have symptoms, no matter how mild.

State Health Minister Yvette D'Ath urged Queenslanders to get tested in order for health authorities to monitor for outbreaks.
Masks are mandatory in supermarkets, shops, indoor markets, places of worship, libraries, gyms and indoor recreational facilities such as cinemas and art galleries until Jan. 22.
They must also be worn on public transport, taxis, and rideshare vehicles and should be carried at all times.
Deputy Police Commissioner Steve Gollschewski said while officers would enforce mask-wearing they may also offer people masks if they don't have one.
"We will always give people the opportunity to comply with the directions," he said. "However, if people choose not to do that, there are strict penalties that apply and up to a $1300 fine could be imposed."
Gatherings in private homes have been capped at 20 people and capacity is restricted at pubs, restaurants, and cafes.
Young also said an ongoing investigation into how the hotel cleaner became infected might not be conclusive.
Police are trying to recreate the entire timeline to pinpoint any specific breach.
"It still may be that we will never get to the bottom of whatever actually happened because it could be something quite incidental to do with how infectious disease is," Commissioner Gollschewski said. "But we will absolutely look at everything in the whole process."
The total number of active cases in Queensland is 28.