Beijing authorities have underreported the number of diagnosed patients, according to leaked documents from the city's only designated hospital for treating COVID-19 patients.
The city claims that the second wave outbreak is under control and that one facility would suffice. But The Epoch Times previously obtained city government documents that showed that health authorities were requiring local hospitals to prepare additional beds in anticipation of a surge in COVID-19 patients.
In addition, a document from a county government in nearby Hebei Province, where the outbreak has since spread, emphasized that information about the local epidemic should be kept secret.
The confidential documents come from a trusted source with access to government databases.
Publicly, Hebei officials didn't confirm any new infections, but they imposed lockdown measures on roughly half a million residents.
Meanwhile, officials announced more CCP virus patients in Beijing as the city government launched a series of strict rules.
The Beijing municipal health commission stated in a June 24 internal document: "All patient rooms [at hospitals] must be locked 24 hours a day. … Aside from necessary diagnosis or treatment purposes, patients are not allowed to leave the patient area." The commission added that no visitors would be allowed to see patients at hospitals at the moment.
The Beijing Emergency Medical Center, a division of the health commission, stated in an internal document dated June 22 that Beijing medical staff who went to Hubei to support its outbreak efforts won't be allowed to come back to Beijing for the time being. In addition, students at school must have their body temperatures screened every morning, noon, and afternoon.
Underreport
Xu Hejian, spokesman for the Beijing city government, said at a press conference on June 30 that the total number of infections in this second wave outbreak had reached 325 diagnosed patients and 27 asymptomatic carriers. This resurgence began in mid-June, according to authorities.
But Ma Yanfang, director of the medical office at Beijing's only COVID-designated Ditan Hospital, admitted that the facility's 300 beds for virus patients weren't enough and said about 180 more beds had been arranged recently, in a June 30 interview with a state-run newspaper Health News.
On June 18 and 19, Ditan Hospital transferred all of its non-COVID patients to other hospitals and has since only treated COVID patients.
The Epoch Times obtained internal documents from Ditan Hospital that showed the daily summary of nucleic acid test results for several dates in June.
For example, on June 19, the hospital tested 773 people, and 246 of them tested positive. The report noted that all 246 of these patients were being treated at the hospital.
However, the Beijing health commission announced only 22 newly diagnosed patients for June 19, with a cumulative total of 205 infections since June 11.
The city of Beijing announced on June 14 that 79 medical institutions in the city would be conducting COVID-19 testing. As Ditan Hospital alone has more positive diagnoses than officially reported, the true number of diagnoses for the entire city is likely far higher—given the likelihood of more positives at other testing sites.
According to another internal report, on June 17, Ditan Hospital recorded that its outpatient department tested 288 people, 26 of whom tested positive for COVID-19. Three others were designated as asymptomatic carriers; Chinese authorities count them in a separate tally.
At its inpatient department, the hospital diagnosed 83 COVID-positive patients on June 17, meaning the hospital diagnosed a total of 109 COVID-positives that day.
However, the city announced only 21 newly diagnosed patients for June 17.
Other reports The Epoch Times obtained showed only data for the inpatient department, with 15 positive patients on June 13; 27 positives on June 14; 27 positives on June 15; and eight positives on June 18.
Officials announced a city total of 36 confirmed diagnoses on June 13; 36 on June 14; 27 on June 15; and 25 on June 18. Given that there were likely more positives from Ditan's outpatient department alone, the city likely also underreported data for those dates.
Large-Scale Testing
The city began requiring certain residents to take nucleic acid tests, including those who recently visited the Xinfadi food market—where authorities have attributed the source of the latest outbreak—or those who live in neighborhoods near the market.
Residents complained about the testing. A migrant worker in Beijing who planned to return to his hometown took a test on June 24, as authorities currently prevent people from leaving Beijing unless they have a negative nucleic acid test result that was performed within the past seven days.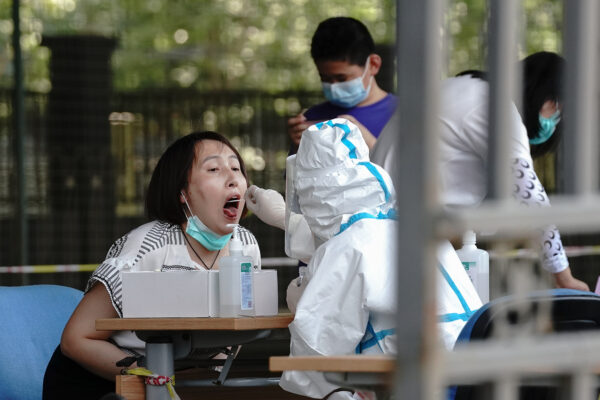 The worker told the Chinese-language Epoch Times in a phone interview that he hadn't received the test result as of June 27, and had to sleep in the train station while he waited.
The worker said he was worried that the hospital where he got tested wouldn't send the result within seven days—then the test result would have expired.
Beijing resident Wang Tianhe similarly said he took a test on June 22 but hadn't received the result as of June 27. Wang needs the test result to continue working.
Authorities have required workers in certain occupations, such as restaurants and courier services, to show a negative nucleic acid test result before they go to work.
Lockdown
Hebei is the province that surrounds Beijing. After the virus resurgence in June, Hebei has since announced just 12 diagnosed patients in the entire province. For June 27, the provincial government didn't report any new infections, but locked down Anxin county to prevent the virus from spreading.
State-run media Xinhua reported that all residents in Anxin, except very sick people who need to be treated at hospitals or working staff who enforce the lockdown rules, must stay at home. Only one person from each household is allowed to go out shopping for basic necessities once per day.
According to Hebei official statistics, Anxin had about 458,000 residents as of 2018.
Local authorities have kept quiet about the outbreak, despite strict measures.
The Epoch Times obtained an internal document that was issued by the Anxin county government on June 13, in which it ordered all officials to tightly control public opinion and not expose outbreak-related information.
"All outbreak-related information can only be published by the provincial government," the document stated.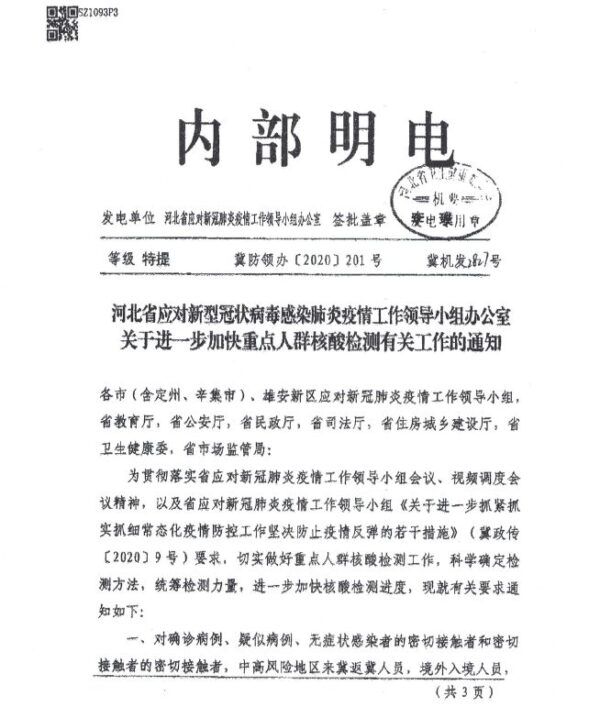 Another set of internal documents that The Epoch Times obtained showed that Hebei Province also ordered large-scale testing on residents.
In a June 24 notice, the provincial government requested that "key groups" be tested twice within three days. These groups include school teachers, students, new patients at each local hospital, people who arrived in Hebei recently, people who work in environments where workers are physically close to each other, and so on.