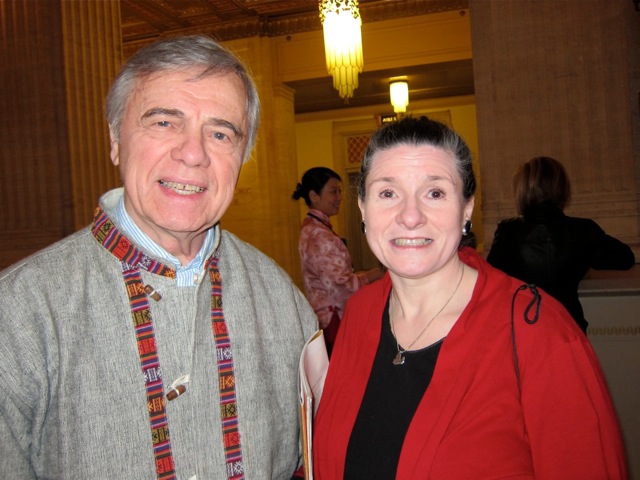 CHICAGO—Don Torgersen is abundantly creative. A poet, filmmaker, editor, producer, director, and publisher, he has also written a biography of Mahatma Gandhi, a number of children's books, ran for the U.S. Senate, trained in the U.S. Navy, and worked in radio, education, and marketing.
He has now seen Shen Yun Performing Arts, which he caught at the Civic Opera House in Chicago with his wife, Kathleen, on Saturday, April 21.
"It was a lovely performance," he said.
Mr. Torgersen is producing a book of recently written poetry, and says he will now include his experience of Shen Yun.
"I will include in my book something about Shen Yun," he said. "I will include the concept of divine beauty."
According to the Shen Yun website, Shen Yun Performing Arts, a New York-based company, was established in 2006 with the mission of reviving 5,000 years of divinely inspired Chinese culture.
While much of that culture was destroyed during more than 60 years of communist rule, "the deeper spiritual core of the ancient culture, with its values of benevolence, honor, propriety, wisdom, and sincerity, as well as a reverence for the gods and the heavens, cannot be destroyed," the website says.
For Mr. Torgersen, Shen Yun represented traditional Chinese culture, "the beauty, the artistic beauty, the strength of the dance, and the femininity of the women. I admire it tremendously," he said.
Mrs. Torgersen also appreciated the beauty of the performance. "The skill, the expertise, I really appreciate it so much. So colorful," she said.
She also noted the digital backdrops. "The inventive use of the back-screen, with the moving action from the live stage, was just so effective in creating a much deeper expression of their story," she said.
Reporting by Valerie Avore and Lillian Chang.
Shen Yun Performing Arts, based in New York, has three touring companies that perform simultaneously around the world, with a mission to revive traditional Chinese culture. Shen Yun Performing Arts International Company will perform in Chicago through April 22.
For more information visit ShenYunPerformingArts.org