Austria's health minister on Thursday released the details of a government-imposed COVID-19 vaccine mandate that will take into effect early next year.
The new measure will require all persons, starting on Feb. 1, who have a place of residence in Austria and are aged 14 and over to get the shot or face heavy quarterly fines.
Austrian authorities announced last month that it would implement a general mandate for the shot early next year, becoming the first European country to do so.
"So-called 'vaccination deadlines' take place every quarter," Austria's Health Minister Wolfgang Mueckstein explained in a statement, adding that for citizens who do not meet this deadline, a procedure will be initiated.
"[The] procedure amounts to up to €3,600 [$4,071]—taking into account the income and financial circumstances," Mueckstein said. "Unvaccinated people are reminded every quarter to be vaccinated until the next 'vaccination deadline' or to register a reason for an exception."
The income and other financial obligations of Austrians will be taken into account in calculating fines. Alternatively, officials can opt to impose a fine of up to 600 euros (about $680) in shortened proceedings.
People excluded from the measure include pregnant women, children under age 14, and Austrian's who cannot get the shot for health reasons.
Authorities will write to unvaccinated people every three months, reminding them to get their shots or get a doctor to certify their right to an exemption before the next cutoff date. If they continue not to comply, fines can be imposed every three months. Proceedings will be dropped if people produce proof of vaccination in the meantime.
About 68 percent of the Central European nation's population is vaccinated against the CCP (Chinese Communist Party) virus, which causes the disease COVID-19, according to government data.
A large percentage of the public in the Central European nation is skeptical about COVID-19 vaccines. Austria has one of the lowest vaccination rates in Western Europe.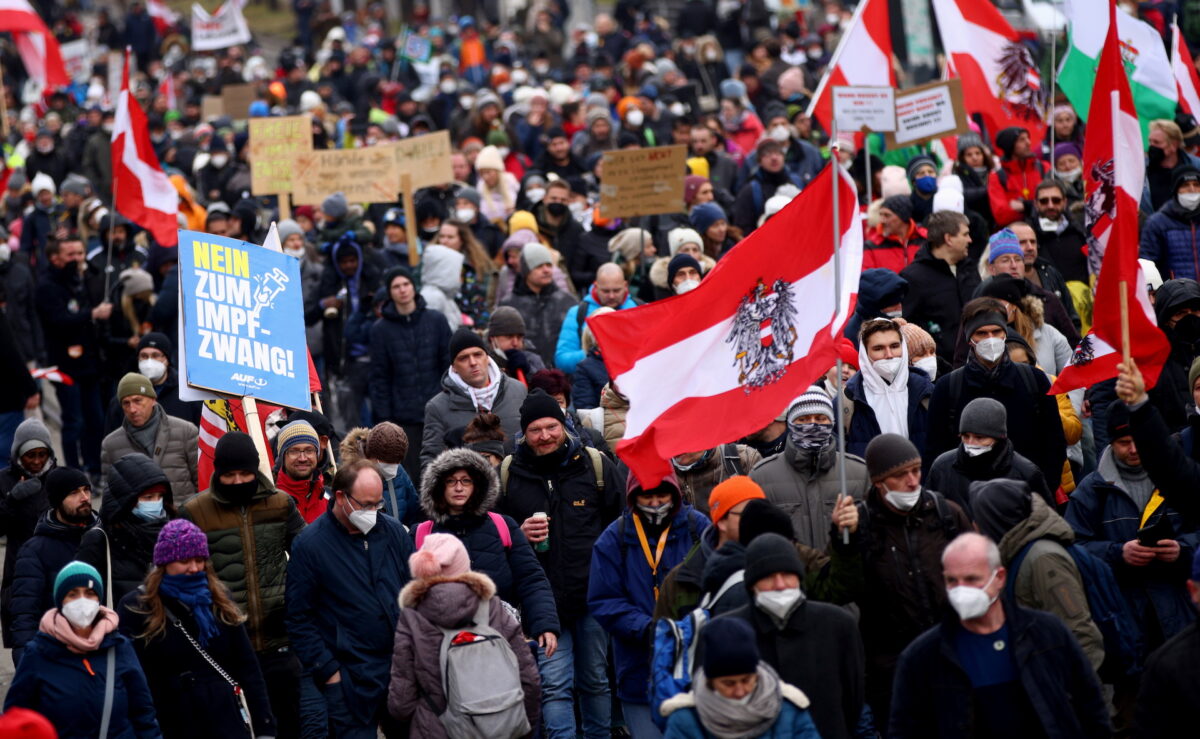 The announcement from Austria that it would introduce a general vaccine mandate came on Nov. 19—at the same time the government decided to lock down the country to counter an increase in CCP virus cases. That lockdown is due to end on Dec. 12, though restrictions will remain for people who decided not to get the shot.
"I say very clearly that we don't want to punish the people who aren't vaccinated," said Karoline Edtstadler, the Cabinet minister responsible for constitutional issues, in reference to government-imposed fines and additional restrictions on those unvaccinated.
"We want to bring them along, we want to convince them of this vaccination and we want them to show solidarity with everyone so that we can regain our freedom," she added.
Last week, more than 40,000 people marched through Vienna, the country's capital, to protest against the lockdown and the country's plan to make COVID-19 vaccinations compulsory.
Austria has a population of about 8.9 million people. Health officials have reported more than 1.2 million cases and nearly 13,000 CCP virus-linked deaths since the pandemic began nearly two years ago.
The Associated Press contributed to this report.
From NTD News