Australia's most populous state will be led by its first conservative-leaning leader in several years after the Liberal Party voted overwhelmingly in favour of Dominic Perrottet to replace outgoing Premier Gladys Berejiklian.
Perrottet, from the Right faction of the party and a critic of lockdowns, said it was a "new chapter" for the state of New South Wales (NSW).
"Up until now, all of our Liberal premiers have been infrastructure premiers—building roads, rail, schools and hospitals for communities right across our state," he told reporters in his first speech.
"That will not change with me, but I will also be a family premier, focusing on how we can make life better for working families, living the Liberal values of opportunity, aspiration and hard work."
He won the leadership bid against friend and colleague Rob Stokes in a ballot earlier in the day, 39 votes to five, with the support of the Right and dominant Moderate faction within the party.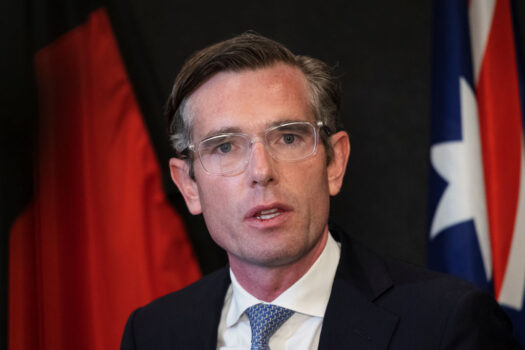 "Our party room has made their choice, and made it emphatically," Stokes wrote on Twitter. "I'd like to congratulate my great friend Dom Perrottet on being chosen as our new leader and becoming the NSW Premier."
"The community now rightfully expect us to get on with the job we were elected to do and ensure that we recover from the pandemic and regain our freedom," he added.
The devout Catholic and father-of-six will become the 46th person to be premier of NSW and its youngest ever at 39.
Following the surprise resignation of former Premier Berejiklian on Oct. 1, as well as two other state members of Parliament, Perrottet was forced to reshuffle the cabinet upon ascending to the top role, with former Jobs Minister Stuart Ayres, 40, to be deputy premier, and previous Environment Minister (and Moderate faction powerbroker) Matt Kean, 40, taking the role of treasurer.
Ayres is currently the member for Penrith (which is held by the Liberal Party on a thin margin), and promotion to deputy premier comes as electoral battle lines begin to be drawn for the fast-growing Western Sydney region, which Opposition Leader Chris Minns has already set his sights on.
Perrottet did not rule out any changes to the state's reopening plan after four months of strict lockdowns, which will see NSW open up certain freedoms once 70 and 80 percent of the population is vaccinated before completely opening up on Dec. 1.
"While there are still more challenging days to come, there is light at the end of the tunnel," he said.
"Our first priority will be to continue the plan that we have started—keeping people safe, opening up the economy and securing our recovery," he added.
Perrottet has been a long-running critic of lockdowns. In July, it was reported he told the state's Chief Health Officer Kerry Chant to take a pay cut if she were to proceed with strict lockdowns over parts of Sydney.
He has also stated that he is open to having more women in the cabinet and to continuing renewable energy development efforts.
Perrottet will also allow a conscience vote on impending voluntary assisted dying laws, a move that will appease the Moderate faction.
Previously he has staunchly opposed practices such as abortion, saying supporters were on "the wrong side of history," and against political correctness, specifically the use of gender pronouns in public service.