The Victoria Big Battery—due to become the southern hemisphere's largest battery—burst into flames last week and remained ablaze for almost four days as firefighters struggled to extinguish one of its Tesla battery megapacks.
The battery's failure has re-ignited concern that the technology may not be feasible or sustainable amid Australia's transition towards cleaner energy alternatives.
An hour's drive from the heart of Melbourne, the 300 megawatt (MW) battery plant had one of its Tesla battery arrays catch fire just two days after its project overseer, Neoen, announced the station had formally hooked up to the grid. Completion of the project was due by the end of the year.
Reports outlined that the fire began during the early stages of testing, with only one neighbouring megapack affected. The system was also able to be safely disconnected without impacting the grid.
No injuries were sustained, and health reports indicated that air quality in the local community had not been compromised.
Victoria's Country Fire Authority (CFA) spokesman said that the incident had been prolonged due to challenges posed by the lithium-ion battery.
"This is the first mega pack fire that's ever happened in the world, is our understanding," the spokesman said.
"They are difficult to fight because you can't put water on the megapacks … all that does is extend the length of time that the fire burns for," he said. "The recommended process is you cool everything around it so the fire can't spread, and you let it burn out."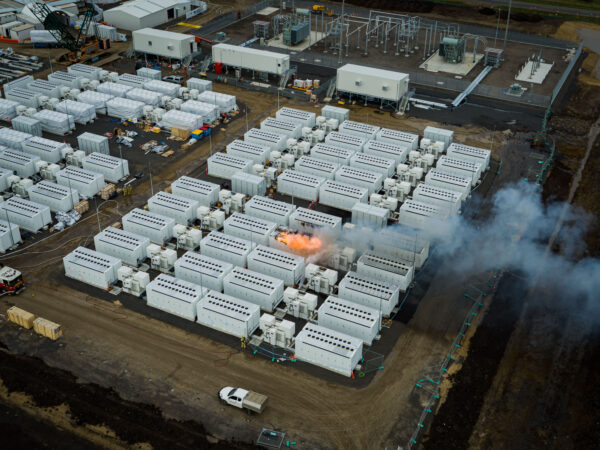 An investigation into the cause of the fire will be headed by several groups, including Energy Safe Victoria, Victoria Police, and the CFA.
The big battery is at the forefront of Victoria's world-leading plan to halve emissions by 2030, with the state becoming one of the first jurisdictions in the world to legislate a net-zero target.
Do Batteries Suit Australia's Grid?
Despite an environmental push for battery use alongside renewables, an expert in electrical grid systems and Professor of Engineering at the University of Melbourne, Iven Mareels, said that the technology was unsuitable for large-scale grid storage.
"They do have a role to play," Mareels told The Epoch Times. "But not on the big grid."
Mareels explained that while lithium-ion batteries would inevitably become cheaper over time, the issue lies in that too many batteries would be required to wholly support a largely solar and wind system.
"You can never build batteries enough to store for the grid," Mareels said. "That's not going to happen, in my opinion."
In particular, Mareels pointed out that grid batteries, under high demand, tended to last for only very short periods of time.
For example, South Australia's Hornsdale Power Reserve built by Tesla—the largest in the world at the time of construction—outputs at 150 MW with a storage capacity of 185 megawatt hours (MWh).
The $172 million battery is capable of outputting at its maximum for just 74 minutes—an inadequate period of time for moments when solar and wind are unable to kick in, such as windless night.
Mareels instead suggested that Australia's ticket to energy security lay in pumped hydro, which uses water reservoirs as a way of storing energy.
"For large, massive storage, I'd put my money anytime on water before I put it on batteries," Mareels said.
The government-funded electrical utility company, Snowy Hydro, is currently constructing a 2,000 MW, 350,000 MWh pumped hydro storage system capable of running at maximum output for 75 hours.
The Snowy 2.0 project is estimated to cost between $3.8 billion and $4.5 billion, but while carrying a 20-fold price tag, the water-based system will be capable of storing almost 2,000 times as much energy as Hornsdale.
To add to the list of problems, Mareels also highlighted the fact that lithium-ion batteries were not sustainable, despite an environmentally-positive portrayal by advocates of the technology.
"Batteries are not as renewable as people make them out to be," Mareels said.
In particular, lithium—a key element used in the batteries—is a finite resource.
On top of that, Mareels said that battery recycling was difficult and expensive, leading to further unsustainability when combined with an inherently shorter lifespan—batteries typically reach end of life after just 20 years.
"Recycling batteries is hard, hard work," Mareels said.