Australian travel agents are planning a series of protests next month over continuing restrictions imposed on the tourism industry, which has been devastated over the course of the pandemic.
Belle Goldie, owner of iTravel Penrith in the west of Sydney, told 2GB radio on Dec. 24 that since the announcement of the rallies, she has received an "outpouring of support from the industry," with some agents calling her "in tears."
"We were told to wait until the vaccines arrived, or told to wait till we reached herd immunity which moved from 70 to 80 to 90 percent," she said.
"Now we're here we still don't have a restart plan, and there's really no reasonable justification."
Goldie said the government has imposed "a spider web of restrictions" which discouraged Australians from travelling.
"Agents across Australia and around the world are left scratching their heads on a daily basis on what today is going to bring, what's going to change," she added, pointing in particular at the recently extended ban on cruise ships from entering the country until Feb. 17, 2022.
"For us, it's frustrating, and it's also very confusing. So imagine what it's like for our customers."
The first rally is set to kick off in Sydney on Jan. 9, 2022, followed by a second protest in Brisbane two weeks later on Jan. 23, 2022.
The news also comes days after three major airlines—Jetstar, Virgin Australia and Qantas—cancelled and rescheduled dozen of flights on Christmas Eve as management tried to cope with COVID-19 restrictions.
For example, a Jetstar spokesperson said its cancellations were the result of many several staff being forced to "test and isolate as close contacts."
According to a survey of 1,500 people conducted by the Tourism and Transport Forum, Western Australia and Queensland topped the list of states most likely to shut their borders at short notice citing concerns with the potential for more lockdowns, lack of consistency of rules between jurisdictions, and fear of not being able to return home.
John Sharp, deputy chairman of Regional Express Airlines said on Dec. 20, the risk of flight cancellation is "very much up to state premiers," who have proven in the past that they are "very keen and willing to close borders and introduce travel restrictions."
People had been "persuaded" to get the COVID-19 jab to not only protect themselves against getting the virus, but also to travel freely, he said.
"I think it would be a breach of trust between governments and the public if state premiers were now to say, despite the fact that we have got the highest vaccination rates anywhere in the world, we are going to close borders and restrict your ability to travel," he told the Today program.
"Keep your nerve and don't break that trust."
Once a driver of Australia's economy's growth, generating AU$60.8 billion (US $43.9 billion) in GDP in 2018-19, the travel industry suffered a $50 billion loss in domestic overnight travel from Mar. 2020 to Sep. 2021, according to data from the National Visitor Survey monthly snapshot by the Australian Trade and Investment Commission.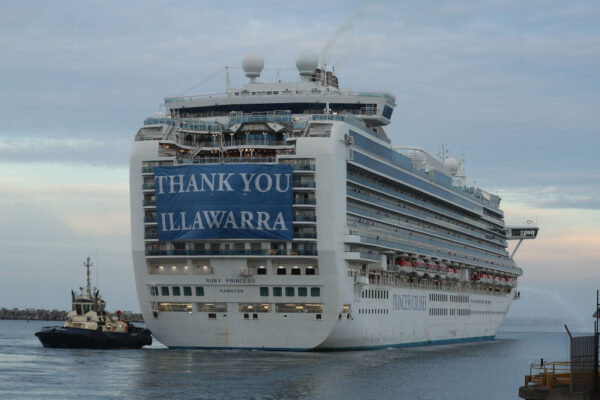 Joel Katz, managing director of Cruise Lines International Association, said Australia was the only major cruise market in the world without an agreed plan to resume cruising.
"The suspension of cruising has been devastating for the 18,000 Australians who depend on cruise tourism, including travel agents, tour operators, food and produce providers, entertainers, port workers and many other industry suppliers," Katz said in a statement on Dec. 10.