Tasmania will offer Apple prizes in a bid to speed-up vaccination of 12 to 18-year-olds in the state.
The government is organising a five-day vaccination blitz to drive up lagging inoculation rates from Nov. 20.
"If you're aged 12 to 18 and have had a first or second dose of the vaccine by the 24th, you will be in a draw with a chance to win an iPad and iPhone or an Apple watch," Premier Peter Gutwein told reporters on Nov. 19.
"We've had many conversations about what we can do to pick the vaccination rate up," he said.
"There will be 50 prizes to be won, including spot prizes, especially for young people who are vaccinated in the next five days at state run clinics. Please make the most of this opportunity."
Currently, 50 percent of the 12 to 15 age group is fully vaccinated, with 68 percent receiving one dose.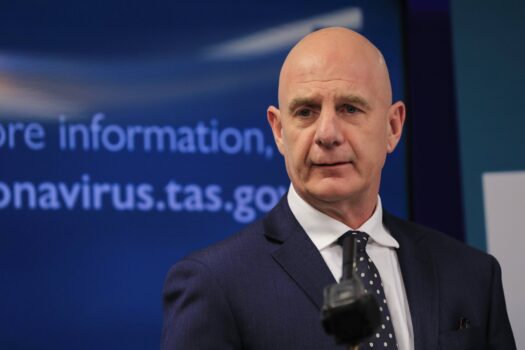 The state government is also pushing to increase the overall vaccination rate to 90 percent once state borders open on Dec. 15.
"Where I don't want to be on Dec. 16 is looking back and saying, 'Gee, I wish that we had done a little bit more,'" Gutwein said.
The campaign follows in the stead of similar, novel efforts to boost vaccination rates, including "Super Pfizer Weekend" in Queensland, and the Million Dollar Vax lottery campaign, which saw 25-year-old Joanne Zhu in Sydney win the inaugural prize.
Tasmania is due to open its domestic borders to fully vaccinated local travellers, who will need to provide evidence of a negative COVID-19 test within 72 hours prior to arrival.
Unvaccinated travellers will need to apply for entry, and if approved, will need to quarantine.
Since the beginning of the pandemic, Australian jurisdictions have relied heavily on a tough suppression strategy to deal with outbreaks of COVID-19.
For example, in August, the Australian Capital Territory of 430,000 people was placed under a seven-day lockdown after a single positive case of Delta variant of COVID-19.
Such a strategy has proven politically popular, with four incumbent leaders in Queensland, Northern Territory, Western Australia, and Tasmania winning resounding electoral victories.
The narrative, however, has changed in the second half of 2021 due to the Delta variant, with governments now shifting their focus from using the suppression strategy to incentivising higher vaccination rates.
This has seen governments roll out "reopening plans" that involve returning "freedoms" to Australians once they are fully inoculated for the CCP virus.