The state of New South Wales (NSW) has broken the national record again for the most COVID-19 cases recorded in one day, at 3,057 in the 24 hours to 8 p.m. on Dec. 20.
Despite the record high numbers, ICU numbers remain low compared to Delta outbreak, at 39 in total, of which six were newly admitted. The peak number of patients admitted to ICU during the Delta lockdowns was 242.
Two elderly people died, including one vaccinated man in his 80s and one unvaccinated woman in her 70s. Both had underlying health conditions.
NSW Premier Dominic Perrottet has refused to reintroduce mask mandates and other rules, after nearly all restrictions were removed on Dec. 15.
He said the government was taking a "balanced and proportionate" response, and using ICU numbers as the main metric.
"There will always be new variants of this virus. The pandemic is not going away. We need to learn to live alongside it," he told the press on Dec. 20, adding that the government would tailor its response to the circumstances.
While the government has stopped short of bringing back mask mandates, it recommended masks in areas where socially distancing was not feasible.
"It is a time of personal responsibility for our state," Perrottet said. "We are treating the people of our state like adults."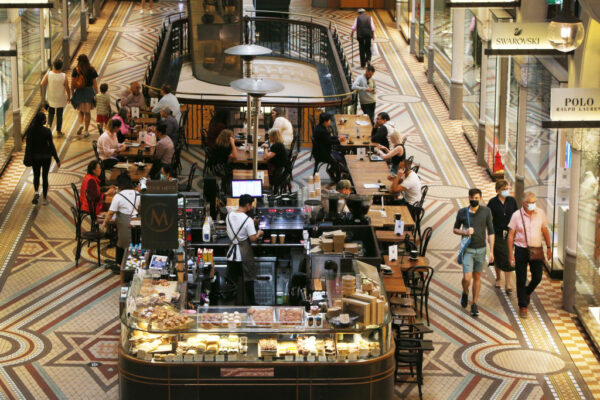 On Dec. 19, the premier said the government couldn't "do everything," and the responsibility was passed over to the people of the state.
"There will always be different opinions from time to time, I accept that," he said. "We (the NSW government) have regular discussions, we are always assessing the situation."
The comments from Perrotett come after health experts appeared on Australian media channels calling on the NSW government to re-introduce mask mandates for indoor in the face of Omicron.
"We only abandoned them relatively recently. We know the vaccine is less effective against Omicron but we know things like mask wearing are effective against any variant," epidemiologist Nancy Baxtertold, a professor from the University of Melbourne, told Nine News. "It doesn't matter what they are, they protect both the wearer and they protect others from COVID."
The Australian Medical Association has also been pushing for mask mandates and density limits, with its president, Dr. Omar Khorshid, describing Perrottet's approach as "reckless."
"DIY contact tracing, watered-down check in requirements, the abandonment of mask wearing mandates, and the removal of density limits are together a recipe for disaster and by the time hospital admissions and ICU cases grow beyond whatever benchmark he is working to—it will be too late," Khorshid said.
Khorshid said until more was known about Omicron and its severity, a more cautious approach was required.
This is despite data from South Africa, where the variant was first detected, which found no conclusive evidence yet that Omicron causes more severe illness compared to other strains.