The New South Wales (NSW) health system could lose about one in ten staff, who have not received a COVID-19 jab, as the vaccination deadline inches closer.
NSW Chief Health Officer Kerry Chant announced yesterday that 88 percent of the state's health staff had received their first dose of a COVID-19 vaccine as of Sept. 14.
This is a four percent increase since Sept. 2, and Chant is pushing for the remaining workforce to get vaccinated.
Under public health orders, all healthcare workers must receive their first dose by Sept. 30 and second dose by Nov. 30, 2021; otherwise, they will be stood down.
"I am really confident that healthcare workers will put the interests of their patients and the interests of their own health [first], and I'm convinced we will achieve very high vaccine coverage," Chant said.
"Our health staff are seeing the consequences day in, day out, of COVID infection. They are seeing patients in ICU, hearing stories, and I'd be very surprised if we'd have a much hesitancy in our healthcare workers," Chant added.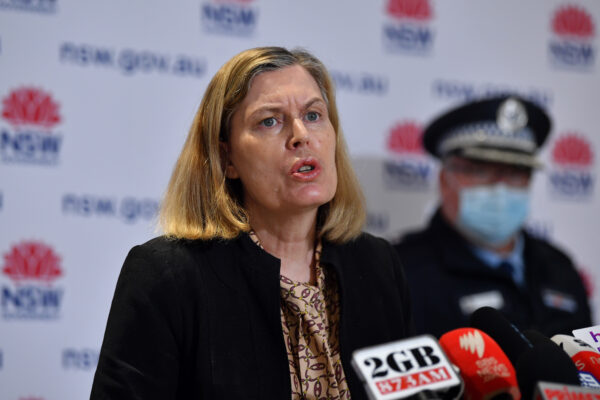 NSW Nurses and Midwives Association (NSWNMA) general secretary Brett Holmes told The Australian their surveys showed around 6 percent of nurses were against getting a COVID-19 vaccination, but many would rather get the vaccine than lose their jobs.
He also warned of the additional struggle that hospitals will experience if the nurses who refuse a vaccination are not allowed to work.
"There will be an impact upon staffing which clearly we're holding our breath about," Holmes said. "They'll have to find a way to cut services. And if there's a crisis that arises, then they'll need to call on more of the private hospital workforce to help out."
The NSW government is expecting COVID-19 cases to peak in October, meaning if hospitals lose more staff, health workers and services will come under further stress.
The NSWNMA is calling for the state government to fast-track the remainder of the planned nursing and midwifery workforce boost to help ease the pressure on current departments.
"[The] record number of babies delivered, and the highest number of elective surgeries ever performed for the quarter, and the unprecedented demand being placed on our health workforce is apparent," Holmes said in a statement.
"The government must bring forward the rest of its planned workforce 'boost' and better support the growing number of fatigued and burnt-out nurses and midwives who have continued to battle on under mounting pressures," he said.
Meanwhile, the national deadline for mandatory aged care vaccination is looming on Sept. 17.
The aged care workforce reached 90 percent first dose on Sept. 10, one week from the deadline.
Health Services Union president Gerard Hayes called on the federal government for a deadline extension of around two to four weeks.
"They cannot afford to have 5 to 10 percent of aged care staff not at work," Hayes told The Guardian. "It is already subject to workforce shortages as we all know."