Current COVID-19 restrictions will remain in New South Wales (NSW) for an additional month, until Feb. 28, Premier Dominic Perrottet announced on Jan. 25.
Restrictions include mandatory indoor mask rules, two-square metre density limits, bans on singing and dancing, and QR check-ins at venues such as retail shops and hospitality.
"This is a cautious approach, a safe and measured approach as we move this next phase," Perrottet said.
The measures are intended to support the resumption of non-urgent elective surgeries and the safe return of children to school.
"It is our absolute intention to resume elective surgery as soon as we possibly can," NSW Health Deputy Secretary Susan Pearce said.
The spread of Omicron is expected to accelerate once school starts, meaning a huge increase in mobility throughout the state.
Perrottet said the government would not be fining parents who choose not to send their children back to school for various reasons such as underlying health concerns.
"We're certainly not going to be fining parents who have concerns," he said but stressed that kids did better at school.
"We cannot have a situation, as we move through this pandemic … [where] we take away the opportunity for our children to succeed in life," he said. "We have the face into this challenge. We know parents are anxious, but it's incredibly, incredibly important that we have kids back in the classroom."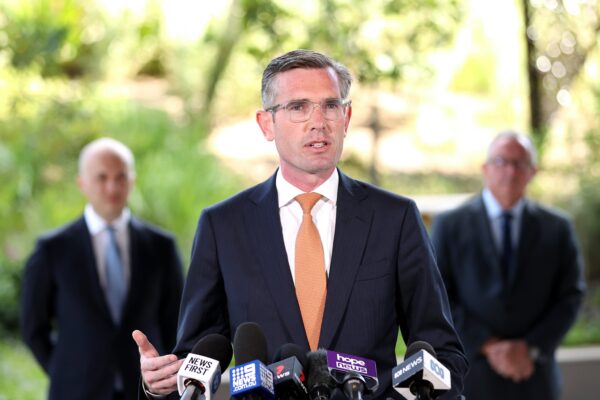 Perrottet assured parents of children with underlying health conditions that the teachers and schools had always worked with parents and students on these issues, and would continue to do so.
It is also expected to "drive economic activity, not impede it," by giving people the confidence to go out.
"It's better to have the two-square-metre rule than no square-metre rules and not having the confidence in the community to go out to restaurants and bars," Perrottet said.
"It's better to be where we are now than to be in lockdown," he said. "Lockdowns crush businesses and get people out of work. That is not the approach we are taking in NSW."
But struggling small and medium businesses can expect to receive additional economic support within the week.
The premier also encouraged that people go outdoors, where possible when gathering and socialising.