Independent Senator for South Australia, Rex Patrick, has promised if elected, he will make political donation reform a priority in the next parliament, due to begin sitting in late May.
Announcing his plan for achieving political donation transparency, Patrick said in a release on Wednesday that drawing attention to the problem of "dark money" is critical to restoring the health of Australia's democracy, adding that it is a task equal in priority to establishing a federal anti-corruption commission.
"The Commonwealth has the weakest political donation disclosure laws in the country. The big political parties–Liberal, Nationals and Labor–have been content to allow a flawed political finance disclosure regime to deteriorate to the point that it is an open door to political corruption and covert influence," he said.
"Political parties are able to conceal the source of donations because of the high threshold of $14,500 for the disclosure of donations and because multiple donations under that threshold to different branches of the same party need not be aggregated and disclosed."
Patrick also noted that the definition of a "gift" under the Commonwealth Electoral Act 1918 is too narrow, allowing dubious fundraising activities to "fly under the radar".
According to the release, Australian Electoral Commission (AEC) data for the 2020/21 financial year shows that more than $68 million (US$48.3 million) of political parties' declared income is of undisclosed origin, and between 1998 and 2021, political parties received around $1.38 billion in undisclosed funds.
"What is required is action to force debate in the Parliament on what is needed to stop the influence of dark money," Patrick said.
"Accordingly, if re-elected to the Senate, I plan to introduce legislation to implement the major transparency reforms recommended by the Centre for Public Integrity and other transparency and anti-corruption experts."
Patrick's proposed reforms include a reduction in the reporting threshold, with individual donations over $1,000 and aggregated donations of $3,000 over three years required to be disclosed.
He would also see a broadening of the definition of "donation" to include income from party fundraisers, corporate sponsorship of business forums, membership fees over $2,000 a year, and any gift that is used for electoral purposes while requiring political parties to use a single designated campaign account for ease of auditing and enforcement.
A  strengthened and adequately resourced enforcement division within the AEC, with serious or systemic breaches to be investigated by an independent integrity commission, is a further reform Patrick is proposing.
He said fixing Australia's broken politics is critical to restoring confidence in the nation's democracy, and as an independent senator, he has used every opportunity to push for greater transparency and accountability from government ministers and public servants.
"However, the past four and a half years of service have left me in no doubt that unless we fix the problem of dark money, our federal parliament will remain compromised and our politics deeply corrupted," he said.
"The early introduction of legislation to implement much needed political donation transparency reforms will force the Liberal, National and Labor Parties to engage on this issue in the new parliament, and whoever forms government will have to reckon with this as a matter of priority."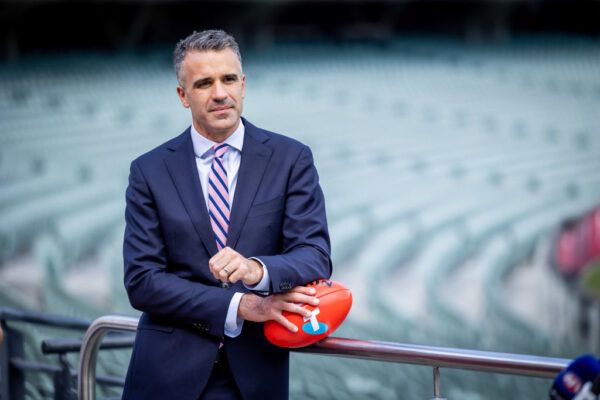 This comes after recently elected South Australian (SA) premier Peter Malinauskas called for a ban on what he called the "arms race" of political donations.
Speaking to the ABC in late January, the Labor leader said he's been on the record for over a decade expressing his concern that political parties and candidates, not only in Australia but right across the Western liberal democracy, have been in a permanent race for greater resources to fight ever more expensive election campaigns.
"I think the best example of that … is, of course, in U.S. politics, where we now see over 90 percent of successful electoral candidates being the one with the most money," he said.
"So, the more money you get, the more likely you are to win, and I just don't believe our democracy is enhanced if the people who are winning election battles are those with the deepest pockets.
"It should be those with the deepest ideas," he said, adding that by removing donations altogether, politicians will spend less time trying to raise funds for their own campaigns and more time doing their job of engaging with constituents and thinking about the future."
Malinauskas went on to say that if elected premier, he wanted to use the authority invested in that position to work towards banning political donations.
"I think that it would be better if our major political parties didn't have to engage in substantial periods of fundraising in order to fund election campaigns, and I think there are ways you can achieve that objective, and that's what I want to pursue if we form Government," Malinauskas said.
He said the first action he'll take is commissioning the Attorney General's Department to analyse the issue and provide policy advice, as well as the Solicitor General to provide legal advice to bring about the ban.
He added that such a huge undertaking would require multi-party support, and therefore he will reach out to the Liberals and crossbenchers to work with him on this long-term vision.
"It's a tough piece of politics. It's complicated in practice. And it's good for democracy," Malinauskas said on social media.