Australian Senator Malcolm Roberts has called on Prime Minister Scott Morrison to follow the United States' lead and declare Antifa a terrorist organisation.
Roberts's concerns for Australia comes after a week of violent chaos in the United States following the death of George Floyd, who said many times he couldn't breathe while a police officer knelt on his neck. What began as peaceful protests were soon marred by riots involving far-left extremist organization Antifa and other similar groups.
"[Antifa] exists in our nation and yet few Australians are aware of its intent," Senator Roberts told The Epoch Times.
Roberts noted Antifa's communist ideological core in a media release on June 2, saying: "We need to stop these far-left anarchists who use violence and fear to push their radical socialist agenda before they recruit and organise further in Australia."
"Australia is a peaceful democratic nation where people resolve our differences through mutual respect and debate, culminating at the ballot box," he said.
The Senator's media statement noted that Antifa has already been known to attack police and agitate at public events in Australia.
"All responsible politicians should be defenders of our cultural, social, and democratic values and it is the Prime Minister's job to act urgently and decisively to protect the social fabric of our peaceful society," Roberts said.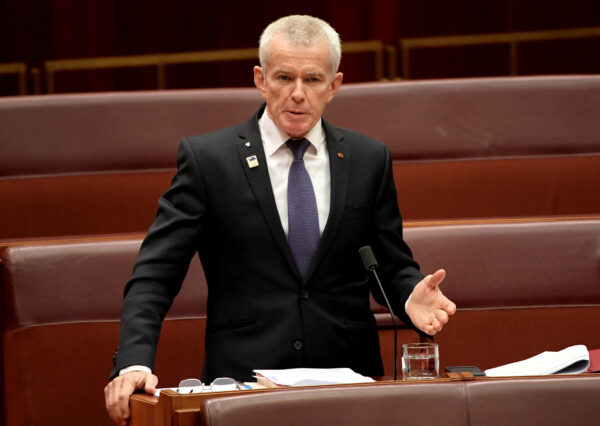 Peaceful Protests Infiltrated By Antifa
In light of the violent riots, U.S. public officials from both sides of the aisle have said that outside groups have been exploiting the efforts of peaceful protestors to further their own agendas.
On May 30, Minnesota Gov. Tim Walz, a Democrat, noted that "bad actors continue to infiltrate the rightful protests" and that 80 percent of the rioters had traveled to Minneapolis from outside the state.
We have reason to believe that bad actors continue to infiltrate the rightful protests of George Floyd's murder, which is why we are extending the curfew by one day.

— Governor Tim Walz (@GovTimWalz) May 31, 2020
U.S. federal officials including the president have pointed the finger at Antifa.
On June 1, Trump said his administration would be designating Antifa as a terrorist organisation after a week of widespread looting and riots across multiple cities and states.
Amid the riots, videos on Twitter showed caches of bricks appearing in Manhattan, Baltimore, North Carolina, and more.
"Yo, we got bricks. We got bricks!" can be heard in a video by NTD reporter Kevin Hogan as rioters discovered and unpacked a pallet of bricks in New York on May 31.
"Yo, we got bricks. We got bricks!"—#Rioters in Manhattan chanced upon a cache in the street equipped with bricks and a shovel at 10:01 p.m. on Second Ave between St. Marks Pl. and Seventh St. pic.twitter.com/dYB7vHdYqL

— Kevin R Hogan (@KRHogan_NTD) May 31, 2020
Communism expert and Epoch Times contributor Trevor Loudon said the bricks and other examples were part of a "terrorist military operation," and that the whole thing had been "completely organised and long preplanned."
"If the death of George Floyd in Minneapolis hadn't sparked these riots, the next one would have," he said. "People need to understand that there are hundreds of foreign-trained agitators and organizers operating in this country, and tens of thousands more disciplined communists."
Journalist Andy Ngo, who was brutally assaulted by members of Antifa in 2018, noted in a thread on Twitter that Antifa and Black Lives Matter (BLM) are attempting to usher in a violent communist revolution in the United States—a pillar of the free world.
Ngo wrote: "BLM at its core is a revolutionary Marxist ideology. Its founders have made no secret of their worship of Communist terrorists & fugitives. They want regime change & the end of the rule of law. Antifa have partnered with them for now to help accelerate the break down of society."
Ngo added that the destruction of businesses across America was not "mere opportunism," but in fact played a crucial role in Antifa and BLM ideology.
"The goal is to abolish capitalism & have regime change. To do that, they have to make economic recovery impossible," said Ngo.
Former U.S. President Barrack Obama said on June 4 that there is a change in mindset taking place as a direct result of the "activities and organising and mobilisation and engagement of so many young people across the country who put themselves out on the line to make a difference."
Obama thanked them for "helping to bring about this moment" and rejected criticism pointed at them, saying: "For those who have been talking about protests, just remember: this country was founded on protests. It is called the American Revolution."
"Every expansion of freedom … has been won through efforts that made the status quo uncomfortable," he added.
Antifa, Far-Left Extremism
Antifa is more of an ideology than an organisation, says a terrorism and counter-terrorism expert from Charles Sturt University.
Troy Whitford, Ph.D., is a lecturer in intelligence and security studies whose research has been in the field of extremist politics. He has done a fair bit of research on the extreme right in Australia, and since 2017, has been studying Antifa as an extremist group.
Whitford said that Antifa have a tendency to use violence to further its means.
"… Their interpretation of fascism tends to be people who don't share the same world view as they do. In order to enforce their worldview, they're then adopting fascist behaviour itself," he told The Epoch Times.
Whitford noted that Antifa "don't like that" contention, but said that it was the risk the group runs in its operational and tactical approaches to carrying out its campaigns.
According to Whitford, Antifa is not as active a problem in Australia yet as in the United States. "Overall, they're mostly focussed on countering nationalist movements in Australia," he said.
As far as declaring Antifa a terrorist organisation goes, Whitford thinks the lack of an operating central leadership makes it hard to know who is a member. Rather, the group works in smaller cells.
"You can't get a card saying you're a member of Antifa. Nor is there a real leader," he said.
However, if the United States and Australia do declare Antifa a terrorist organisation, Whitford said: "It's going to be very difficult to find them. And how do you know when someone's a member of Antifa or they're just a supporter or if they're someone that shares a similar ideological view?"
He said the operational approach would mostly be able to disrupt their communications, but actually arresting people would prove a challenge.
Senator Roberts wrote that he finds irony in the Antifa movement, modelled after the 1930s anti-fascists movements while "themselves behaving as fascists to suppress opposition and call for strict obedience to their self-determined culture of control over others."
If you're not a communist, you're a fascist.

"The Communist Origins of the Antifa Extremist Group Group promoted communist dictatorship in Germany on Soviet Union's behalf and labeled all ideologies other than communism as fascism."https://t.co/rUKbTHQVL5

— Malcolm Roberts 🇦🇺 (@MRobertsQLD) June 3, 2020
Watch Next:
The War for America's Soul: How the Far-Left Radicalized America's Institutions