Tasmanian Liberal Senator Eric Abetz said there needs to be a "reckoning with the Chinese communist dictatorship and its leadership must be held to account" for its culpability in the spread of the CCP virus, commonly known as novel coronavirus.
"The decency of the Chinese people is not the issue. The Communist dictatorship's decency under which the Chinese people suffer, however, does need to be questioned," he told The Epoch Times.
Abetz listed a number of reasons why the Chinese Communist Party (CCP) should be held to account.
"Firstly, the unacceptable 'wet markets' (the likely source) have not been closed although previous warnings and concerns were delivered after similar type outbreaks, e.g. SARS."  He noted that Prime Minister Scott Morrison has also called for the markets to be shut down.
"Secondly, the fate of the doctor [Li Wenliang] who first alerted the Chinese communist dictatorship of the virus needs to be fully explained," he said.
After Dr. Li posted about the virus to a WeChat group of his medical school colleagues, Li was called in by police and reprimanded for "spreading rumors online" and "severely disrupting social order." Li ultimately contracted COVID-19 and subsequently died.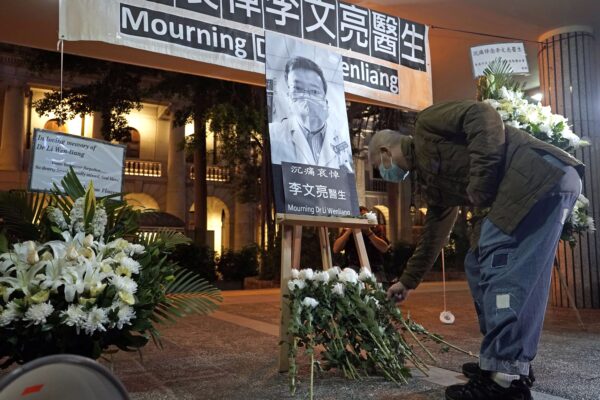 "Thirdly, the seriousness of the virus was known to the regime, which is why they got their operatives in Australia to purchase all the personal protective equipment they could and ship it to China. A particularly reprehensible activity," Abetz said.
"We are paying the heavy price of a communist regime's failure to live up to its moral and ethical duty in initially informing, and advising, and then in helping other countries deal with the epidemic," he said.
Abetz said an international probe into any cover-up about the CCP virus is warranted but only after the pandemic has passed.
"The focus at this time must be to fight this insidious virus," he said.
Regarding the long-term impact of the pandemic on Australia, Abetz said, "The pandemic will refocus national policy on the wisdom of our forefathers' commitment to the timeless virtues of being prepared, self-reliance, not putting all one's eggs in one basket, putting aside for a rainy day, and government cannot fix everything."
"There will be a substantial recalibration of priorities as the repayment burden hits," he said.
The Epoch Times reporter Rachel Qu contributed to this report.