In a week of escalating trade tensions with China, Senator Concetta Fierravanti-Wells has called for Australia to establish an economic "plan to decouple from China."
The call comes as twice this week China took economic action against Australia by proposing an 80 percent tariff on barley imports and announcing the suspension of meat imports from four local abattoirs.
Fierravanti-Wells said Australia needed to rely less on China and develop its own manufacturing base for "strategic goods and services" including medical and pharmaceutical equipment.
She said Australia needs to devise a "plan for reparations" and a plan to "reduce our dependency on the communist regime."
Trade minister Simon Birmingham said the federal government was working with China to find a resolution to the trade issues.
He confirmed on Wednesday morning, May 13, however, that he had yet to receive a response from his Chinese counterpart Zhong Shan upon reaching out for a meeting.
Fierravanti-Wells told The Epoch Times on May 11 that Australia's "over-reliance" on the Chinese economy will be "weaponised" by the Chinese communist regime to influence the nation's long-term interests.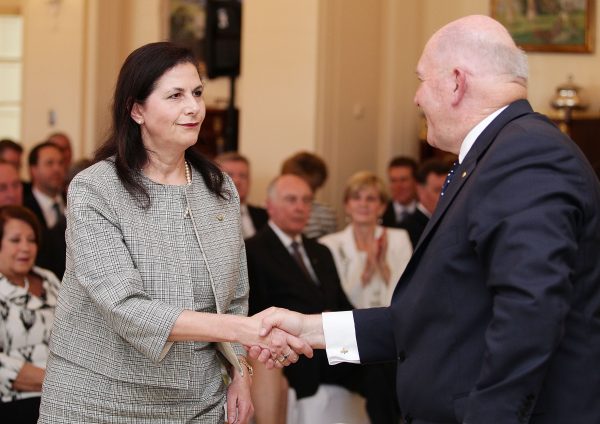 She cited the Department of Foreign Affairs' Composition of Trade Australia 2018-2019 report, saying 26.4 percent of Australia's two-way trade is with China.
"The Government must finally understand that putting 26.4 percent of our trade eggs in the China basket has made us overly vulnerable as was evidenced by the recent comments from the Chinese ambassador," she said.
The Chinese ambassador, Cheng Jingye, said during an interview on April 26 with the Australian Financial Review that it was not in Australia's "interests" to pursue an investigation into the virus, and alluded the Chinese public may no longer wish to consume "Australian wine" and "beef."
Currently, Australia's top five exports to China are iron ore, natural gas, coal, gold, and wool, which the senator said was "critical" to China's economic growth. She said Australia, in turn, imported from China – telecom equipment, computers, furniture, refined petroleum, children's goods, sporting goods, and textiles.
"This demonstrates the extent of our dependency on China but also the enormous scope for greater self–reliance."
Australia's next largest trading partners are Japan (9.9 percent of trade), and the United States (8.6 percent).
In recent weeks, the federal government has focused on reviving Australian industries, amid the fallout from the pandemic, with Prime Minister Scott Morrison highlighting the importance of Australia's "domestic economic sovereignty" on April 7.
The government established the COVID-19 commission on April 24, tasked with mitigating the economic impact of the virus. The commission is headed by industry heavyweight Nev Power, former Fortescue Metals Group CEO, and includes Andrew Liveris, former CEO of Dow Chemical, who headed U.S. President Donald Trump's American Manufacturing Council.
The government has championed a series of local manufacturing endeavours in recent weeks including Boeing designing and building the first military aircraft in Australia in 50 years, a Geelong-based military contractor winning a US$107.5 million contract to manufacture countermeasure flares for the U.S. Airforce, and increased personal protective equipment manufacturing.