Police in New South Wales (NSW) have forcibly closed an Australian pub for alleged, repeated breaches of COVID-19 public health orders.
The Caledonian Hotel, a bar in the town of Singleton NSW, was ordered by officers from the Hunter Valley Police District to close on Oct. 16 until midnight on Oct. 19.
"The closure order follows a number of previous interactions with the licensee—a 57-year-old man—due to repeated and continued breaches of the Public Health Order by allegedly allowing—and not taking steps to prevent—unvaccinated people being at the premises," Mick Fuller, the NSW police commissioner said in a statement on Oct. 16.
"Police have attended the venue numerous times in the past week and issued the licensee three penalty infringement notices (PINs) and staff members three PINs for breaching the public health orders."
A PIN is $1,000.
Under current NSW government-mandated health restrictions, hospitality venues—including pubs and restaurants—can only serve fully vaccinated (two doses) customers until Dec. 1, when all restrictions will be dropped.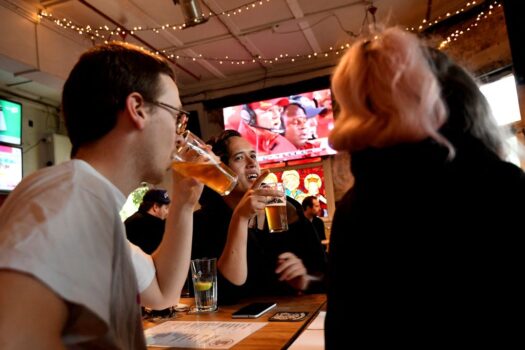 Owners of the Caledonian Hotel have been critical of public health restrictions, writing on Facebook on Oct. 16, "The Cali never has and never will support segregation or discrimination. The Cali will always forever and a day welcome all."
The venue is also part of the Open For All initiative, a directory featuring businesses choosing to stay open for all customers regardless of vaccination status.
Sue Moore, mayor of Singleton, said the establishment's stance against public health orders was disappointing.
"I'm hearing from people they are very annoyed with the hotel for taking this approach," she said, according to the Newcastle Herald.
"Our numbers of vaccination, or fully vaccinated numbers, are still just under 60 percent, or close to 60 percent, so it's a long way from picking up," she added. "There are people still getting vaccinated, obviously, and that is concerning."
David Layzell, the state member of Parliament for the Upper Hunter, said everyone was allowed to make their own choices but still needed to comply with government laws.
"We have tried to make the environment such that businesses can operate with certain restrictions," he said on Oct. 17.
"They are welcome to close the doors until we come to a time that communities can interact safely, but we can't have a situation where people don't agree with the restrictions, don't agree with the science of the vaccinations, and still want to operate."
NSW is the earliest jurisdiction in Australia to begin returning "freedoms" to its residents under a roadmap tied to the vaccination status of the population.
At present, fully vaccinated residents of the state have seen batches of freedoms released on both Oct. 11 and on Oct. 18.
Moves by the NSW government—accelerated under new Premier Dominic Perrottet—signalled a major turning point for the predominant narrative in Australia on how to handle COVID-19, which has seen state authorities favour strict health restrictions—including lockdowns and domestic border closures—to control outbreaks of the virus.
This narrative has gained ascendancy due to favourable media coverage (including opinions from medical experts) and approval from the public which has helped four incumbent governments win elections over the past year.
Australia's relatively low case and death count from COVID-19 by global standards has also helped breed a "safetyism"-first approach, according to psychiatrist Tanveer Ahmed.
However, some businesses have chosen to remain closed until Dec. 1, including Hardcore Gym in Sydney's south, who said vaccination passports went against the values of their business.
"The vaccination passport goes against our values, not only as business owners but also as humans that are part of a free society."