Australian Prime Minister Scott Morrison has warned any of its citizens remaining in Ukraine to leave urgently. He claimed the threat of a Russian invasion is making the situation "dangerous."
Speaking to the media in Sydney on Feb. 12, Morrison said his government had since late last year been warning Australians in the eastern European nation to "put themselves in a position of safety."
"Our advice is clear, this is a dangerous situation … you should seek to make your way out of Ukraine," he said.
He added: "We have continued that well into last month and it has been a clear message for some time now that Australians in Ukraine should be seeking to get out of the country."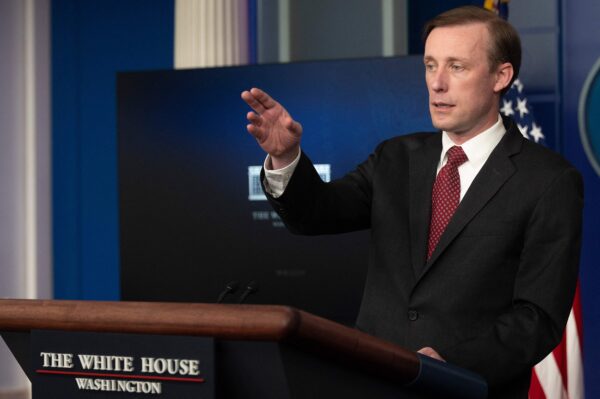 Morrison's comments comes as U.S. national security adviser Jake Sullivan, at a White House press briefing on Feb. 11, claimed that Russia could invade Ukraine at any time.
"If you look at the disposition of forces, both in Belarus and in Russia on the other side of the Ukrainian border from the north and from the east, the Russians are in a position to be able to mount a major military action into Ukraine any day now," Sullivan said.
Morrison said that while his government respects the decisions of any of its citizens or dual citizens to remain in Ukraine, the government's advice was "very clear."
These warnings were echoed by U.S. Secretary of State Antony Blinken, who left Australia on Saturday, after joining talks as part of the QUAD strategic partnership.
Blinken said the United States has been pursuing a dual-track approach to Russia and the forces it has amassed, "unprovoked," along Ukraine's border. Russia has amassed tens of thousands of troops and artillery along its border with Ukraine over the past few months.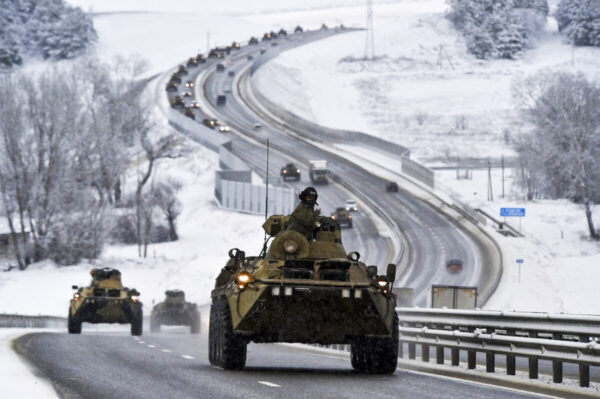 That strategy takes the "responsible" approach of keeping diplomatic dialogue open to resolve the differences. But the United States has also made it clear to Russia that if it chooses the path of renewed aggression, "it will face massive consequences."
An estimated 4,000 foreign fighters, including Australians, have joined Ukraine's militias and regular armed forces. Numbers are likely to boom if Russia invades.
However, Russia has denied any intention of an invasion. It had made a series of security demands to NATO in December 2021 to guarantee that Ukraine will never be able to enter the security alliance, and to scale back its deployments in Central and Eastern Europe.
But NATO members have not budged on the Kremlin's demands, and instead have put forth a number of proposals to come to terms with Moscow in other areas such as arms control, confidence-building measures, and limits on military exercises.
NATO members have also been sending weapons and missile systems to Ukraine to bolster its defenses, and have warned of economic sanctions on Russia if it invades Ukraine.
Blinken said what happens in Ukraine matters in Australia and the Indo-Pacific region, in an apparent reference to China.
"What's at stake is not simply, as important as it is, Ukraine's territorial integrity—its sovereignty, its independence—but very basic principles that have in a hard-fought way, after two world wars and a cold war, undergirded security, peace, and prosperity for countries around the world," Blinken said at a joint press availability in Melbourne, Australia, on Feb. 11.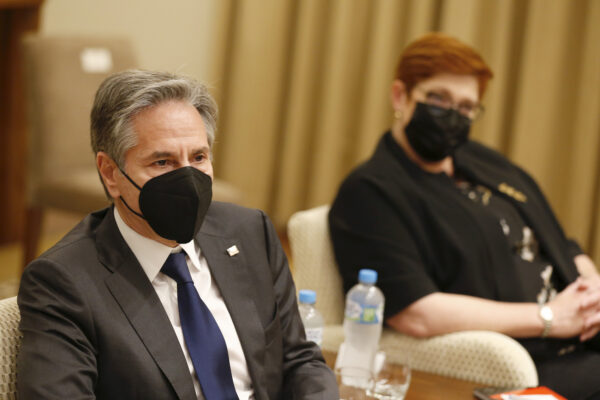 "We've made every possible effort to engage Russia, to look at the concerns that it's raised, to share concerns that we have, that European partners and allies have, to see if we can't find ways to advance collective security on a reciprocal basis.
"Principles like one country can't simply change the borders of another by force; principles like one country can't simply dictate to another its choices, its policies, with whom it will associate; principles like one country can't exert a sphere of influence to subjugate its neighbours to its will.
"If we allow those principles to be challenged with impunity, even if it's half a world away in Europe, that will have an impact here as well.  Others are watching.  Others are looking to all of us to see how we respond," Blinken said.
At the Quad meeting with counterparts from the United States, India, and Japan, on Feb. 11, Australian Foreign Minister Marise Payne said she reiterated her "very deep concerns" about the presence of Russia's military on the Ukrainian border.
"We will continue to support our allies and partners to deter this sort of aggression and to raise the costs of this kind of behaviour."
Mimi Nguyen Ly contributed to this report.