A senior Victoria Police officer has publicly resigned from the force during a live-streamed interview after expressing her objection to the way directions from the state's chief health officer were being enforced in some situations.
In Australia, chief health officers have emergency powers under the Biosecurity Security Act 2015 to make and impose public health orders in attempts to protect human health from COVID-19.
Former Acting Senior Sergeant Krystle Mitchell, who has worked for Victoria Police for more than 16 years, appeared in police uniform in an interview with media studio Discernable, which aired on Friday night.
"I couldn't be happier in terms of the work that I do on a daily basis," she said in the video. "But behind that is all of my friends that are police officers, that are working the front line and are suffering every day enforcing [the Victorian chief health officer's] directions that a vast majority, or certainly a great majority, don't believe in and don't want to enforce.
"The consequences of me being here today is that I will be resigning from Victoria Police, effective at the end of this interview, because the consequences of me coming out publicly would be dismissal," she told Discernable host and founder Matthew Wong. "So I'm choosing to quit, and I'm quitting because I can't remedy in my soul anymore the way in which my organisation that I love to work for is being used [to enforce health tyranny]… and the damage it's causing in the reputation of Victoria Police and the damage it's causing to the community."
She described an incident when she and her partner were walking together in the city and witnessed "police everywhere doing their 'reassurance patrols.'" She commented, "They're not reassurance patrols, you're not reassuring anybody in the community, you're scaring people in the community that there's that many police out in the city trying to stop mass gatherings."
Mitchell explained why she decided to take the interview while still being employed within the police force instead of having resigned beforehand.
"In part, the reason that I wanted to do this whilst still serving and wearing the uniform today is so that the community can see that it isn't all police that are against them and for police to see that it isn't all protesters that are coming there to fight with you. It's a minority," she said. "There's a minority on both sides and they're the ones getting the attention in the media. The minority of the police … are using more force than is necessary to effect these arrests at protests, or to enforce [chief health officer] directions."
The Epoch Times understands that Mitchell resigned on Friday morning, and she is now on personal leave and will not return to work.
Prior to her resignation, Mitchell worked in a non-operational role and did not work at any protests.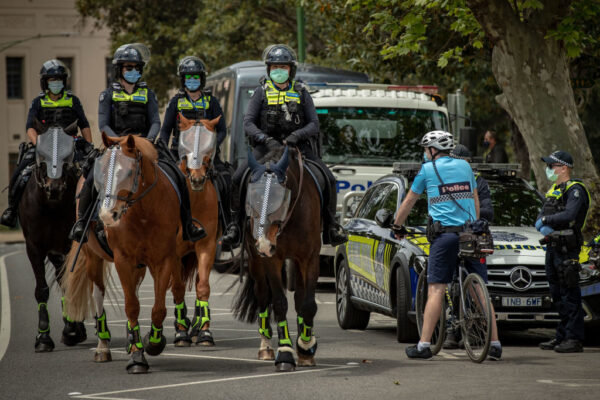 Speaking about Mitchell's interview, Victoria Police said in a statement that officers have been working tirelessly for the past 18 months to enforce the chief health officer's directions "aimed at slowing the spread of coronavirus to keep all Victorians healthy and to save lives."
"The comments in this interview in no way reflect the views of Victoria Police. The CHO directions are based on health advice and set by the Victorian Government. Victoria Police cannot pick and choose what laws it enforces. We acknowledge this has been an extremely difficult time for all Victorians who have had to give up so much," the statement reads.
It continues "Just like the community, Victoria Police looks forward to the easing of restrictions and the eventual return to pre-COVID life."
The statement also said that officers take their duty to protect and serve the community incredibly seriously, and the force understands "how fragile public trust can be" and that it was "important people can have confidence in what we do."
It also addressed mandatory vaccination for members of the force, saying that while officers had important human rights, "these must be weighed against the interests of the community during this public health emergency."
More anti-lockdown protests were organized in Melbourne on Saturday.
Victoria Police said it supported the right for people to peacefully protest "and this has not changed."
"While now is not the time to protest due to risk of the spread of the virus and the current restrictions, Victoria Police is committed to facilitating peaceful protests once the directions allow," the statement said.
Melbourne, a city in Victoria and has received global media attention after multiple videos emerged showing police attacking unarmed people, sometimes in a violent manner, amid local protests in recent weeks against COVID-19 vaccine mandates, passports, and lockdowns. The protests often occur on weekends at locations that organizers provide short notice for, to evade police interference.
Melbourne has seen the longest lockdown in the world. Lockdown restrictions continue across the city and parts of regional Victoria. The state continues to urge people to take the COVID-19 vaccine, with promises to ease restrictions once 80 percent of people are fully vaccinated.
Mimi Nguyen Ly and AAP contributed to this report.