Australian Prime Minister Scott Morrison has warned the Maritime Union of Australia (MUA) that the government will step in to intervene in the port strikes at Patrick Terminals if necessary.
"Our government is also keeping a close watch on the potential for industrial action to disrupt economic activity, noting that industrial action at Patrick Terminals is on hold until at least the 10th of December," Morrison said in a speech to the Australian Industry Group.
MUA has been trying to strike a deal with Patrick where up to 70 percent of new hires will come from existing employees' families and friends or people chosen by the union, similar to its agreement with another port.
The union launched over 220 industrial actions across four Patrick ports in Sydney, Melbourne, Brisbane, and Fremantle since negotiations began in February 2020. These ports handle nearly 40 percent of Australia's shipping container volume.
On Nov. 8, Patrick submitted an application to the Fair Work Commission in a bid to stop the "unrelenting barrage "of industrial action by the MUA. It was later withdrawn after the MUA agreed to halt all organised strikes until Dec. 10.
"We encourage the parties to this dispute to negotiate in good faith and to resolve their issues to get this sorted," Morrison said. "But at the same time, I want to assure you that our government will take action, if needed, to protect the Australian economy from serious harm."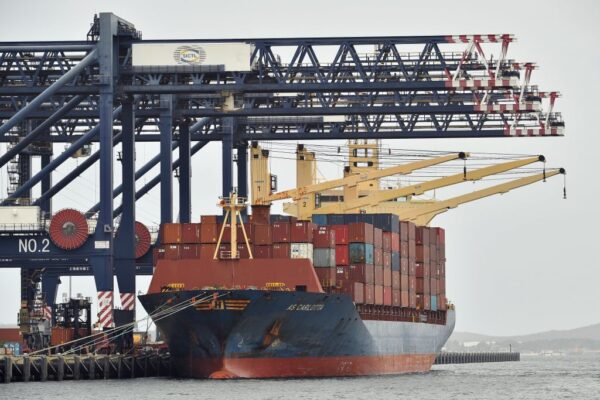 It comes after the Australian Competition and Consumer Commission (ACCC) published a report revealing the long-existing inefficiencies in Australian ports that worsened with the onset of COVID-19.
"Industrial action on top of pre-existing congestion has, unfortunately, put enormous strain on our international container ports at a time when they can least cope with it," ACCC Chair Rod Sims said. "In the case of Port Botany (in Sydney), some shipping lines have decided the delays make using the port commercially unviable."
Morrison said in light of ACCC's report, the government was conducting its own review examining broader issues associated with the productivity of Australian ports.
"Ports are the gateway for our economy. Inefficient ports are a tax on all of us," Morrison said. "Now, it's clear, however, that productivity challenges remain in Australia's maritime logistics system. These relate to competition, industrial relations, infrastructure constraints, and technology uptake."
Industrial Relations Minister Michaelia Cash said the government had "put the MUA on notice" and would take action, if needed, to protect the Australian economy.
"On two occasions now, I have advised the Western Australian government that I would back them if they intervene, or alternatively, we would intervene as the federal government," Cash told 2GB radio. "On both occasions, the MUA has backed down."
"So I am absolutely prepared to do what we can."