Australian Prime Minister Scott Morrison told reporters during his state visit to the White House that he thinks President Trump's ongoing trade talks with China will bring "broader certainty and stability to the global economy" from which "all nations will benefit."
"We have a great relationship with China. China's growth has been great for Australia," Morrison told reporters on Sept. 20. "But we need to make sure that we all compete on the same playing field."
He said that "obviously," Australia is eager to see a trade agreement reached between the United States and China. However, he acknowledged that there is a "process" to the negotiations that the United States is leading to get China playing by the international rules based on principles like fairness and sustainability.
"I think one of things we've seen, Australia has benefited greatly from the economic growth of China," Morrison said. "We have a comprehensive strategic partnership with China and a free trade agreement with China. And they have grown and they have become a substantive economy in the world.
"And once you get into that level, then you need to be able to be playing to the same rules as those other developed nations."
Morrison added that he sees Trump's trade negotiations as leading a "new generation of deals" with China that will be the first to address some very complicated and "serious issues," such as intellectual property theft.
He said that Australia, like the United States, will continue to advocate for a "level playing field" in international trade.
The remarks echoed comments Morrison made before leaving for the G7 Summit in France in mid-August when he called for China to play by the rules, which included reducing its emissions.
"I mean, we should all be subject to the same rules now," he said.
When asked by reporters if he viewed China as a strategic threat to the United States, Trump said, "Well, obviously, China is a threat to the world in a sense, because they're building a military faster than anybody.
"I view China in many different ways, but right now I'm thinking about trade.
"You know, trade equals military," he said. "Because if we allow China to take $500 billion out of the hide of the United States—that money goes into military and other things … I'm not doing that.
"China wants to make a deal. I think we want to make a deal. We'll see what happens.
"If we do end up doing a deal, Australia will do even better … Australia will be one of the big beneficiaries of a deal," he added.
While China is Australia's largest two-way trading partner, the United States remains Australia's top investor by a mile.
Back home, Morrison has been under pressure from the left-leaning opposition party and voices in the Australian media to talk Trump out of a trade war with China that they view as having the potential to devastate the Australian economy.
"We are in the middle of a trade war between the United States and China, a trade war that's going to do significant damage to Australia, including Australia's farmers," shadow minister for agriculture and resources Joel Fitzgibbon told Sky News on Sept. 22. "We need to put all our efforts into de-escalating that war and playing a role in bringing it to an end."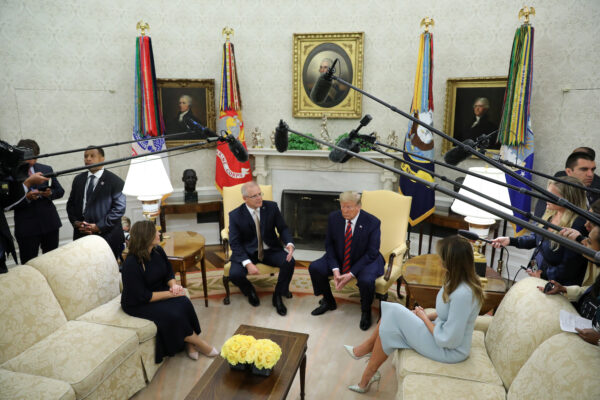 But Morrison said that Australia's trade relationship with China remains in good shape, and what matters is that Australia has been consistent in communicating its point of view.
Trump also took the opportunity of having Morrison in the White House to praise Australia's environmental and safety standards in the mining industry.
"That business can get out of control a little bit, from the standpoint of environment. And you have really approached it in an environmentally-sensitive way," Trump said on Sept. 20.
He added he was very impressed with the health and safety record in Australian mining, and that almost none of the nation's coal miners suffered from black lung disease.
"I sent a whole crew over, because your record is so good in terms of illnesses from digging. Better than anybody in the world. So we're going to catch you on that, okay?" the President said.