A New South Wales (NSW) paramedic who launched a legal challenge against the state government over vaccine mandates has been suspended from work immediately.
John Larter, a veteran paramedic and deputy mayor of the Snowy Valleys Council, filed a lawsuit against the NSW State Health Minister Brad Hazzard challenging a public health order mandating health workers receive the first dose of the vaccine by Sept. 30, and the second dose by Nov. 30.
In a video posted on his Telegram account, Larter revealed that he was called in to meet with the Paramedicine Council of NSW on Sept. 17, the same day a judge first heard the lawsuit.
He said he was trying to move the hearing date to prepare, but this was not allowed.
"So, I effectively went in there without any legal representation. Two and a half hours later, and after being grilled by them, I received a letter from them today advising I've been suspended immediately as a paramedic," he said.
"I hope these people are very proud of themselves. I hope that they're very satisfied with the fact that they're just taken one more paramedic with a great deal of experience off the road," he said.
"That's a very good outcome. It's a very good outcome for the community and Brad Hazzard, and [NSW Premier] Gladys Berejiklian."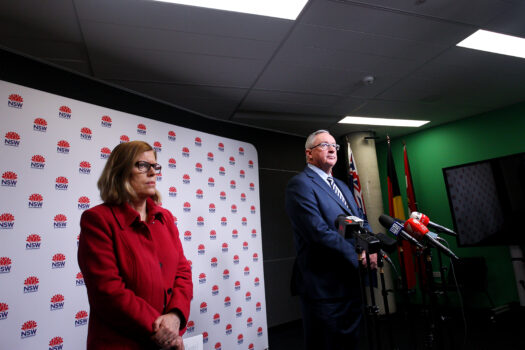 "It is just an absolute disgrace what is happening. I just cannot believe that this is happening in NSW. No wonder these nurses, doctors, other health professionals, and police won't speak out, look what happens! You get suspended."
Larter has vowed to fight the suspension.
The Paramedicine Council of NSW confirmed to The Epoch Times that Larter had been suspended as of Sept. 20, noting that he could appeal the decision at any time, upon which the Council would reassess his circumstances.
"The Council's paramount obligation is to protect the public by ensuring paramedics practice safely and in accordance with professional standards expected of them by the community," a spokesperson said.
The Council told The Epoch Times under the confidentiality provisions in the law, it could not disclose its reasons for the suspension.
Under Section 150 of the Health Practitioner Regulation National Law (NSW) (the Law), it does have the authority to suspend or impose conditions on a health practitioner's registration "for the protection of the health or safety of the public."
The country's peak accreditation body for health practitioners, the Australian Health Practitioner Regulation Agency (AHPRA), has previously confirmed to The Epoch Times that it had received complaints about medical professionals "failing to meet" their Code of Conduct obligations, as well as breaching COVID-19 medical health guidelines.
AHPRA said it received complaints regarding health practitioners advocating views contrary to public health advice (without evidence to back those views); prescribing non-evidence-based treatments without proper disclosure around risks or benefits; and breaching public health orders (and being fined) for not social distancing, wearing masks, or abiding by health restrictions.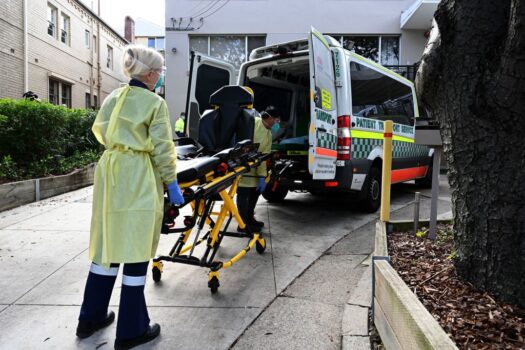 "Experience tells us that most practitioners, when concerns are raised directly with them, modify their behaviour to become compliant," a spokesperson told The Epoch Times.
"In a small number of cases, national boards are likely to take action to ensure the actions of the practitioner do not place the public at risk of harm."
Larter's case follows the suspension of Sydney-based anaesthetist Dr. Paul Oosterhuis, who, in early September, found himself suspended over complaints about his social media activity.
"In the social media posts for which I face a medical board hearing, I discussed issues such as early treatment and prophylaxis against COVID-19, evidence for government measures such as lockdowns and PCR tests, and evidence regarding risk-benefit analyses of COVID-19 vaccines," he wrote in a petition on Doctors for COVID Ethics.
Oosterhuis will appeal his suspension.
Meanwhile, Larter's vaccine mandate legal action comprises the third "wave" of legal action directed at NSW health authorities challenging the state's response to COVID-19, including vaccine mandates and health restrictions.
An online fundraiser launched by Larter to cover his legal costs has already raised $104,228 as of Sept. 21.
"I am fighting for this as I strongly believe no person should be discriminated against due to their medical status, and under no circumstances should they be excluded from the workplace due to that medical status," his GoFundMe page stated.