At least one Australian has died in a huge explosion that ripped through the Lebanese capital of Beirut on Aug. 4, which the local city governor has said was "akin to Hiroshima."
Confirming the news, Prime Minister Scott Morrison told the Nine News Network that it was his deep regret to inform "that one Australian has been killed in this horrific blast."
"Our hearts go out to all of those in Lebanon and Beirut in particular at the moment. You can see from the image of the blast; it is just absolutely devastating," Morrison said.
Asking for patience, the prime minister explained the government would be providing consulate assistance to the families of an estimated 20,000 Australians and for those "hundreds of thousands of Australians who have Lebanese descent and have family members in the capital."
Morrison then noted that the Australian embassy had been "significantly" impacted, but that all staff were now safe after suffering only minor injuries.
Lebanese authorities announced the morning after the blast that at least 100 people had been confirmed dead, with approximately another 100 reported missing and 4,000 injured.
They are warning the injury and death toll may rise sharply though as emergency workers dig through the blast zone to rescue people and remove the dead.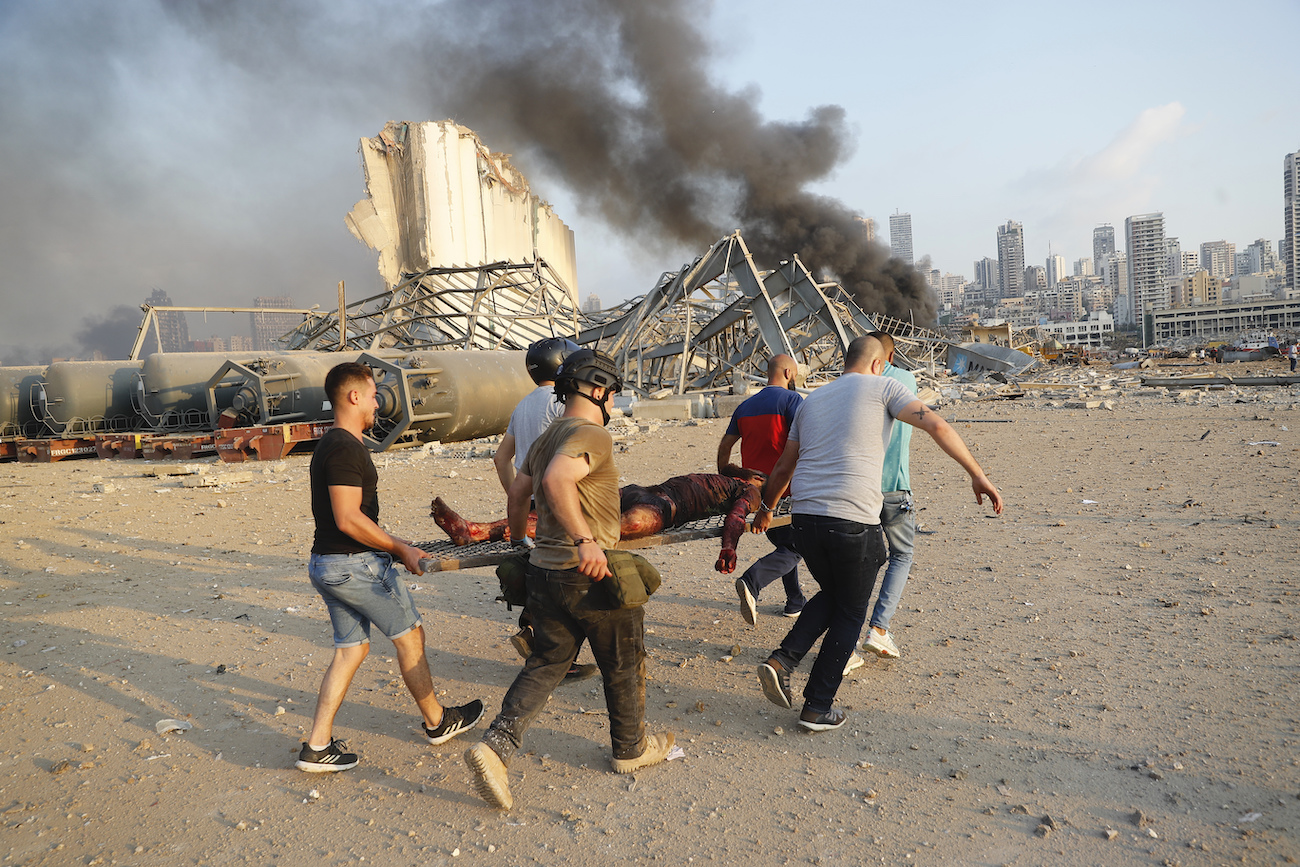 Authorities in Lebanon have linked the possible origins of the blast to the storage of 2,700 tonnes of seized concentrated ammonium nitrate that was said to have been held at the port for six years, although the exact cause of the blast is still unknown and under investigation.
Ammonium nitrate, best known as a fertilizer, is an incredibly volatile compound and is often use in homemade bombs.
Lebanese President Michel Aoun, whose party formed government in an alliance with the Iranian-backed Islamist group Hezbollah and its allies, has declared three days of mourning and declared Beirut a disaster-stricken city following the massive explosion that produced a mushroom-like plume.
There have also been calls from the military for a two-week state of emergency and a request that all security responsibilities be handed over to military.
Israel, Hezbollah Deny Involvement
A senior Hezbollah official told local media OTV Lebanon shortly after the explosion that social media rumours claiming the blast was an Israeli attack were false. The official also denied reports that the explosion was related to a Hezbollah weapons facility.
The explosion, which was reported to be like a 3.5 magnitude earthquake that could be felt 200 kilometres away in Cypress, originated at the port of Beirut and sent shockwaves across the city, causing widespread damage even on the outskirts of Beirut.
Hospitals in Beirut were overwhelmed by victims after the blast destroyed three Beirut hospitals and damaged two.
"We are going through a disaster that could only be overcome with determination and tenacity to face this serious challenge and its destructive consequences," Aoun said.

Promising that the catastrophe would not go unpunished, Lebanon's Prime Minister Hassan Diab said those responsible would be held accountable and called on friendly nations to help Lebanon recover from the disaster.
International Response to the Disaster
On Aug. 4, U.S. President Donald Trump expressed America's deepest sympathies to the people of Lebanon.
"The United States stands ready to assist Lebanon. I have a very good relationship with the people of Lebanon, and we will be there to help," he said. He added that U.S. generals had told him that the explosion could have been a "bomb of some kind."
"It looks like a terrible attack," he told reporters at the White House shortly after the blast.
"This was not some kind of a manufacturing explosion type of event," he said. "It seems to be, according to them—they would know better than I would—but they seem to think it was an attack."
Israel announced on Aug. 4 that it will offer humanitarian aid to the poverty-stricken nation although it is still technically at war with Lebanon's Hezbollah factions.
British Prime Minister Boris Johnston offered his condolences in a post on Twitter on Aug. 4 and said that the UK was ready to provide support in any way possible.
The pictures and videos from Beirut tonight are shocking. All of my thoughts and prayers are with those caught up in this terrible incident. The UK is ready to provide support in any way we can, including to those British nationals affected.

— Boris Johnson (@BorisJohnson) August 4, 2020
Lebanon national news agency NNA reported on Aug. 5 that France, Iraq, and Qatar had also sent their condolences and offered aid to the struggling country.
Foreign Minister Marise Payne told ABC Radio on Aug. 5 that the Morrison government would be working closely with Lebanese authorities to provide assistance to Australian citizens in Lebanon.
But she noted that "the challenge for many international supporters will be the context of COVID. And how we work through that is something that I'll be discussing with officials today."