Australia's annual inflation rate has smashed market expectations, rising 3.5 percent in 2021, according to new data from the Australian Bureau of Statistics (ABS).
The underlying inflation rate also jumped to its highest level since 2014, at 2.6 percent, reflecting the broad level of price increases.
The annual CPI (consumer price index) inflation jumped on the back of a surge in the December quarter, rising 1.3 percent over the three months.
The big four banks had expected the headline inflation rate to read 3.2 percent and the underlying inflation rate to be around 2.4 percent, while the quarterly rise predictions ranged from 0.7 to 1.1 percent.
ABS Head of price statistics, Michelle Marquardt said new dwellings and automotive fuel continued to lead the rise across the December quarter.
"Shortages of building supplies and labour, combined with continued strong demand for new dwellings, contributed to price increases for newly built houses, townhouses, and apartments," Marquardt said.
The rise of fuel prices also resulted in a record level for the automotive fuel series for the second consecutive quarter, Marquardt said.
Annually, fuel was the most significant driving factor for inflation, rising 32.3 percent in 2021.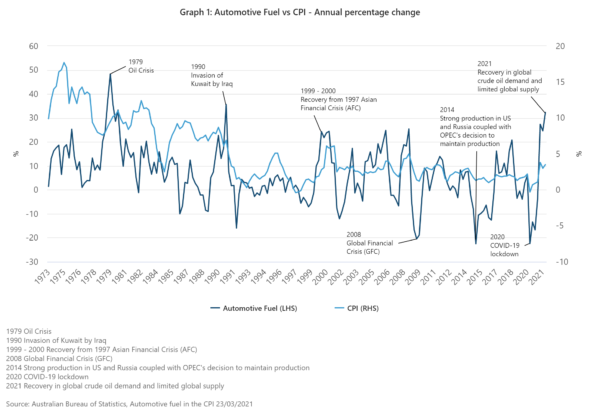 ABS noted that fuel is one of the most volatile series measured in CPI due to a range of factors such as domestic demand, the close link to world oil prices, exchange rates, and more. This level of volatility also means that it is a significant contributor to headline inflation movement.
The growth in the price of goods (4.3 percent) also surpassed those of services (2.3 percent) and was the highest since 2008.
Marquardt said aside from fuel prices, global supply chain disruptions and material shortages combined with rising shipping costs and demand contributed to price increases across a wide range of goods.
Westpac Bank Senior Economist Justin Smirk said the underlying inflation is now at the midpoint of the Reserve Bank of Australia's (RBA) inflation target, which was "not something the RBA was expecting in its forecast profile this early nor of this magnitude."
The RBA will have its first monthly monetary meeting of the year on Feb. 1 and this new inflation data is expected to push its plans for cash rate hikes forward.
ANZ economist Hayden Dimes said the RBA will "almost certainly" need to adjust its forward guidance and acknowledge that a rate hike is possible this year, after repeating for the last two years that rates would not rise until at least 2024.
"Even before today's print we had highlighted the RBA would need to revise its outlook for inflation and shift its forward guidance," Dimes said (pdf). "We suspect the RBA won't shift to a 2022 rate hike as being its central case, likely wanting to see wages growth clearly accelerate."