The Commonwealth Bank of Australia (CBA) expects house prices to fall by around 10 percent in 2023 after the official interest rate lifts.
Gareth Aird, the head of Australian economics at CBA said a further tightening of macro-prudential policy looks unlikely, and the housing market will see moderate growth over the first half of 2022.
But CBA is expecting the Reserve Bank of Australia (RBA) to begin lifting the cash rate in November 2022, when house prices are expected to peak.
"Dwelling prices nationally will end 2021 up by [around] 22 percent and very much in line with our call for a 20 percent increase in early August," Aird said (pdf).
"From there we expect prices to continue to rise through the first half of 2022, but at a more modest pace.  We look for prices to peak in late-2022 around 7 percent higher than end-2021 levels.  We then expect an orderly correction indwelling prices of 10 percent in 2023," he said.
The forecasts are based on the assumption that the RBA will lift the cash rate to 1.25 percent by the September quarter of 2023.
"The extent to which prices correct lower will depend in large part on the speed and magnitude to which the RBA lifts the cash rate," Aird said. "On that score we expect a shallow and gradual tightening cycle given the elevated level of household indebtedness."
The Australian Prudential Regulation Authority (APRA) tightened lending rules in October by increasing the minimum interest rate buffer that banks use to assess the ability of the borrower to repay the loan, from 2.5 to 3 percent.
The big four banks have also all hiked their fixed mortgage rates, a move that Aird believes would lower the possibility for the APRA to implement further restrictions.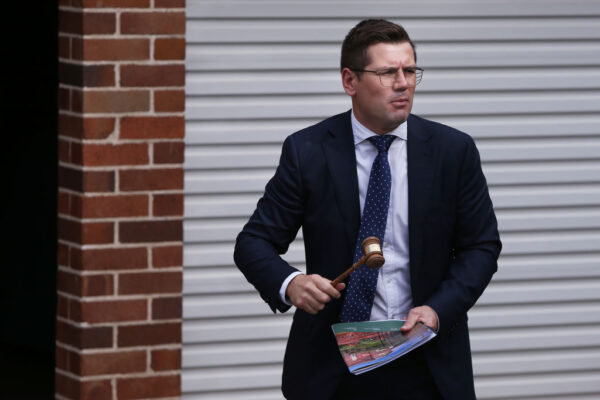 Australia's housing market began surging when the RBA lowered the cash rate to 0.1 percent in November 2020. At the same time, the federal government was also providing a wide range of financial assistance schemes for first-home buyers and housing construction and renovations.
CoreLogic found that the value of Australian houses has risen 22 percent over the last 13 months. Growth accelerated at unprecedented levels, with the total value surpassing $9 trillion in September, rising $1 trillion in five months.
"This puts housing values around 28.2 percent higher than the estimated value of superannuation, the ASX (Australian Security Exchange), and commercial real estate combined," CoreLogic head of research Eliza Owen said.
Meanwhile, the Australian Bureau of Statistics revealed that over the year to September, wages grew 2.2 percent.
"Comparing the wage price index with property values for the past two decades shows that nominal dwelling value growth has vastly outstripped the total change in wages and salaries," Owen said.
Over the last 20 years, wages have increased by 81.7 percent while home values have grown by 193 percent, according to CoreLogic.