The Australian Defence Force will receive $575 billion (US$432 billion) in government funding by the end of this decade to deal with "a period of profound uncertainty and disruption."
More specifically, nearly half of the spending will go toward enhancing Australia's defence capabilities.
This includes $38 billion (US$28.6 billion) to increase the defence workforce by 18,500 personnel by 2040, $50 billion (US$37.6 billion) to acquire new frigates and destroyers, and over $10 billion to build shipbuilding infrastructure and a new submarine base.
In addition, the government will spend $6.4 billion (US$4.8 billion) on the Collins-class submarine project, $3.5 billion (US$2.6 billion) on 75 Abrams tanks and dozens of armoured vehicles, and $1 billion (US$750 million) on self-propelled howitzers and armoured ammunition resupply vehicles.
The air force will also receive a boost in aviation capability with a $1.5 billion (US$1.1 billion) program to upgrade and extend in-service support for the Hawk 127 Lead-In Fighter Training System, as well as other investments to acquire new unmanned aerial surveillance systems and Ch-47F Chinook helicopters.
Another $137 million (US$103.1 million) will be pumped into maritime surveillance and Border Force's response capabilities to prevent boats carrying asylum seekers from approaching Australia, and an extra $74.7 million (US$ 56.2 million) will go to projects expected to protect the country's maritime interests.
The federal government also commits $104.2 million to maintain ongoing operations and activities in the Middle East in the 2022/2023 financial year.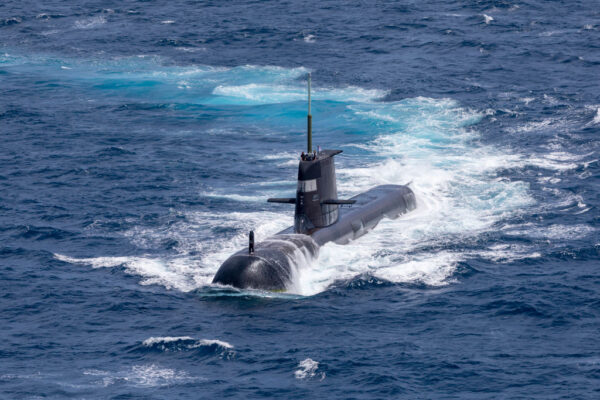 Meanwhile, Minister for Defence Peter Dutton has announced a $9.9 billion (US$7.4 billion) investment to expand Australia's offensive and defensive cyber capabilities with project REDSPICE as part of the 2022 Defence budget.
He said that project REDSPICE (resilience, effects, defence, space, intelligence, cyber and enablers) was the largest ever investment in the capabilities of the Australian Signals Directorate (ASD), a government agency dealing with foreign signals intelligence, cyber warfare and information security.
Under the new funding, the government will recruit about 1,900 data analysts, computer programmers and software engineers, which will almost double the size of the ASD.
"This investment in ASD recognises the deteriorating strategic circumstances in our region, characterised by rapid military expansion, growing coercive behaviour and increased cyberattacks," Dutton said.
"It acknowledges the nature of conflict has changed, with cyberattacks now commonly preceding other forms of military intervention – most recently demonstrated by offensive cyber activity against Ukraine."
He said that with REDSPICE, Australia would be able to keep up with its adversaries in terms of cyber capabilities and allow the ASD to retaliate against cyberattacks.
The government expects the new investment to triple the offensive cyber capabilities and double the "cyber hunt and response activities" of the ASD.
It is anticipated that defence spending will go above two percent of Australia's GDP in the current financial year, and reach $48 billion (US$36.1 billion) in 2022/23.
Prime Minister Scott Morrison said that the investments made by the federal government not only helped keep Australians safe but also supported local jobs and industries.
"In these uncertain times, it is vital that Australia is well-positioned to tackle the challenges our country and our region face," the prime minister said.
"The capabilities we're backing with our investments mean an even stronger Australian Defence Force, an even stronger local defence industry, and an even stronger pipeline of jobs and skilled workers.
"This Budget also continues to build on support for our veterans and their families, in recognition of the service and sacrifice they've made to keep our nation safe and secure."