Prime Minister Scott Morrison announced that the federal government is putting A$2 million into a grant fund for researchers to develop a vaccine for the new coronavirus, also known as the virus that causes COVID-19.
"We're going to put $2 million through the Medical Research Future Fund, and we're going to be putting that money into a competitive program to find a vaccine," Morrison told reporters at the Peter Doherty Institute in Melbourne on Tuesday.
"There are many research projects that are going on around the world to do this very task, and Australia is going to play its part in that process," he added. "Already here at Doherty, there is much work going on in this area, and we continue to support that work, and we want to get as many of the brightest and smartest minds in Australia working on this task."
Researchers from across the country can apply for money from the Medical Research Future Fund. The grant will add to the work being undertaken by the institute, CSIRO, and the University of Queensland.
The Medical Research Future Fund is set to finalize details of the grant process this week and will advise the government on the merit order of the research.
Australian Health Minister Greg Hunt said that the government is currently contributing $50 million through NHMRC grants to the institute. He said that the government is hoping the additional A$2 million in funding "will encourage even further work."
"We're hoping that that funding will encourage even further work. That's the key point," Hunt told reporters on Tuesday.
Last month, researchers at the institute were first to develop a lab-grown version of coronavirus outside of China successfully. The institute said that the lab-grown virus sample could help generate an antibody test to help detect the virus in asymptomatic patients.
'Feel Free to Move Around'
The Prime Minister told reporters, in response to comments that he encountered in Melbourne's Box Hill suburb on Monday, that Chinese Australians "should feel free to move around," "don't need to stay at home" and "can go in and participate in the community."
"There seemed to be some misunderstanding about that," Morrison said. "Unless you're subject to self-isolation because you've been in mainland China for the last 14 days, then you should feel free to move around because Australia has been successfully containing the coronavirus to date."
He added that of the cases presented, "many of them now [have] left hospital and they're getting on with their lives and so we need to continue to deal with this issue very regularly."
In and Out of Quarantine
The funding announcement comes as more than 200 Australians and their family members who had been quarantined on Christmas island have begun to return home.
Another group of 266 Australians quarantined at Howard Springs is also set to leave soon, Morrison said. This group, of the second evacuation flight for Australians out of China, had left Wuhan and touched down in Australia on Feb. 9. Their quarantine period is set to end on Saturday, Feb. 22.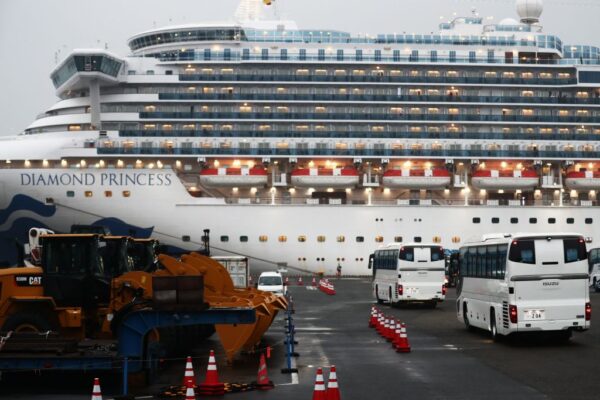 Meanwhile, some 209 Australians currently aboard the Diamond Princess cruise ship docked in the port of Yokohama, Japan, are set to fly out on Wednesday, after which they are intended to be quarantined at the Howard Springs site, reported the Australian Associated Press. The flight will also include New Zealanders, who will be transferred home after landing in Darwin.
The news wire service noted that the group to arrive at the site in Howard Springs would not have any contact with the group leaving the site.
The Australian Associated Press contributed to this report.