The Australian Federal Police (AFP) has warned its most wanted criminals of "cutting edge tech" designed to track down individuals using phone calls or images posted on social media sites.
The AFP, which has members based in 33 countries, have been trawling the social media accounts of criminals to look for geospatial information—giveaways hinting at the whereabouts of persons of interest.
This extends beyond typical "geotagging"—the default process whereby a smartphone tags an image with its GPS location, which can be easily turned off.
Instead, it also includes scrutinising the attributes of an image taken, such as for buildings or other physical features, which may be compared with satellite imagery to determine where an individual is in the world.
Beyond images, the AFP has also outlined their ability to trace the movement of targets through the records of phone calls made.
In all, AFP specialists are equipped with gathering information from GPS data, satellite imagery, aerial photography, and data from mobile phone towers.
AFP Commander Paula Hudson said that geospatial technology had become critical, making breakthroughs in digital forensics.
"The AFP is known for its technical innovation and capability in law enforcement, both in Australia and globally," Commander Hudson said.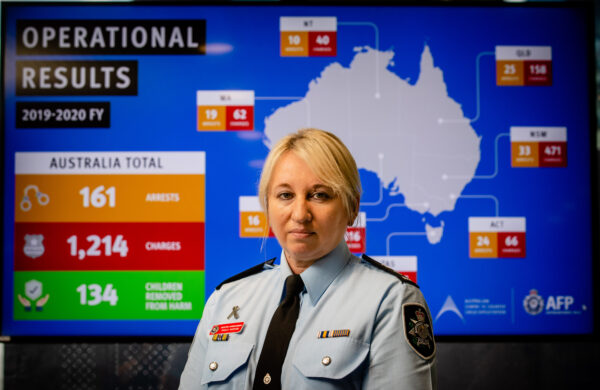 "One component of the suite of capabilities AFP officers have in their technical arsenal is the ability to utilise geospatial technology to identify where criminals are hiding and where they are committing their crimes.
"Our forensic capabilities grow every year, and criminals are finding they have nowhere to hide from the long arm of the AFP."
The AFP has positioned digital capabilities as a priority in its war on crime.
The technology was used extensively in Operation Ironside, an international sting operation involving 9,000 officers from Australia, Europe, and the United States.
But the key to the operation was the deliberate rollout of an encrypted messaging app, named "ANoM," released to the criminal underworld giving police access to secret communications between syndicates.
ANoM was developed by the FBI, while the AFP provided the technical ability to decrypt communications.
Established in 2018, the operation spanned 18 different countries and netted 224 offenders on 526 charges in Australia alone, with more arrests expected. In all, Australian police seized over 3.7 tonnes of drugs, 104 firearms and weapons, and around $45 million in cash.
Daniel Y. Teng contributed to this report.