Employee and business groups have welcomed the federal government's announcement on Saturday to introduce a no fault COVID-19 indemnity scheme that will give financial compensation to people who experience serious adverse side-effects from the vaccine.
The scheme will give businesses the confidence to hand out vaccine mandates to employees by offering financial protection to all Australians receiving COVID-19 vaccines.
Health Minister Greg Hunt said the scheme would be backdated to February 2021 and cover the costs of injuries above $5,000 (U.S.$3,650) from proven adverse reactions to a COVID-19 vaccination. Independent experts will assess claims.
The Australian Medical Association (AMA) said they had been the leading body in pushing this scheme, working closely with the government and other organisations.
"This scheme is a vote of confidence in the safety of the vaccines being used in Australia and sends a strong message to patients that, in the extremely rare case of serious side effects, you can access compensation without having to resort to expensive and complex litigation," AMA President Dr. Omar Khorshid said.
Khorshid said the scheme also protected health care workers involved in the vaccine rollout from stressful court procedures.
The Australian Chamber of Commerce and Industry (ACCI) said they were long-time advocates for employer indemnity protections.
"Many employers had indicated that they are willing to assist and are actively considering workplace vaccination programs. However, employers like clinicians raised ongoing concerns about indemnity arrangements to cover administration of COVID-19 vaccines," ACCI CEO Andrew McKellar said.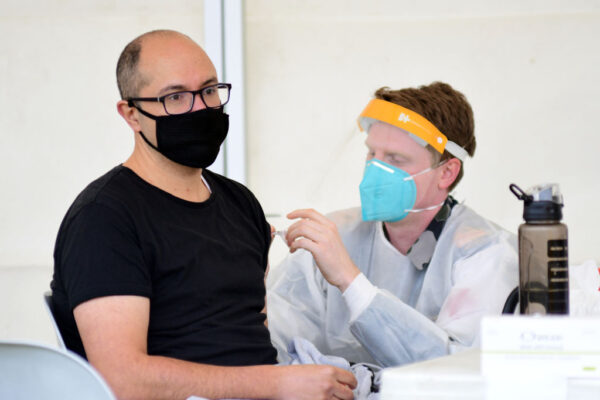 McKellar recommended that employers start renewing focus in encouraging workers to voluntarily receive the vaccine, helping the country reach the 80 percent vaccination target.
"Achieving high vaccination rates is our ticket to reopening the economy and getting back to business," he said.
The Insurance Council of Australia (ICA) said it looked forward to working with the government to ensure the scheme operated as intended.
"The COVID-19 mass vaccination program is a large and complex undertaking in a rapidly evolving environment," ICA CEO Andrew Hall said. "Many insurers are interested in facilitating workplace vaccine programs similar to the annual flu shot once they are able to access this via registered medical providers."
AMA, ACCI, and ICA worked closely together with the government to introduce the indemnity scheme.
The Business Council of Australia (BCA) also welcomed the scheme for giving employers around the nation greater certainty and confidence to manage workplace COVID-19 vaccinations.
"The job of business is to help accelerate vaccine take up and assist with the government's rollout," BCA CEO Jennifer Westacott said. "Today's announcement will give thousands of businesses the confidence to get on with this task."
A survey of over 700 businesses by the Australian Industry Group found that 51 percent supported mandatory workplace vaccinations, 37 percent preferred encouraging voluntary vaccinations, and 10 percent said it was not applicable for their business or they were unsure.