The Australian Defence Force (ADF) has sought to set the record straight after Chinese officials claimed Australian forces instigated a maritime incident that saw Chinese People's Liberation Army Naval (PLAN) forces point a military-grade laser at an ADF surveillance plane.
The incident occurred on Feb. 17, when two PLAN vessels, a Luyang-class guided-missile destroyer and a Yuzhao-class amphibious transport dock vessel, were legally traversing the seas north of Australia, within its exclusive economic zone.
The ADF dispatched a P-8A Poseidon surveillance plane to monitor the two ships, also within the boundaries of international law.
However, while the Chinese vessels were in the Arafura Sea, the Luyang-class ship aimed a military-grade laser at the plane—a move Prime Minister Scott Morrison called an "act of intimidation."
Laser pointing is often referred to as "painting a target" and normally precedes the firing of weapons by a split second. Such a move is recognised by military personnel as a hostile act.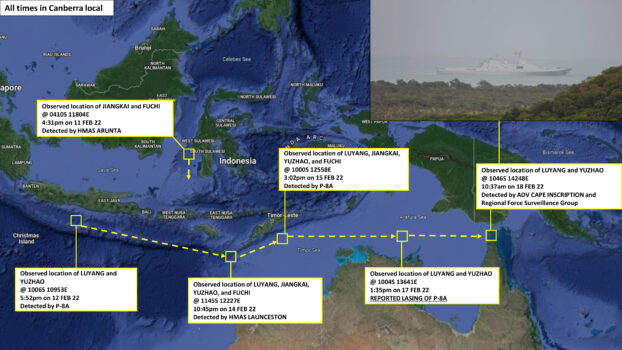 Morrison revealed that the defense department's motives for publicising the incident were to put a spotlight and pressure on the PLAN.
"We disclosed that because this needs to be called out," he told reporters on Feb. 21. "It's an Australian surveillance aircraft this time. What's next? It's very important that China explain themselves for this act of recklessness."
Meanwhile, Beijing's Ministry of National Defense issued its own brief account of events, accusing the Australian aircraft of flying too close—four kilometers—to the Chinese vessels and dropping sonar buoys around the ships.
Tan Kefei, a spokesperson for the Chinese ministry, called the alleged acts "spiteful and provocative" and said Australian officials were spreading "false information."
Australia's defense department responded with its own account of events, saying the use of sonobuoys was "common practice" and that the Poseidon aircraft only deployed the tools after the lasing incident and at a "significant distance" ahead of the PLAN vessels.
Further, the lasing incident occurred when the Poseidon plane was around 7.7 kilometers from the PLAN vessel and at an altitude of 457 meters. The closest the Poseidon got to the Chinese ships was 4 kilometers.
The defense department noted that the above procedures were part of the "standard flight profile" for the Royal Australian Air Force.
"The aircraft was acting within international law at all times," the department said in its account. "Australia expects all foreign vessels entering our maritime zones to abide by international law, particularly the United Nations Convention of the Law of the Sea."
"Australia does not engage in the spread of misinformation or disinformation."
Australia's defense department said concerns had been raised with the Chinese authorities, the embassy in Canberra, the foreign affairs office, and China's Ministry of National Defense.
The PLAN regularly sends vessels to patrol the seas around Australia. Last year, it dispatched spy ships to monitor Talisman Sabre, the largest biennial training exercise between the ADF and the U.S. military.