The Australian Defence Force (ADF) is ramping up support for flood-affected communities along the Australian east coast as residents criticise the government for not providing enough help.
The ADF will more than double the number of personnel on the ground, from around 2,300 to 5,000 over the week, who will help with rescues, dropping off supplies, and clean up efforts, including clearing up roads and fixing telecommunication networks.
Defence Minister Peter Dutton said there was "absolutely" more to do, but that the ADF had responded to all events as they unfolded and have helped many communities despite the emergence of some negative stories.
"There are literally hundreds of stories where defence has been able to drop food, drop baby formula, drop medications, and those people respond with kindness, with gratitude," he told ABC radio on Tuesday.
Dutton added that rather than a flood, the weather event in northern New South Wales (NSW) resembled more of a "cyclone type event."
"This is a torrent of water that has shredded communities apart and roads that were there are no longer there," he said. "And that's the circumstances in which they're dealing [with] and it will take time to respond and to rebuild."
However, the shadow minister for disaster and emergency management, Senator Murray Watt, heavily criticised the federal government for lack of support.
"The one thing you won't see behind me is anyone from the federal government. There's not army personnel helping with this cleanup," Watt said in Lismore on Tuesday. "I want to pay tribute to the army personnel who are here, but there's just not enough of them."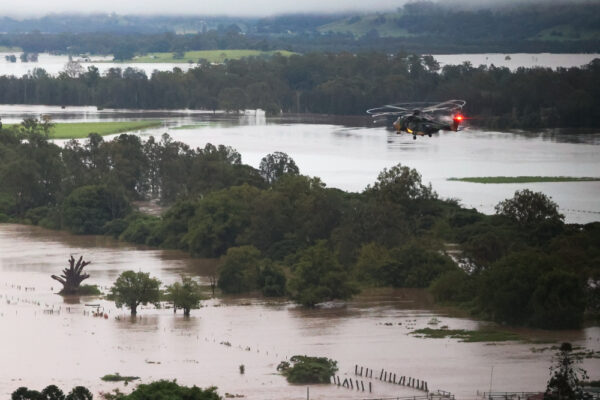 NSW Premier Dominic Perrottet said the images he had seen of the flood-affected community were devastating. He also acknowledged that people felt abandoned and isolated.
"No one should feel that way," he told 2GB radio. "What we're doing is making sure we're getting as many people on the ground."
Perrottet said there were currently around 1,600 emergency service and government service personnel on the ground and the additional support was coming in from the ADF.
The premier added that without the "courage and heroism" of many people who were going out and looking after strangers, it could have been much worse.
A second wave of intense rain began falling over Greater Sydney on Tuesday, prompting the State Emergency Services (SES) to issue evacuation orders to 13 suburbs, affecting around 60,000 people in Sydney's southwest and west along the George's River.
Sydney has received 16 consecutive days of rain, with the first rays of sunshine expected on Thursday.
However, the Bureau of Meteorology warned that the saturated soils could lead to landslides, which already occurred in Katoomba.