An Australian firm has been selected as the preferred bidder to take over the majority of British electric car battery business Britishvolt, which fell into administration last month.
Britishvolt had been promising to build a £3.8 billion gigafactory producing batteries for electric cars in Blyth, Northumberland. It said it would employ 3,000 people and produce batteries for 300,000 cars and vans a year.
But the project ran into serious difficulties months ago as it started to run out of cash before it had even cleared the site in preparation for construction.
In mid-January, the company appointed administrators at EY-Parthenon after failing to raise enough cash for research and the development of its Cambois site.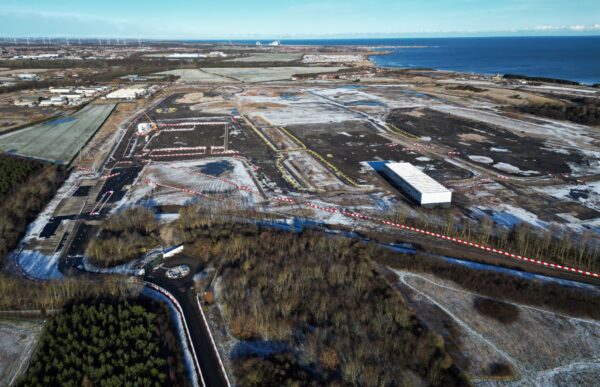 EY said on Monday that it had decided to choose Australian firm Recharge Industries, which is backed by New York investment firm Scale Facilitation, as the preferred bidder after considering "multiple approaches," without elaborating.
"EY is pleased to announce that the Joint Administrators have entered into an agreement with Scale Facilitation Partners LLC and its indirectly wholly-owned subsidiary Recharge Industries Pty Ltd to be the preferred bidder in acquiring the majority of the business and assets of Power by Britishvolt Limited," the auditors said in a short statement.
"This follows a process conducted by EY that involved the consideration of multiple approaches from interested parties and numerous offers received.
"Completion of the acquisition is expected to occur within the next seven days."
Recharge Industries founder David Collard said: "We're thrilled to be progressing with our proposed bid for Britishvolt and can't wait to get started making a reality of our plans to build the UK's first gigafactory.
"After a competitive and rigorous process, we're confident our proposal will deliver a strong outcome for all involved."
Recharge, which was founded in 2022, hopes to build a gigafactory of its own close to Melbourne in Australia, but the company is still in the early days of the project.
Much-Trumpeted Venture
In January 2022 the UK government announced plans to pump £350 million into its Net Zero Strategy, on top of the £500 million it invested into its 10 Point Plan as part of its levelling up agenda—which means investing in deprived areas of the north of England and the Midlands so they do not fall further behind London and the south east.
Former Prime Minister Boris Johnson said the Britishvolt factory would become part of Britain's "global green industrial revolution" and he said it would be as transformational as Nissan's car factory in Sunderland, which opened in 1986 and employed thousands of people in a region of high unemployment.
The British government has said new petrol and diesel cars will be banned from 2030. Britishvolt expected to fulfil the demand for around one in four vehicles sold on the British market.
Domestic EV battery plants are also seen as essential to keep UK car production from shifting to mainland Europe. To comply with trade requirements with the European Union, a large part of an EV by value must be built in Britain to avoid EU tariffs.
The plan was to develop the 95-hectare site, where a coal-burning power station once stood, and use Norwegian hydro-electric power transmitted 447 miles under the North Sea via the world's longest interconnector.
But Britishvolt simply could not raise enough cash to keep going. The company had been promised £100 million in government funding, but to protect taxpayers in the event that the firm failed, that money was only available if the company met certain milestones, which it never did.
In recent months the business has tried to find enough cash from private investors to stay above water, including mining giant Glencore. But its efforts fell short.
Rising interest rates and the risk of recession have made fundraising much harder for many start-ups, especially those seeking huge sums for vast projects like an EV battery plant.
'Highly Risky Project'
The bid to rescue Britishvolt has been supported by politicians in both main parties, but it is not without controversy.
Andy Mayer, chief operating officer and energy analyst at the Institute of Economic Affairs, said Britishvolt was always a "highly risky project."
He said Britain should give up on plans for gigafactories making batteries for electric cars and accept that it cannot compete with countries with lower labour costs.
Mayer told The Epoch Times last month: "Britishvolt didn't just fail because it doesn't make any sense to try and lead the world in battery manufacturing from the UK. It failed because their specific expression of that technology wasn't good enough. It wasn't ready. Nobody really wanted to buy it. So the government money doesn't change that."
Mayer said: "With the levelling up agenda, one of the dangers of it is this narrative that you can't let anything fail in an area. And then you do have the risk of politicians making terrible economic decisions on the basis that they have made promises they cannot keep, and we get into something of a sunk cost fallacy that they throw good money after bad trying to prove the point and never succeeding."
Chris Summers and PA Media contributed to this report