Australian Businesswoman Says Shen Yun 'All just so wonderful'
April 27, 2014 10:37 pm Last Updated: April 29, 2014 11:27 pm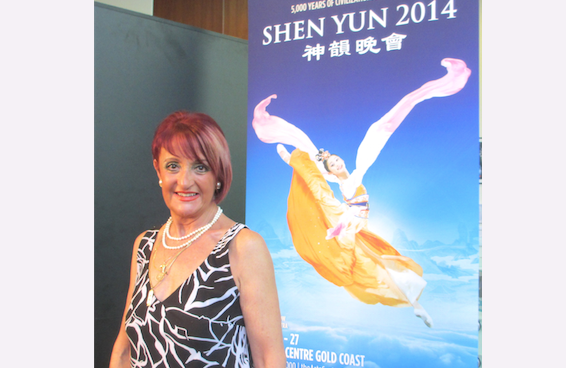 GOLD COAST, Australia— "Absolutely brilliant," said Sharon Barnett, international manufacturing agent, when describing her experience of seeing Shen Yun Performing Arts at the Arts Theatre Gold Coast, on April 26.
Ms. Barnett is director of H.A. Barnett, an agent for international manufacturers based in Asia, that imports products through Australian distributors and retailers.
Founded in New York in 2006, Shen Yun's mission is to restore China's 5,000-year-old culture through classical Chinese dance and music.
"Beautiful. Fabulous dancing," Ms. Barnett added. "Absolutely amazing … the muscle control … and the girls particularly were so graceful, and the men very agile,"
Classical Chinese dance has a long history of thousands of years, and while soaking up profound wisdom from every era and dynasty, it has become a complete system of dance, embodying traditional aesthetic principles, according to the company's website.
Shen Yun appealed to Ms. Barnett because of its uniqueness. "I've always been interested in performances of ballet, and I have never seen … a Chinese ballet. I wanted to see this particularly because it was something very different, and of course unfortunately it's unavailable to see in China."
The Shen Yun website explains how the Chinese Communist Party has systematically undermined traditional Chinese culture and values using a series of campaigns, most notably the Cultural Revolution. By imposing atheism on the Chinese people, the regime has removed "the heart and soul of traditional Chinese culture. Shen Yun seeks to revive these virtues the world over."
Ms. Barnett said, "It's something very different to us. I think in today's lifestyle we're living now in a very much materialistic environment. We forget a lot about quality of life. This brings you back, and makes you think more spiritually than one would normally do."
In the dance titled 'The Steadfast Lotus,' a mother is taken away from her daughter by the communist police for practicing Falun Gong, a peaceful meditation practice. Ms. Barnett found this piece "very touching and moving."
Describing her feelings after the performance, she said, "It makes you think, really makes you think. There's a message there … "
"It was all just so wonderful, I have to go home to think about it."
Reporting by NTD Television and Christine Ford
New York-based Shen Yun Performing Arts has four touring companies that perform simultaneously around the world. For more information, visit Shen Yun Performing Arts.
The Epoch Times considers Shen Yun Performing Arts the significant cultural event of our time. We have proudly covered audience reactions since Shen Yun's inception in 2006.