Andrew Forrest and Mike Cannon-Brookes—Australia's most vocal billionaires on climate change—have invested a further $210 million towards the world's biggest intercontinental renewable power system.
Sun Cable's $30 billion Australia-Asia Power Link (AAPowerLink) project had already received nearly $50 million from Forrest and Cannon Brookes in 2019 through their respective investment firms, Squadron Energy and Grok Ventures.
AAPowerLink is set to break numerous records once completed—including the longest high-voltage cable in the world, carrying 3 GW (gigawatts, or billion watts) through 4,200 km of undersea cabling from the Northern Territory to Singapore.
This will be powered through 17 to 20 GW of solar—nearly matching Australia's total solar capacity of 25 GW—across a 12,000 hectare area, 35 times the size of New York's Central Park.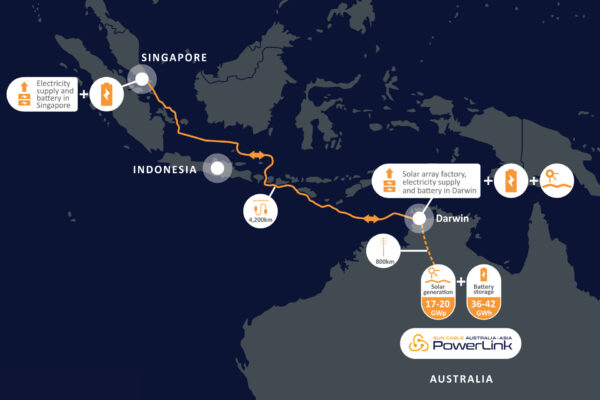 To help maintain power at all periods, the project plans to build a whopping 36 to 42 GWh (gigawatt-hour) battery storage system, which at current prices alone could cost between $10 and $15 billion.
The project hopes to deliver up to 15 percent of Singapore's electricity needs through its undersea cabling. However, at the cable's maximum rated power of 3 GW, the same battery will be able to output for just 12 to 14 hours.
Forrest said the ambitious task would position Australia at the forefront of the green energy transition.
"Sun Cable's vision will transform Australia's capability to become a world-leading generator and exporter of renewable electricity and enable decarbonisation," Forrest said in a statement (pdf).
"I'm proud to be a cornerstone investor in Sun Cable, its team and its vision. This capital raise is a critical step in developing the Australia-Asia PowerLink, and I applaud Sun Cable realising this mission."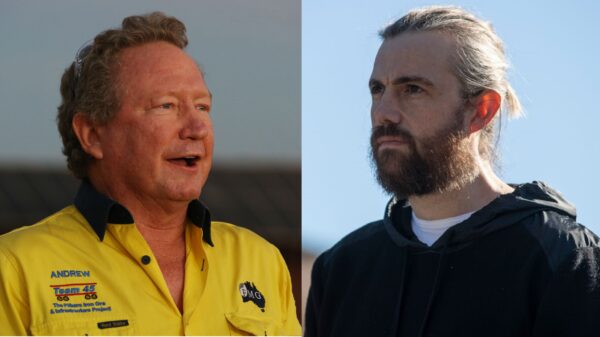 Cannon-Brookes also believes AAPowerLink could lay the groundwork for future energy export projects.
"This brings Australia one step closer to realising our renewables exporting potential. We can power the world with clean energy, and Sun Cable is harnessing that at scale," he said.
"It's a blueprint for how we export energy across the world. We fully back this vision."
The United Nations' Intergovernmental Panel has championed the theory of mankind's effect on temperatures on Climate Change (IPCC). However, systemic bias in the IPCC's data selection has raised concerns among critics about the hypothesis of a man-made climate change narrative.
Both Forrest and Cannon-Brookes have expressed a great deal of interest in shifting energy away from carbon dioxide due to concerns that gas drives climate change.
To this end, Forrest has spearheaded numerous green energy projects, including a partnership with Airbus to research hydrogen planes along with the southern hemisphere's biggest renewables hub.
On the other hand, Cannon-Brookes has instead opted to take a more direct route by making an attempt to takeover AGL Energy—one of Australia's biggest energy suppliers—to shut its coal power stations faster.
However, the onset of Russia's invasion of Ukraine has elevated concerns that reliance on renewables creates an even stronger dependence on gas. Gas remains key in supporting renewables by firing up during periods of low wind or sunlight.
But some experts believe battery power will remain inadequate at supporting renewables. For example, AAPowerLink's 12-14 hour, 3 GW battery could run dry after an overcast day.
"They do have a role to play, but not on the big grid," Professor of Engineering at the University of Melbourne Iven Mareels told The Epoch Times. "You can never build batteries enough to store for the grid."
Fears have also grown that the rapid uptake of renewables has given rise to slavery, with the Australian Human Rights Commission (AHRC) cautioning Australian companies to report the risks of slave labour in their supply chains.
"The shift to renewable energy has revealed a number of areas of emerging modern slavery supply chain risk for energy companies," the AHRC said.