Australia's fleet of F-35A fighter aircraft is ready to deploy on operations after the $65 billion Joint Strike Fighter Program established a new maintenance hub.
Prime Minister Scott Morrison said the fleet of aircraft was now 33 strong.
"This is about protecting and securing Australia's interests but it's also creating jobs and driving investment right here in the Hunter and across the country too," Morrison said on Monday.
The depot was selected to be the maintenance, repair, overhaul, and upgrade depot for the Southeast Asian region and will host aircraft from other nations in the future.
It will also provide more than 50 Australian companies with a share in $2.7 billion worth of contracts.
Morrison said that the depot's development demonstrated Australia's world-leading capability for its defence industry.

The Williamtown facility in New South Wales is BAE Systems Australia's (BAESA) Southern Pacific Regional F-35 Heavy Airframe Depot and will support the Lightning aircraft in the Pacific region over the next three decades.
According to BAESA, an initial team of 32 highly skilled F-35 technicians has been hired to provide airframe maintenance and sustainment for the depot, with a further 360 new jobs to be established in Australia over the next ten years.
BAESA will also develop a specialist supply chain of around 76 small to medium enterprises that will contribute an estimated $70 million to the economy over the next four years.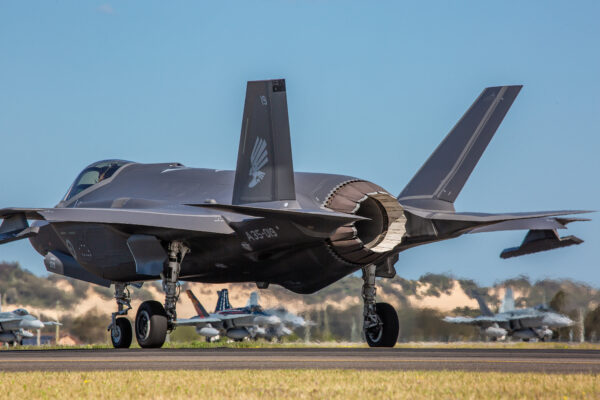 BAESA Chief Executive Officer Gabby Costigan said the company was privileged to contribute to the global program.
"We look forward to delivering a critical maintenance capability, and continuing to partner with the RAAF, the Department of Defence, Lockheed Martin and Defence industry to support the global F-35 program," Costigan said.
"Importantly, this new work will deliver a real boost to this region through new jobs and opportunities for local businesses," she said.
Lockheed Martin, makers of the aircraft, noted in December last year that with the F-35 program using Australian made parts to build the planes, the defence industry sector was in the process of creating more than 2,400 high-tech manufacturing jobs for the Australian industry.

Defence Minister Linda Reynolds said that the facility will provide maintenance on up to four Australian F-35A aircraft this year.
"We are building our sovereign defence capabilities. We now have 41 fully trained RAAF pilots, nine of whom trained on home soil at RAAF Base Williamtown. We also have more than 225 trained technicians as the RAAF's F-35A maintenance capability continues to develop," Reynolds said.
"This demonstrates the extraordinary opportunities this program is providing for Australians and the economy, especially as it continues to bounce back from COVID-19," she said.
The F-35A's are a replacement for the Australian airforce's ageing fleet of F/A-18A/B Hornet which has been in use since 1985.
The changeover was started in December 2018, with the first F-35A squadron, No. 3 Squadron, to be operational this year with the complete fleet of 72 aircrafts fully operational by 2023.