It's been a busy time at the Australia Zoo in Queensland, as Bindi Irwin proudly announced that their 12-year-old giraffe called Forest has set a world record for the tallest giraffe.
Forest measures a stratospheric 18 feet 8 inches (approx. 5.7 meters), and his title was confirmed by Guinness World Records after months of measurements, backed by photos and videos.
"Our sweetheart Forest has officially made it into the Guinness World Records [books] for being the tallest living giraffe!" Bindi announced on her Instagram. "We are proud of our towering guy, he has such a wonderful heart."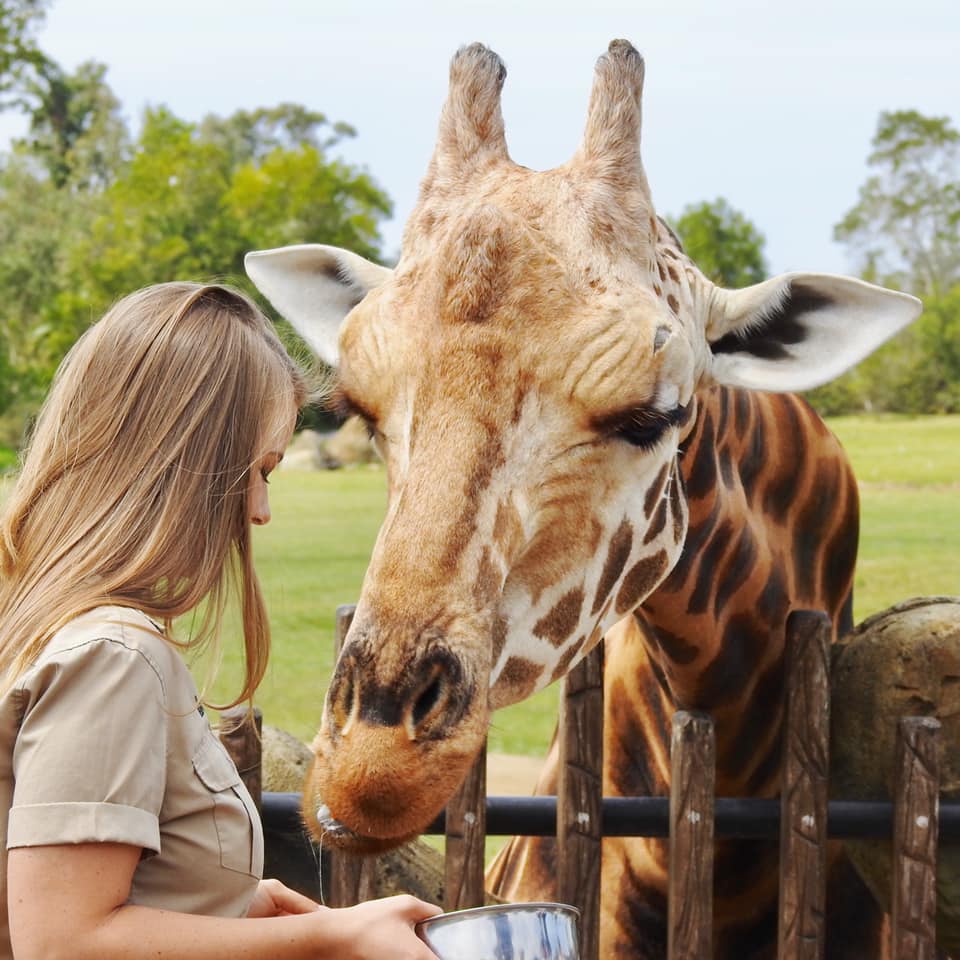 Forest was born at the Auckland Zoo in New Zealand in 2007 before moving to Queensland at age 2. Since then, Forest has been doing a lot of eating, "45 kilograms (100 pounds) of food each day, to be exact," the Australia Zoo's website noted.
The extraordinary height that Forest has reached exceeds that of the tallest bulls (male giraffes) by a good 8 inches. In order to be eligible for the record, Forest had to be measured from the bottom of his hooves to the tops of his ossicones, the two horn-like parts that stick out of the top of a giraffe's head.
Measuring Forest to adhere to the stringent criteria of the Guinness World Records was a tall order, literally and figuratively. After setting up a giant ruler next to a feeder, Forest's keeper Kat Hansen had to help him feel comfortable with the setup.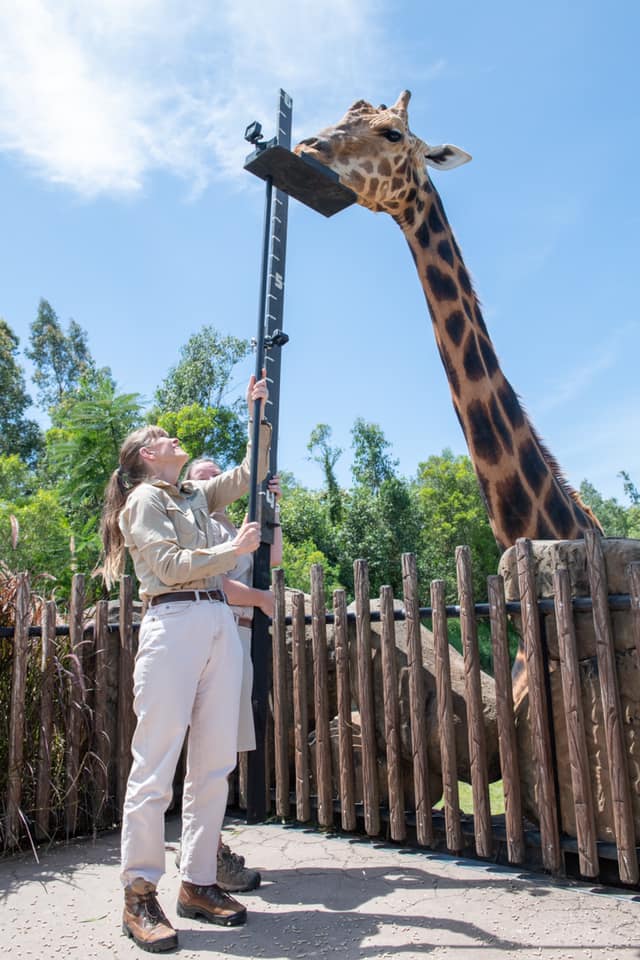 It took several months to confirm Forest's exact height as he took his time to get used to the new feeder. Now that he has received a certificate, Forest will appear in the Guinness Book of World Records 2021 edition.
Forest can also claim to be the world's tallest living animal, given that giraffes are the tallest species of land animals. While he may not be the heaviest land animal in the world, a title that goes to the African bush elephant, Forest nevertheless weighs in at 1,900 kilograms (approx. 4,189 pounds).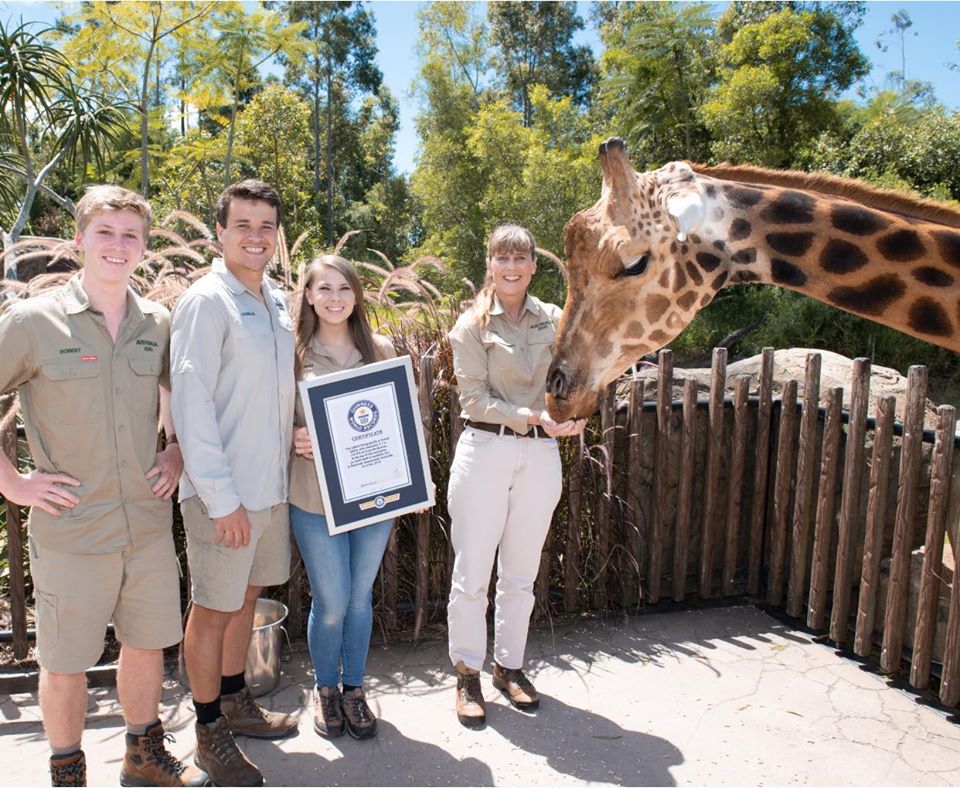 The towering Forest has also paid a vital role in the giraffe-breeding program at the zoo, passing on his tall genes to 12 calves.
This is particularly important because per IUCN Red List, many giraffe subspecies are categorized as "Critically Endangered," "Endangered," or "Vulnerable" in the wild, states the Giraffe Conservation Foundation (GCF). The foundation noted that its director Julian Fennessy has already "sounded the alarm" a couple of years ago.
"While giraffe populations in southern Africa are doing just fine, the world's tallest animal is under severe pressure in some of its core ranges across East, Central and West Africa," Fennessy said, the GCF website stated. "[W]e have been sounding the alarm for a few years now."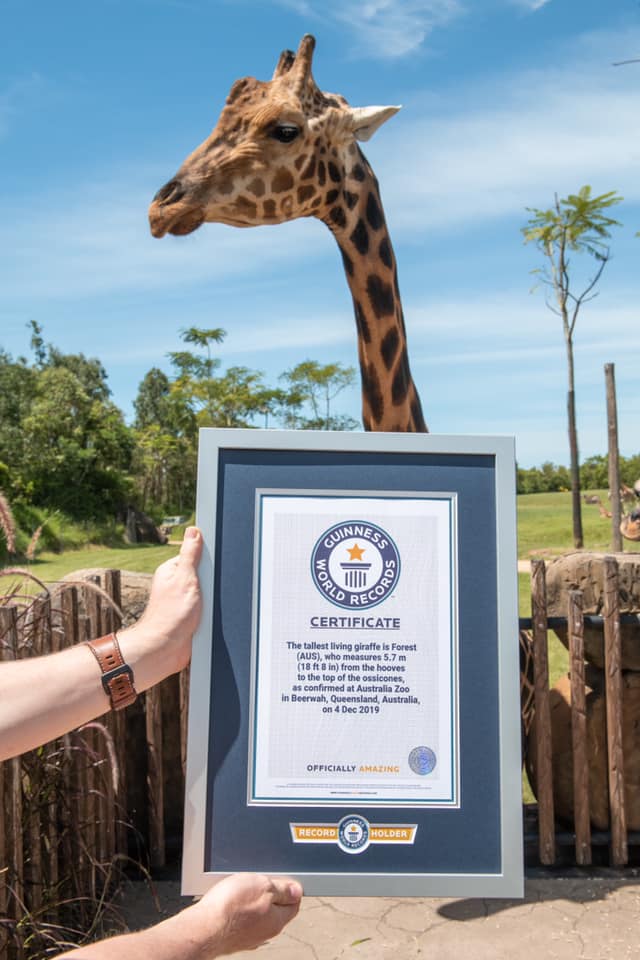 In addition to the amazing accomplishments of Forest the giraffe, the daughter of legendary "Crocodile Hunter" Steve Irwin has plenty of other things to celebrate.
This isn't her first brush with the Guinness World Records, as she was awarded one of her own for "most followed TV naturalist/conservationist on Instagram" on March 4, 2020. She currently has a whopping 3.7 million people following her work as a "Wildlife Warrior" at the Australia Zoo.
Even more joyful was the announcement on Aug. 11, 2020, that she and her husband, Chandler Powell, are expecting their first baby. "We couldn't wait to share the news as this beautiful little being has become the most important part of our lives," Bindi wrote on her Instagram feed.
In the meantime, she and the rest of the Irwin family are busy keeping the legacy of late Steve Irwin alive, advocating for wild animals both tall and small.
We would love to hear your stories! You can share them with us at emg.inspired@epochtimes.nyc