A staff symposium planned at Westmead Hospital by NSW Health was cancelled just 2 days before a delegation of Chinese doctors from Qilu Hospital of Shandong University were scheduled to appear.
The decision to shelve the event came after Westmead General Manager, Andrew Newton and Western Sydney Local Health District CEO, Danny O'Conner were informed that two of the delegation speakers were implicated in state-sanctioned forced organ harvesting of prisoners of conscience.
One of the doctors, Dr Tian Jun is mentioned by the US based, not-for-profit, World Organisation to Investigate the Persecution of Falun Gong in a report it published in 2014. List of Medical Personnel Suspected of Extracting Organs from Living Falun Gong Practitioners names 14 staff from Qilu Hospital including Dr Tian. Currently the Director of Kidney Transplantation and Dialysis at Qilu, the report alleges Dr Tian participated in 54 kidney transplants from Dec 2002 to Dec 2003 and 92 combined liver-kidney extractions between July 2007 and Dec 2009.
With an organ donation system in China that falls well short of the number of transplants actually performed each year, Dr Tian's surgical involvement in these procedures raises fundamental medical ethics and human rights' concerns.
On Dec 9, Dr Lucy Zhao, President of the Falun Dafa Association of Australia Inc, wrote to Newton and O'Connor asking them to withdraw the invitation to the doctors from Qilu Hospital and cancel the symposium.
Zhao also noted that a second speaker at the symposium, Dr Hu Sanyuan, vice-president of the Qilu Hospital and Director of Surgery, performed the hospital's first ever liver transplant. According to her, both Hu and Tian "must have been involved in the transplantation of organs from executed prisoners – something condemned by the international medical, transplant and ethics communities".
"Your invitation to surgeons who are clearly involved in transplanting organs from prisoners in China can provide a form of legitimacy for their work. While your intention may be to seek positive change through engagement, the Chinese side are free to use such contact and collaboration as a form of approval," wrote Zhao.
Following up closed door discussions between Dr Zhao and Andrew Newton on Dec 12, Zhao was informed via email that the staff symposium had been cancelled.
Western Sydney Local Health District in an email to Epoch Times suggested that the staff symposium cancellation was a response to low interest in the event and "to maintain the delegation's focus on education, training and research opportunities".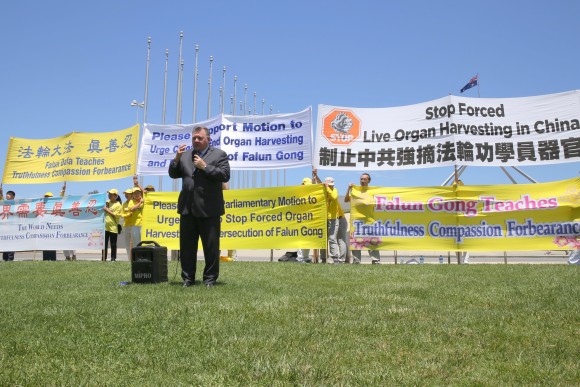 Despite not admitting the cancellations connection to the grave allegations, it comes in the wake of the Australian Senate recognising the problem of unethical organ harvesting in foreign countries including forced organ harvesting from prisoners of conscience in China. On Nov 24, the Senate passed motion 121 that acknowledges "deeply concerning reports of unethical organ procurement procedures" in "state-led processes" and pushes for national legislation that makes it an offence for Australians to travel overseas to receive organs from "non-consensual" donors.
The motion moved by Victorian Greens Senator, Janet Rice and Tasmanian Liberal Senator Eric Abetz was a pointed response to allegations of organ transplant abuse from a recent 700 page report detailing a state-run industry in China conducting between 60,000 and 100,000 transplants a year.
Dr Zhao told Epoch Times that she was pleased with the hospital's decision to cancel the event.
"There are a lot of unidentified organ transplants in China that are under international scrutiny," she said. "This cancellation is a correct decision."