Australia and the United States are working on "contingencies" if there is an outbreak of conflict around Taiwan, according to a senior U.S. diplomat.
Michael Goldman, charge d'affaires at the U.S. Embassy in Canberra, told The Australian National University's (ANU) National Security Podcast last week that Australia and the United States are working closely together on security issues.
"I think we're committed as allies to working together, not only in making our militaries interoperable and functioning well together but also in strategic planning," Goldman said.
"And when you look at strategic planning, it covers the range of contingencies that you've mentioned, of which Taiwan is obviously an important component."
Beijing's hostile rhetoric toward Taiwan has increased over the past year, since the reelection of President Tsai Ing-wen.
In recent months, Chinese military jets have also made near-daily incursions into Taiwanese airspace, with the largest being in late March, when 20 Chinese military planes entered Taiwan's Air Defence Identification Zone.
Goldman said working together with allies would be the key to maintaining power in the Indo-Pacific region.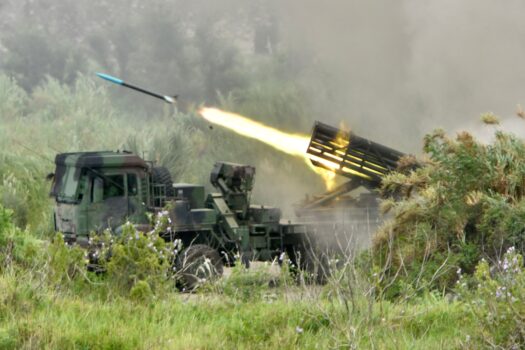 "One thing that we're determined to do is we're not going to get out in front of our allies," he said.
"In fact, we're going to move with them because that really is the secret sauce of our power in the Indo-Pacific."
In December 2020, Taiwanese Foreign Minister Joseph Wu called on Australia to stand up for democracy and defend the island against potential threats.
"Australia has been a very powerful element or actor in the Indo Pacific," he told the Australian Broadcasting Corp.
"I see like-minded countries like Japan and Australia and India and the United States can also work together to prevent China from further expansionism."
Australian Prime Minister Scott Morrison in 2020 called the Indo-Pacific region the "epicenter of rising strategic competition" while announcing a 10-year, $270 billion funding package into upgrading the Australian Defence Force.
One of the main focuses will be to give the military more long-range strike power to influence the "calculus of cost" for an adversary if it decided to attack Australia.
The Biden administration meanwhile last month sought to assure Taiwan that the United States would support its ally by establishing a Coast Guard Working Group. The United States has traditionally been the largest arms supplier to Taiwan as well.
War game analysts believe an attack on the island from Beijing could be around the corner, with one expert believing the regular incursions into Taiwanese airspace, are in fact simulations of a purported invasion.