Australian Foreign Minister Penny Wong on Aug. 5 called out China for its "disproportionate and destabilizing" live-fire drills near Taiwan, noting that Australia will monitor the situation closely.
"Australia is deeply concerned about the launch of ballistic missiles by China into waters around Taiwan's coastline," Wong said in a statement. "These exercises are disproportionate and destabilizing."
The foreign minister said both Australia and its close strategic partner Japan see China's military drills as a "serious matter for the region."
"We urge restraint and de-escalation," Wong said. "It is in all our interests to have a region at peace and not in conflict. Australia does not want to see any unilateral change to the status quo across the Taiwan Strait."
Wong also noted that there is "no change to Australia's bipartisan one-China policy." Australia does not officially recognize Taiwan as an independent nation, but rather as part of China. However, the Chinese Communist Party (CCP), which rules mainland China, has never ruled Taiwan.
Wong, who is currently in Cambodia for the ASEAN summit in Phnom Penn, and the leaders of other ASEAN countries raised their concerns with Chinese Foreign Minister Wang Yi at the summit.
"We are continuing to monitor the situation very closely, and we are talking to allies and partners," she said.  "Australia does not want to see any unilateral change to the status quo across the Taiwan Strait."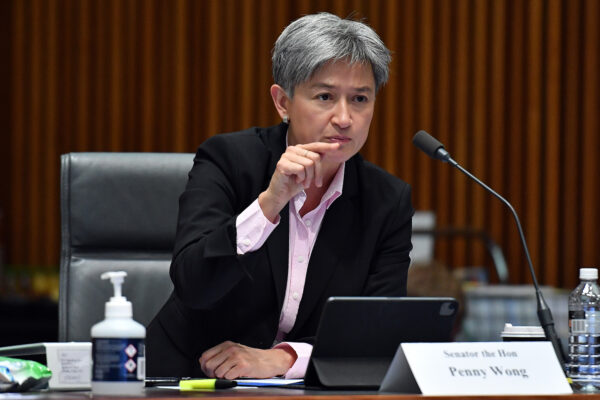 Campaign of Military Coercion
Wong's comments come after China launched live-fire military drills in the seas surrounding Taiwan on Aug. 4, seen as a campaign of military coercion against the island in apparent retaliation for U.S. House Speaker Nancy Pelosi's (D-Calif.) visit.
The CCP declared six exclusion zones encircling the island for the war games. Warplanes and vessels crossed the median line of the Taiwan Strait that separates Taiwan from mainland China.
Calling the military drills "highly provocative," Taiwan's defense ministry said Chinese military jets and warships had been seen in waters near Taiwan on Aug. 4, with some crossing the median line. Also known as the Davis Line, the median serves as an unofficial air and maritime buffer between China and Taiwan.
In response, Taiwan deployed aircraft, patrolling naval vessels, and land-based missile systems to monitor the situation.
"We seek no escalation, nor do antagonize others," Taiwan's defence ministry said on Twitter, adding that the Taiwanese armed forces "are committed" to defending the self-governing island.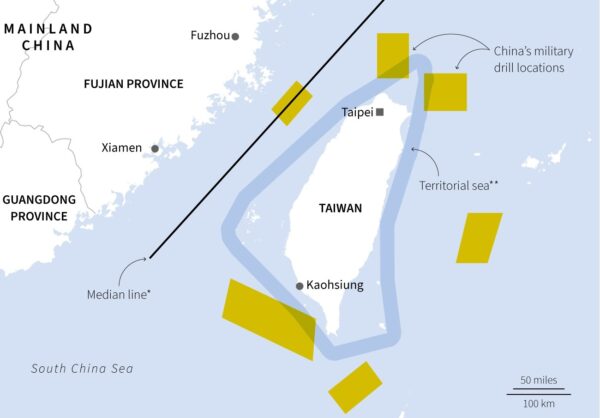 According to Reuters, the military drills are the biggest ever held by the CCP's military wing, the People's Liberation Army (PLA),  in the waters around Taiwan.
The PLA has launched 11 ballistic missiles into the waters around Taiwan since the drills began.
Five of the missiles were said to have landed in Japan's exclusive economic zone, which extends 200 nautical miles from that country's coast. Of the five missiles, Japan's defense ministry said four had likely flown over Taiwan.
The PLA also deployed 22 Chinese fighter jets, which crossed the median line of the Taiwan Strait, and unmanned aerial drones on Aug. 4. Taiwanese troops fired warning flares to drive away four drones that flew above the area of Taiwan's Kinmen islands, which are located about 1.3 miles from the Chinese coastline.
Earlier, three drones flew over waters off Taiwan's east coast, according to an announcement (pdf) from Japan's defense ministry.
Frank Fang contributed to this report.